Dadia Forest
Reserve and Ecotourism Centre
Head north-east from the Evros Delta  and you will reach the small town of Féres, which would make a good base for exploring the area to the north of here, the 32,500-hectare Dadia Forest Reserve. Set in the Evros Valley and overshadowed by the Evros Mountains, this is another scenically splendid area of Greece and mostly visited by those with an interest in its wide range of wildlife. It's especially noted for the fact that 36 of Europe's 38 species of predatory birds can be found here.
Dadia Forest Reserve Information Centre
There is an information centre in the forest, at the Dadia Ecotourism Centre, reached from near the village of Likófi. At the centre you will naturally find a lot of information about the flora and the fauna of the Reserve, which is especially noted for its rare birds of prey. At the centre you can also get advice on exploring the Reserve, which can be done by way of an organised tour van, which goes into the areas where cars are banned, or on foot. 
There are two main footpaths to be followed, and these are well-marked. One leads to the highest point in the Reserve, at 520 meters (1706ft), and the other to a hide which looks out over the Mavrorema Canyon, giving chance for visitors to see some of the raptors as they soar on the thermals that rise out of the canyon. 
In addition to the eagles and vultures, other species seen here include the lanner falcon, black kite, goshawk, Levant sparrowhawk, honey buzzard and the increasingly rare black stork, although there are only a few of these in the forest. 
Accommodation in the Dadia Forest
It is quite possible to stay in the Reserve, as there are 20 rooms available at the Dadia Ecotourism Centre, which also has a restaurant and café. You would need to book ahead as it gets full at busy periods such as migration times in spring and autumn. There is a café nearby, and more eating options and shops in the village of Dadiá, about 1km (1/2 mile) away.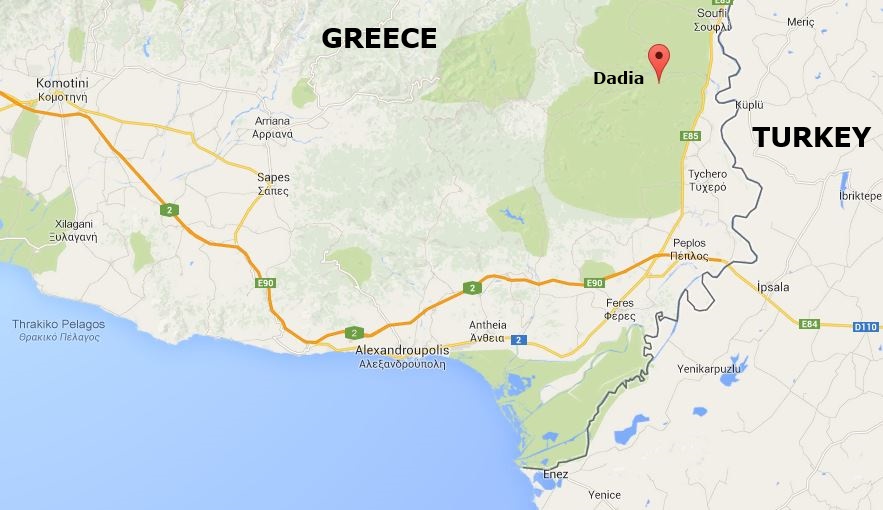 ---
---
Crete festivals and events include Carnival Easter, Whitsun, Christmas, many other religious feast days and public holidays, all listed here on the Greece Travel Secrets website.

The best things to do on Crete and top things to see include the Samaria Gorge, the Minoan Palaces at Knossos, Malia and Phaistos, the towns of Iraklion, Ayios Nikolaos, Sitia, Hania and Rethymnon.

The Battle of Crete during World War 2 inspired several books and took place with an airborne invasion over Maleme on the north coast of the island, described on this page on Greece Travel Secrets.