Santorini
(Thira)
Cyclades Islands
Santorini, or Thira as it is also known, is in the Cyclades islands and is one of the most popular holiday destinations in the Greek islands. As well as being a busy vacation spot, with travelers and tourists coming by ferry and by flights (from Athens during the main holiday season), it is an essential port-of-call for cruise ships in the Aegean.
However you arrive, your first sight of Santorini is dramatic and unforgettable, which is one reason we chose a photo of Santorini to appear at the top of every page on our website. For us Santorini captures the breathtaking beauty of the Greek islands. 

Santorini or Thira?
Santorini was once one larger volcanic island, until its volcano erupted in a mighty explosion which scientists believe happened sometime in the 17th century BC. Its main town of Thira was destroyed, and the shock waves were felt as far away as Crete. One theory is that it was this explosion which destroyed the Minoan civilisation on Crete, and the Palace of Knossos. Santorini's volcano disappeared beneath the waves, leaving a crater, or caldera, where the volcano once stood, and several islands where previously there had only been one.
The name Santorini more correctly refers to the whole group of islands, with Thira being the name of the main island in the group. Thira is also the name of the archaeological site where the town of ancient Thira once stood, and the present-day main town on the island is also sometimes called Thira, or more frequently Fira. Today, though, most people use Santorini or Thira interchangeably, with Santorini having a more romantic lilt to it.
Ferries to Santorini
Santorini is connected by ferry to Athens, Thessaloniki, Crete, Mykonos, Rhodes and many other Greek islands.
Greek Ferry Information and Booking Tickets
There's a really comprehensive guide to Greek ferries, including suggested itineraries, guides to the different island groups, advice about cars on ferries, the differences between fast and convenient ferries, taking your dog on a ferry, printing your ticket and e-ticketing, and a much-needed guide to the port of Piraeus, on the Aferry website.

You can also book tickets online.
Flights to Santorini
Santorini does have an airport but at the time of writing there are no direct flights to Santorini from outside Greece. International travelers must change to a domestic flight to Santorini at either Athens or Thessaloniki. There are also flights to Santorini from Rhodes.
The flights to Santorini from Rhodes and Thessaloniki operate year-round, with flights to Athens usually only operating during the summer holiday season. The airlines with flights to Santorini are Olympic Air and Aegean Airlines. Check their websites for cheap Santorini flight offers, but you are likely to have better luck using sites like Expedia and other online cheap flight websites.
In summer there are also various flights from Sky Express, based in Crete, who operate flights between Iraklion-Mykonos-Santorini, and Rhodes-Mykonos-Santorini.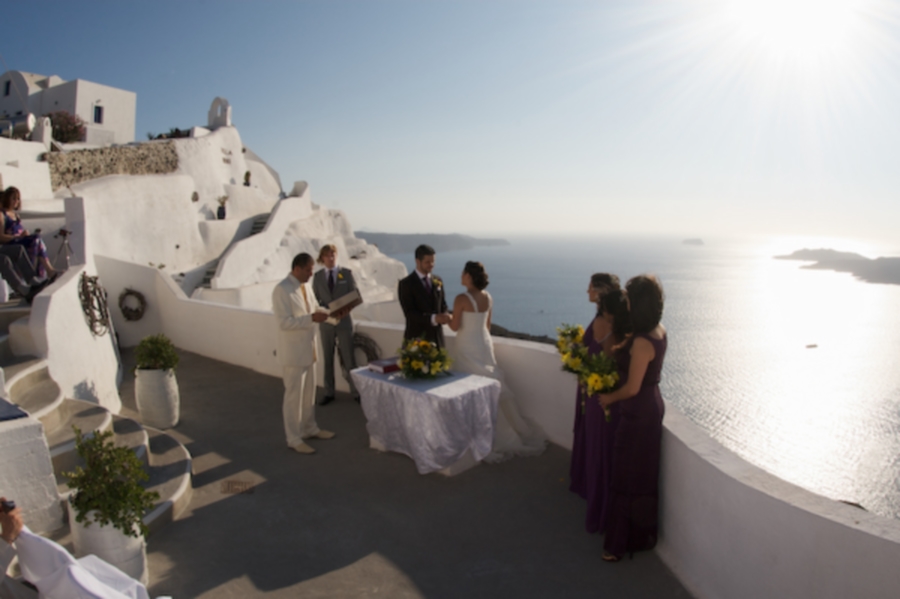 A Wedding at the Maltese Hotel on Santorini (c) Ionian Weddings

Hotels on Santorini
Santorini has everything from luxury hotels to cheap hotels, plus hostels and camping. Only the last two are the really cheap accommodation options, as Santorini is expensive by Greek island standards. Check our Hotels on Santorini page for some suggestions for both luxury hotels and cheap hotels on Santorini.

Santorini Car Rental
There are several car rental companies on Santorini. See our Santorini Car Rental page for full details. You can also rent motor bikes, regular bikes, mountain bikes, and quad bikes. If you don't want to hire a car but still want to see the island, use the good local bus service or hire a taxi. Most taxi drivers will drop you off somewhere and pick you up again later in the day, which can be much cheaper than paying for car rental.

Combining Santorini and Mykonos
A vacation combining Mykonos and Santorini is a popular option. Santorini is in the far south of the Cyclades, while Mykonos is to the north, on the other side of Naxos. There are daily ferries from Santorini to Mykonos, with a journey time of about 2 hr 30 mns. You could also break the journey and spend a night or two on Naxos. 

See Related Santorini Pages
---
---
Greece Travel Secrets is a website of travel tips and vacation information for Greece and the Greek islands, written by travel experts and guidebook authors Donna Dailey and Mike Gerrard.

The North East Aegean Islands of Greece are Lesvos or Lesbos, Thassos, Chios, Samos, Fourni, Ikaria, Limnos, Samothraki. Greece Travel Secrets has tips on hotels, restaurants and what to see or do.