Culinary Crete
We did our own culinary tour of Crete last autumn when we spent almost a month on the island. We expected good food but we were blown away by the quality, the dedication (of the growers, the wine-makers, the restaurants and the chefs) and especially the belief in organic food, not for fashionable reasons but simply because it's the right thing to do if you want the best quality food.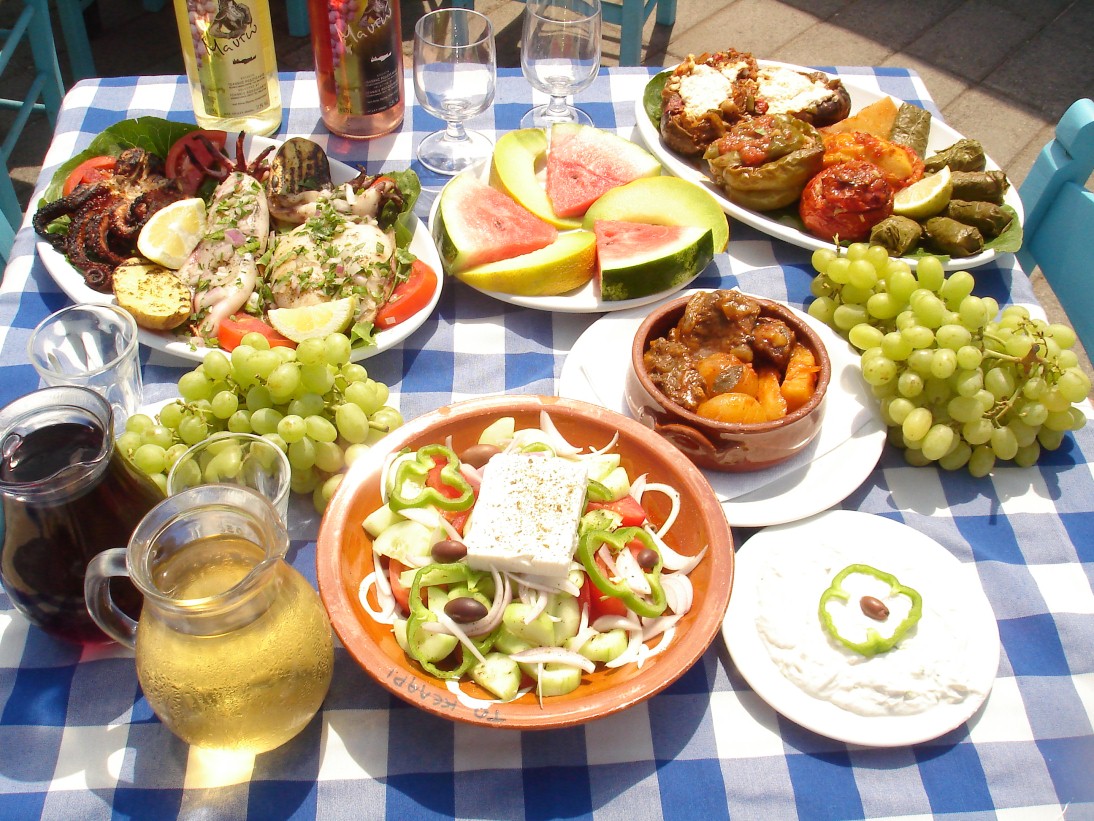 So we were delighted to see a UK tour company, Travel Editions, offering a culinary tour of Crete this autumn, and we're pleased to share some of the details with our visitors. Although it's run by a UK tour operator, you don't have to live in the UK to book the tour!
Culinary Crete
Join Angela and Stelios to experience the wine, cuisine and culture of Crete
You'll love this tour if you like:
Fresh, locally produced and prepared food
Experiencing authentic local culture
Wine tasting, cheese-tasting, olive oil
Beautiful scenery and traditional villages 
Local Guides
Stelios is incredibly passionate about his island and its food, wine and culture.
Stelios and Angela have run our walking tours in Western Crete for many years and one of the highlights of the trip for our walkers has been the superb cuisine served at their taverna in Kissamos. This positive response has prompted Stelios and Angela to organise an enticing new tour that is centred around food and the islands local produce.
Throughout the week Stelios' love of his island and its food, wine and culture is evident as he passes on his skills and passion in a relaxed, informative and entertaining fashion. Being a restaurateur himself he will ensure that all the food tasted is locally sourced and of the highest quality with an excellent variety of dishes that you will have the opportunity to try. This unique and personal tour is not just for 'foodies' but for anyone with a love for all things Greek.
Itinerary
Day 1: Fly from London Gatwick to Chania. Welcome dinner at the Cellar Taverna, situated right on the seafront, a well-established, family-run taverna for over 20 years.
Day 2: This morning we will have a cookery lesson at the Cellar Taverna, with hands-on preparation of traditional Cretan dishes such as tzatziki, Greek salad, delicious cheese and spinach pies made with local cheese, yemista and dolmades (stuffed vegetables) and kleftiko (lamb stew). Both lunch and dinner will be at the Cellar Taverna, enjoying the food that you help prepare. This afternoon is at leisure giving you time to explore the town and to visit the interesting archaeological museum.
Day 3: Morning visit to a rural village, home to Stelios' parents. Today's visit to Stelios' parents' house and their small farm in a tiny village in the hills, provides the opportunity to learn about traditional Cretan life and how it is still possible to be almost self-sufficient when you grow all of your own produce and keep some livestock. There will be some wine tasting, from Stelios' own barrels, cheese tasting and the chance to taste some of his mother's produce which she continues to make, grow, or prepare - these include Greek spoon sweets, walnuts, olive oil, raki (a strong Cretan spirit), honey, lemonade and even snails! Lunch today will be at a local taverna in the hills and the afternoon is free to spend as you wish before dinner at the Cellar Taverna.
Day 4: Morning visit to local producers. This morning we will visit a winery, a cheese maker, sweet maker and an olive oil factory where you will learn about the cultivation and production of these local products that play a huge role, culturally and economically in Cretan life. Lunch today will be in a taverna in the picturesque village of Deliana, which is also home to a beautiful 13th century church, which we have the opportunity to visit.
Day 5: Full day visit to Chania. An atmospheric Venetian harbour town, Chania is set against a spectacular backdrop of majestic mountains and aquamarine seas. A turbulent history saw its occupation by the Romans, Byzantines, Venetians, Genoese, Turks and Egyptians, but this has left behind a rich and captivating architectural heritage. We will wander the streets and alleyways of the old town to reach the bustling market where we will have lunch in one of the traditional tavernas. This afternoon is free for you to explore Chania further at your leisure.
Day 6: Full day to relax or explore at your leisure.
Day 7: Morning visit to Crete's botanical park. Strolling through the wonderful scenery of the botanical park we will learn more about plants, herbs, fruit, vegetables as well as plenty of fascinating local knowledge. Lunch will be at the Botanical Park followed by the afternoon at leisure before a farewell dinner at the Cellar Taverna.
Galini Beach Hotel
Galini Beach Hotel
The base for the week is the friendly Galini Beach Hotel, situated on Kissamos' small promenande, right next to the sea. It offers simple, comfortable bedrooms with private bath/shower, air-conditioning (extra charge payable locally if required), TV, and balcony.
Dates and Prices
Departing 26 September 2017, Culinary Crete costs from £1,225 pp (two sharing), including flights (Gatwick), seven nights' B&B, four dinners, five lunches, transfers and the services of tour guides. Call Travel Editions on 020 7251 0045 (www.traveleditions.co.uk).
Travel advice and information on Zakynthos (Zante) in the Greek Ionian islands, with information on ferries and flights and the best things to do..

Greece Travel Secrets visits the Monastiraki Flea Market, followed by Sunday lunch at Sigalas on Monastiraki Square

Greeks are famous for their hospitality toward guests, visitors, family, and friends. They are renowned for being philoxenoi, as if it is written in their DNA. Anthropologist Sofia Zinovieff, first li…