Welcome to Our Newsletter
Inspiration and information to help with your travel planning for Greece and the Greek islands.
A few weeks ago we shared a link to one of our videos which we recorded at the Botanic Gardens on Crete, when our visit coincided with a fantastic evening of Greek music and dancing.
It was such fun to be reminded of that night that we thought we'd share some other videos from that same trip, when we seemed to find music wherever we went.
Music with Vasilis
One night we stayed at the lovely Dalabelos Estate, south of Rethymnon. Don't be fooled by its 3-star rating. It's a fantastic and really comfortable place, with stylish rooms, good landscaping, and top class food.
Vasilis Plays the Cretan Lyre
The owner, Vasilis, is also a keen musician with a fine collection of musical instruments. When the mood takes him he'll bring some of his instruments out and play for his guests. We were glad he was in the right mood the night we were there, and we filmed him a couple of times playing different songs. Click on the links below to see the videos.
Cretan music at Dalabelos
More Cretan Music with Vasilis
---
Libyan Music on Crete
Knowing we're both big music fans, and even play a little ourselves, our guide Isi introduced us to his friend Ibrahim. Ibrahim is originally from Libya, where he worked as Colonel Gaddafi's official photographer! He also plays music, and played some for us when we met him.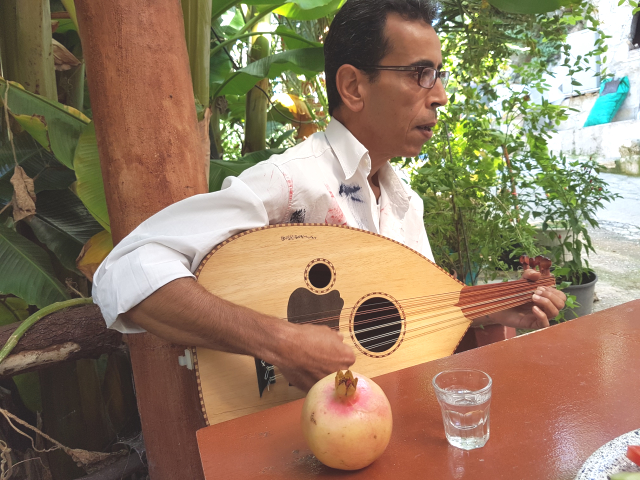 ---
Let's Dance!
One night we went to the village of Profitis Ilias on the day that their new village square had been opened. The Greeks need very little excuse for some music and dancing, so we joined the villagers as they cooked food, drank wine (and raki), and some of the village musicians sat round a table and played. Check out those instruments!
While Mike was filming, Donna wasted little time in joining in the Greek dancing. She's the one in the blue denim top and blue jeans. How did she do?
---
Snails and Music
We've shared this video before, of when our friend and guide Isi tried to show us how to eat a snail. That was good fun, but there was also some good music to be had, too. It starts about half-way through the video. And look at all that food! Little plates of different things just kept on coming. As did the wine.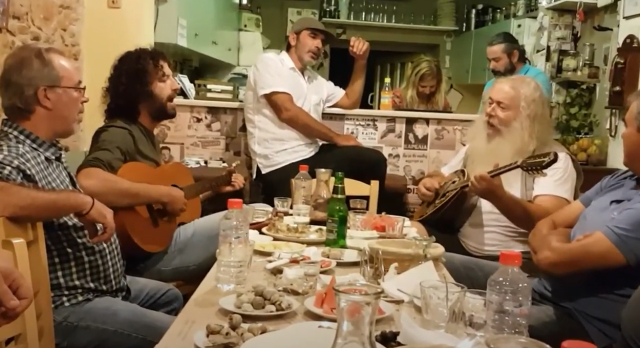 This was in a tiny and very atmospheric place in the town of Moires in southern Crete, not far from Matala. Unfortunately, in trying to check the name on Google Maps, it no longer seems to be there. We're glad we caught it when we did, for a very typical Greek night out.

Click Here for Snails and More Cretan Music!
---
Till Next Time - Yammas!
---
Subscribe to the Newsletter
If someone forwarded this to you and you'd like to subscribe for yourself, please visit our website and look for the Newsletter sign-up box.

Please Forward
If you know someone else who might enjoy our Newsletter, please forward a copy to them and encourage them to subscribe.