Sharing Greek Pearls
Greece Travel Secrets has been working with an impressive new sharing travel app called Pearlshare. We've been helping them compile guides to some of the best things to do in Greece, including the best beaches on Crete and Corfu. We're also working on the best things on Mykonos and, this being Olympics year, a guide to Olympia, the site of the original Olympic Games.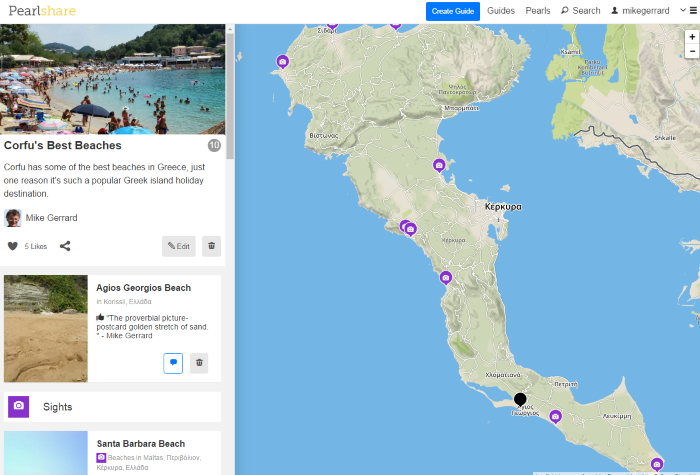 Our Pearlshare Guide to Corfu Beaches
How Does Pearlshare Work?
As the name tells you, this travel app is all about sharing pearls: pearls of wisdom, that is. It might be a beach you've discovered, a fabulous museum, an amazing hotel, a bar, a restaurant, a shop... anything that you want to share with the world.
As well as individual Pearls, you can group Pearls together into Guides – like Corfu's Best Beaches or ten of the Best Beaches on Crete. Anyone who joins Pearlshare, which is free, has access to all these Pearls and Guides, many of which are compiled by experienced travel writers and veteran travellers, as well as locals.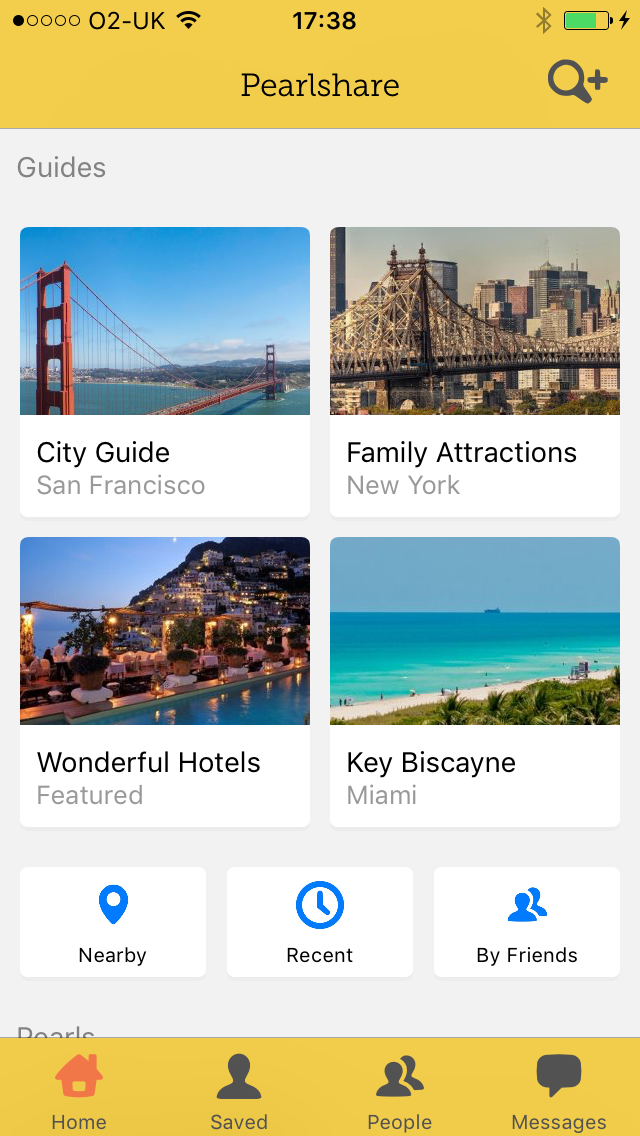 Airbnb
A good use for Pearlshare is to enable Airbnb hosts to provide custom-made guides for their guests. A group of Airbnb owners are doing just that, helping point their guests to the best local coffee shops, bars, restaurants, shops and local attractions. With the places pinpointed on the Pearlshare map, it's easy to zoom in and find your way around.
There's no GPS or navigation with Pearlshare, as the whole idea is to keep it simple. The descriptions are kept deliberately short, almost like tweets, while the sharing side of it combines a touch of TripAdvisor with a bit of Facebook.
Greek Guides and Pearls
As well as our own guides to Crete, Corfu, Mykonos and Olympia, there are plenty of other reasons for Greek travellers – and locals – to take a look at Pearlshare. There are Guides to Exploring Athens, Top 8 Things to Do in Athens, to all of Greece and several Pearls recommended for Santorini. 
There's room for much more, though, so if you live in Greece or are travelling there, share those hidden Pearls with the rest of us. We hope to continue adding more of them ourselves.
A Pearlshare Guide to London Attractions
---
---
Easter in Athens is, like Easter everywhere in Greece, the biggest religious celebration of the year and this page on Greece Travel Secrets tells you what to expect over the Easter weekend.

Peter Sommer Travels has a great trip on offer that enables you to get a real experience of Easter in Athens from 2-9 April 2018. This is what they say: "Explore ancient Athens and experience a tradit…

Athens culinary tours are among the food walking tours offered by an unusual company, Culinary Backstreets.