Welcome to Our Newsletter
Inspiration and information to help with your travel planning for Greece and the Greek islands.
The theme for this week's newsletter is the beautiful island of Santorini in the Cyclades. It's rightly one of the most popular islands in Greece, thanks to the unique nature of its landscape and its absolutely stunning appearance.
---
SANTORINI ON VIDEO
If you've never been to Santorini then watch our YouTube slideshow to see just how beautiful it is. Be warned, though – you might want to jump on the next plane out there!
---
SANTORINI
If you want a quick overview of the island then take a look at our main Santorini page on Greece Travel Secrets:
Santorini Main Page
---
SANTORINI WINERIES
Not everyone is aware of the fact that Santorini makes some excellent wine. The volcanic nature of its soil gives the wines an unusual kind of metallic/flinty nature, which is very distinctive and makes Santorini wines stand out from other Greek wines. You can visit some of the wineries to try a tasting before you buy, and there's a Wine Museum too. Click on the photo to read all about it.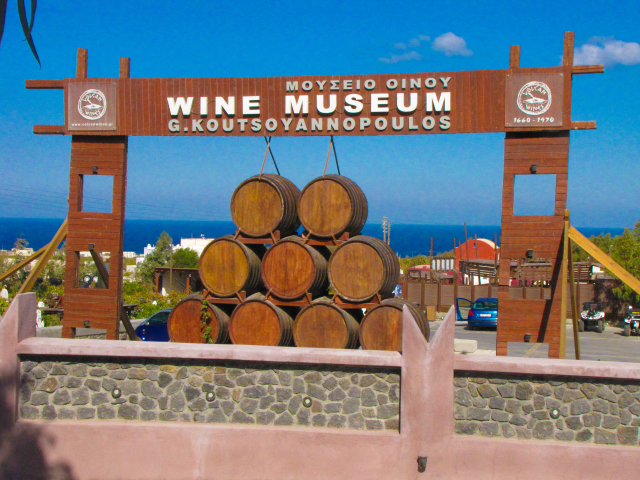 ---
THINGS TO DO ON SANTORINI
So, apart from admiring its beauty and drinking its wine, what is there to do on Santorini? We've put together a couple of pages that tell you all about that. The first page covers the main attractions on Santorini, while the other page lists some fun and offbeat alternative things to do on Santorini that we've uncovered over the years. Who knew there was a Tomato Museum on Santorini?
Things to Do on Santorini
Fun Things to Do on Santorini
Santorini's Tomato Museum
---
GETTING MARRIED ON SANTORINI
And could there be a more fun thing to do on Santorini than get married there? It's one of the most popular wedding destinations in Greece, which is hardly surprising. Santorini is one of the destinations we've included on our two pages of information about getting married in Greece, so if you're interested then take a look at them.
Weddings in Greece
Luxury Weddings in Greece
---
And that's it till next time. Thanks for subscribing.
Mike and Donna
---
Subscribe to the Newsletter If someone forwarded this to you and you'd like to subscribe for yourself, please visit our website and look for the Newsletter sign-up box.

Please Forward If you know someone else who might enjoy our Newsletter, please forward a copy to them and encourage them to subscribe.

Unsubscribe mike@greece-travel-secrets.com