Santorini
Santorini or Thira in the Cyclades islands has cheap and luxury hotels, car rental, ferries from Athens, Crete and other islands, and flights from Athens.

Santorini, or Thira as it is also known, is in the Cyclades islands and is one of the most popular holiday destinations in the Greek islands. As well as being a busy vacation spot, with travelers and tourists coming by ferry and by flights (from Athens during the main holiday season), it is an essential port-of-call for cruise ships in the Aegean.
However you arrive, your first sight of Santorini is dramatic and unforgettable, which is one reason we chose a photo of Santorini to appear at the top of every page on our website. For us, Santorini captures the breathtaking beauty of the Greek islands. 

Santorini or Thira?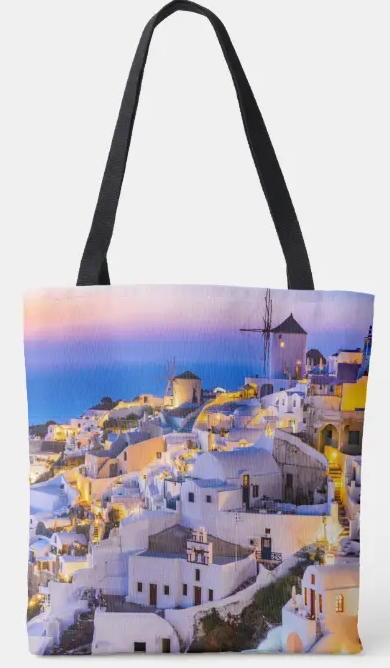 Click on the pic to check out this cool Oia tote bag
Santorini was once one larger volcanic island, until its volcano erupted in a mighty explosion which scientists believe happened sometime in the 17th century BC. Its main town of Thira was destroyed, and the shock waves were felt as far away as Crete. One theory is that it was this explosion which destroyed the Minoan civilisation on Crete, and the Palace of Knossos. Santorini's volcano disappeared beneath the waves, leaving a crater, or caldera, where the volcano once stood, and several islands where previously there had only been one.
The name Santorini more correctly refers to the whole group of islands, with Thira being the name of the main island in the group. Thira is also the name of the archaeological site where the town of ancient Thira once stood, and the present-day main town on the island is also sometimes called Thira, or more frequently Fira. Today, though, most people use Santorini or Thira interchangeably, with Santorini having a more romantic lilt to it.
See which beach on Santorini made our list of Six of the Best Beaches in Greece.
Getting to Santorini
Flights to Santorini
Santorini has an international airport but many of the international flights are seasonal. At other times international travelers must change to a domestic flight to get to Santorini.
Flights to Santorini from Athens, Rhodes and Thessaloniki operate year-round, but flight services do change regularly so double-check. The airlines with flights to Santorini are Olympic Air and Aegean Airlines. 
Some Cool Santorini Gifts
Ferries to Santorini
Santorini is connected by ferry to Athens, Thessaloniki, Crete, Mykonos, Rhodes and many other Greek islands.
Ferries in Greece
Ferries in Greece has an excellent and very thorough website where, in addition to checking ferry schedules and times, you can also book tickets and get lots of useful information about travelling by ferry in Greece.
Where to Stay on Santorini
Santorini has everything from luxury hotels to cheap hotels, plus hostels and camping. Only the last two are the really cheap accommodation options, as Santorini is expensive by Greek island standards. Check our Hotels on Santorini page for some suggestions for both luxury hotels and cheap hotels on Santorini.

Where to Eat on Santorini
See our page on the Best Restaurants on Santorini
Santorini Car Rental
There are several car rental companies on Santorini. See our Santorini Car Rental page for full details. You can also rent motor bikes, regular bikes, mountain bikes, and quad bikes. If you don't want to hire a car but still want to see the island, use the good local bus service or hire a taxi. Most taxi drivers will drop you off somewhere and pick you up again later in the day, which can be much cheaper than paying for car rental.

See Our YouTube Video of Santorini
The Potter of Santorini
Don't miss this video about one of the characters of Santorini, Andreas the potter.
Combining Santorini and Mykonos
A vacation combiningMykonos and Santorini is a popular option. Santorini is in the far south of the Cyclades, while Mykonos is to the north, on the other side of Naxos. There are daily ferries from Santorini to Mykonos, with a journey time of about 2 hr 30 mns. You could also break the journey and spend a night or two on Naxos.