Rhodes
Dodecanese Islands
Rhodes is a major ferry destination at the hub of the Dodecanese, and the main port is right in the centre of Rhodes Town. You can easily walk into the Old Town from Rhodes harbour, and there are many hotels, shops, and restaurants within walking distance.

Lindos on Rhodes
Getting to Rhodes
Flights to Rhodes
In summer there are regular cheap charter flights to Rhodes from many European destinations. Visitors from the USA and other countries outside Europe should consider flying to London or other European city and taking a connecting flight from there.
Within Greece, you can also fly to Rhodes direct from Athens International Airport, with several flights a day. There are also daily flights to Iraklion on Crete, and to Thessaloniki and Santorini, from various Greek airlines like Olympic, Aegean Air and Sky Express. Sky Express is based in Crete and also operates hops that link Rhodes, Santorini, and Mykonos.
Other islands with flight connections to Rhodes currently include Kos, Leros, Lesbos, Samos, Chios and Karpathos, and a few other islands. The Greek airline situation is constantly changing, though, so always check in advance and never make assumptions.
Ferries to Rhodes
There are daily ferries to Piraeus for Athens, several a day to the nearby island of Symi (a popular day trip from Rhodes), and less frequently to places including Kos, Karpathos, Kalymnos, Santorini, Patmos, Crete, Tilos, Halki and Thessaloniki.

Ferries in Greece
Ferries in Greece has an excellent and very thorough website where in addition to checking ferry schedules and times, you can also book tickets and get lots of useful information about travelling by ferry in Greece.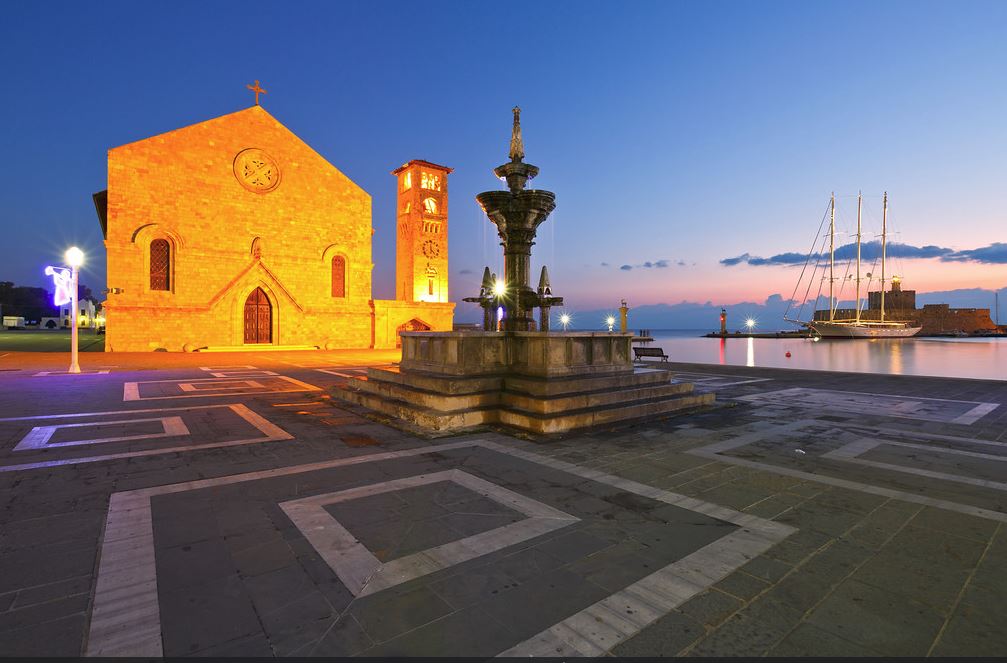 Rhodes Town
Photo by Milan Gonda (see more of his photos on our page Photos of Greece).
What to Do on Rhodes
Rhodes is the largest island in the Dodecanese and easily rewards a stay of one or two weeks. There's a lot of variety including the medieval Rhodes Old Town, which is a UNESCO World Heritage Site, glorious sandy beaches, archaeological remains (notably at the stunningly beautiful town of Lindos), monasteries, ruined castles, even the Valley of the Butterflies. There are top quality hotels, big resort hotels, gourmet restaurants, cheap tavernas, nightlife, quiet spots, windsurfing. It's a cliché, but there really is something for everyone on Rhodes.

The Acropolis at Lindos on Rhodes
Where to Stay on Rhodes
Lindos
If you want to know what's going on in Lindos, and find out about where to stay in Lindos, visit the excellent website of Exclusively Lindos.

More Information
Visit the official Rhodes website

A History of Athens from the first people to live on the Acropolis through the Golden Age of Pericles and Alexander the Great to the military junta.

Hiking the Samaria Gorge on Crete, one of the best things to do on Crete, by Greece Travel Secrets.

Greece Travel Secrets goes hiking in southwest Crete with Ramblers Walking Holidays based in Paleohora and hiking the E4 footpath and to Anidri and Azogires.