Lesbos
North East Aegean Islands
Easily the largest of these North East Aegean islands, and the third-largest in Greece, Lesvos is better known to English speakers by its other name, Lesbos, from which we get the word lesbian. This came about because the poet Sappho was born here, in Skala Eresos, and so she was definitely a Lesbian although whether she was also a lesbian is much less certain. The island is more familiar to Greek people as a popular holiday destination and for providing the country with some of its best ouzo.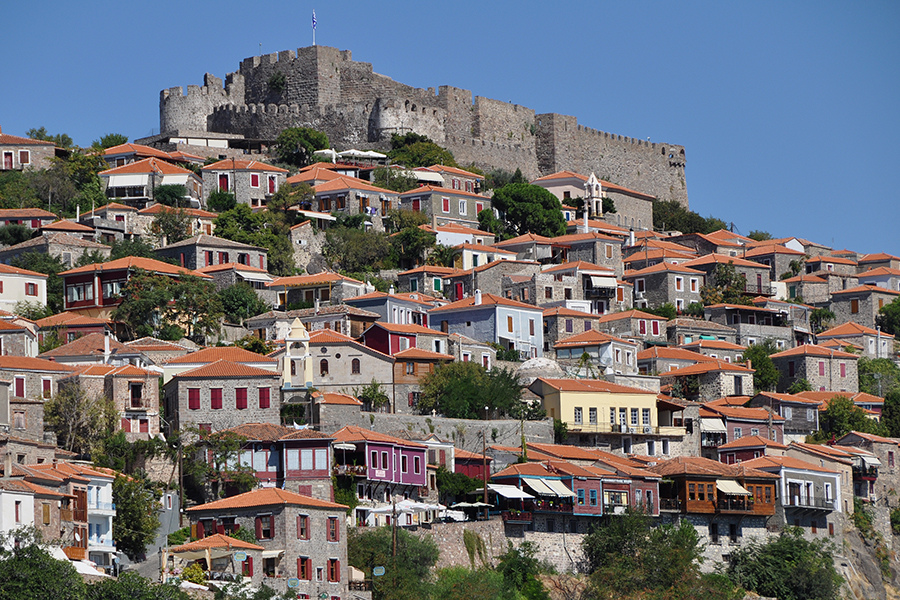 Molyvos. Photo credit: Drriss & Marrionn on Visual hunt / CC BY-NC-SA
The size of the island makes for a lot of variety, ranging from the busy port and capital, Mytilini, to quiet mountain villages, from bustling beach resorts to good birdwatching sites around Skala Kallonis. Lesvos has been a holiday island since at least Roman times as people have always been attracted by its beaches, forests and mountains. It actually has two highest points, with Mt Olympos 968m high in the south of the island, and Mt Lepetymnos exactly the same height in the north, though naturally there is rivalry between the local communities who both maintain that their mountain is actually a little higher than the other one.

Mytilini

The name of the main town, Mytilini, is also sometimes used for the island itself, a common Greek practice which can lead to confusion for foreign visitors, when boarding or disembarking from ferries. The town is not the most attractive of Greek island capitals, being noisy and rather industrial, but it does have its pleasant aspects and is worth at least a day of looking round before heading on to one of the many much more appealing towns and villages around the island.
Mytilini has its fortress, almost mandatory for harbours in these parts, the sprawling ruins here dating back mainly to the 14th century although the original castle here was founded in the 6th century by the Emperor Justinian (482-565). It's a good place to wander, to see the views and to escape the noise of the town for a while. 
Mytilini Museums

Other escapes include three museums. The Byzantine Museum has a good collection of icons ranging from the 13th to the 18th centuries, but is probably more of interest to the specialist. The Archaeological Museum is housed in one of the town's many Belle Epoque mansions and has some fine Roman and Greek mosaics, as well as prehistoric finds from the site of Thermi just north of the town. 

The most interesting museum of all is about 3km south of the town centre, in Varia. This was the home of the primitive Greek artist, Theophilos Hatzimihail (1870-1934), whose vivid works, full of life and the Greek spirit, are on display in the Theophilos Museum, a former school house. 

Ayiassos

Of the rest of the island, the main attraction in the south is the lovely hill town of Ayiassos, with ancient houses, cobbled streets and the 12th-century Church of the Panagia Vrefokratoussa, a place of pilgrimage due to an icon allegedly painted by St Luke.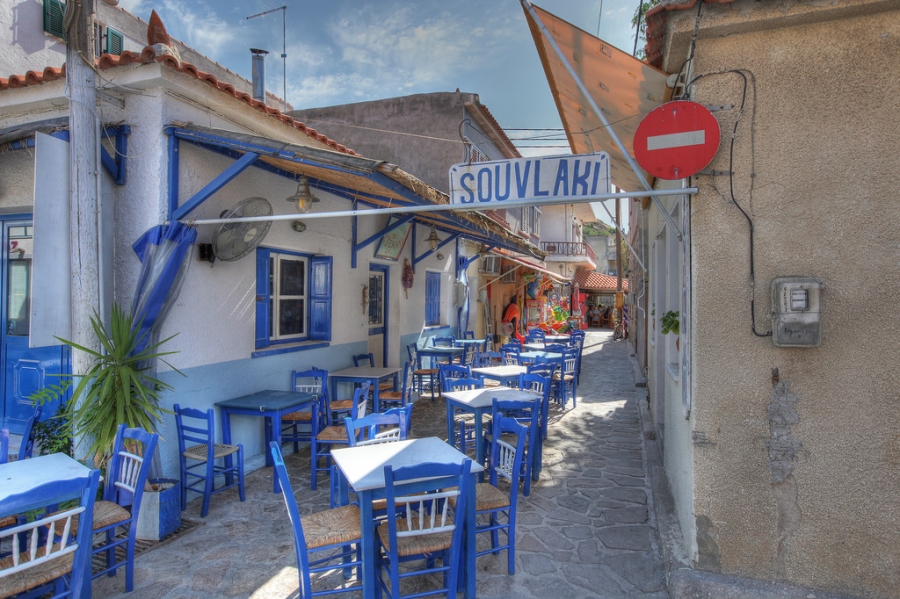 Skala Eresos. Photo credit: o-wagen on Visualhunt.com / CC BY-NC-ND
Eresos

In the west of the island Eresos is a place of pilgrimage for lovers of the work, or just the reputation, of Sappho, and the beach at Skala Eresos is one of the best on the island.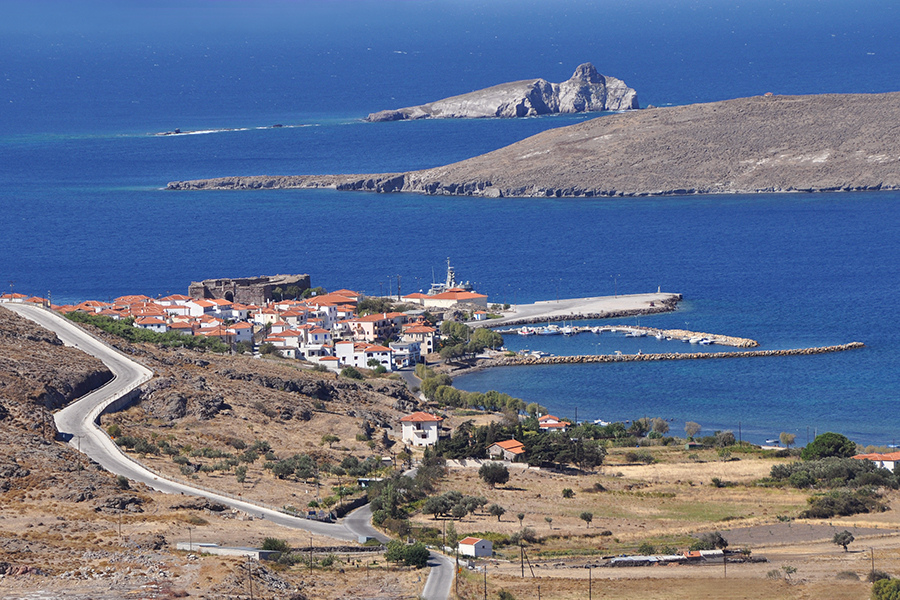 Sigri. Photo credit: Drriss & Marrionn on Visualhunt / CC BY-NC-SA
Further west still is the charming little village of Sigri, which remains unaffected by the small number of tourists who venture there each year.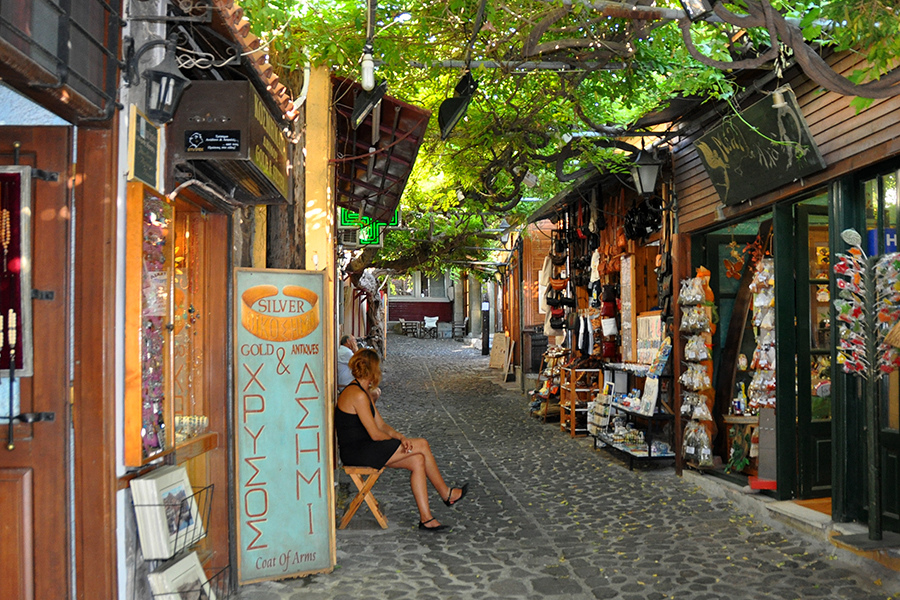 Molyvos. Photo credit: Drriss & Marrionn on VisualHunt.com / CC BY-NC-SA
Molyvos

No one should visit Lesvos without seeing the town of Molyvos, on the north coast. Its red-rooved houses cluster round a Genoese castle, and its cobbled streets are in many places completely shaded with vines, while below is a picture-postcard harbour. Even prettier is the harbour just along the coast at Skala Sykaminias, which was almost designed with the picture postcard in mind, featuring as it does a lovely chapel perched on some rocks at the end of the jetty. It is an image of Lesvos that will remain forever with everyone who sees it.

Getting to Lesbos
Flights to Lesbos
During the summer season there are charter flights from several European cities to Mytilene International Airport, including from London and Amsterdam. There are also seasonal flights on Minoan Air between Crete and Lesbos. In addition, there are several year-round flights to Lesbos within Greece. Aegean Airlines flies there from both Athens and Thessaloniki, Olympic Air flies from Athens to Lesbos, and Sky Express links Lesbos with Chios, Crete, Lemnos, Rhodes and Samos.
Ferries to Lesbos
There are regular ferries between Lesbos and Piraeus, for Athens, with a journey time of 11-12 hours. There are also ferry connections between Lesbos and other Aegean islands including Chios (about 3 hours), Lemnos (30 mins) and Samos (about 90 mins). Occasional ferries also connect Lesbos with the Greek mainland ports of Thessaloniki (11-12 hours) and Kavala (10-11 hours).
Ferries in Greece
Ferries in Greece has an excellent and very thorough website where in addition to checking ferry schedules and times, you can also book tickets and get lots of useful information about travelling by ferry in Greece.
Where to Stay on Lesbos
Where is Lesbos?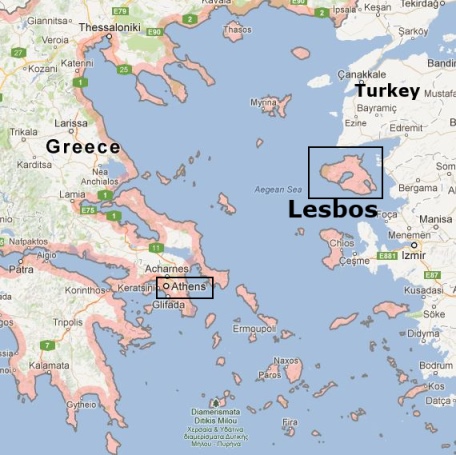 Volos is a fantastic Greek city and here's a really thorough guide to what to do there.

We thought you'd enjoy this read: 'Hail Hydra: A Midwinter Weekend on the Saronic Isle.'

Greece at a glance is a potted guide to the Greek currency, language, weather, health requirements and other information to help you plan a trip to Greece.