Lemnos
(or Limnos)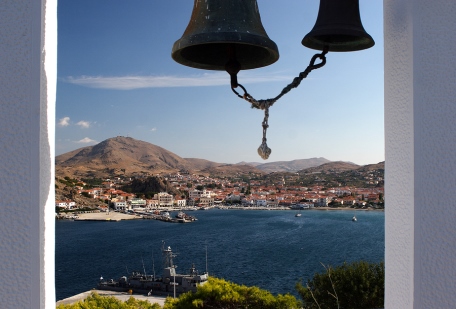 Lemnos (or Limnos) produces some of the best retsina in Greece, and other wines too for those whose palate does not take to Greece's unique resinated drink. The vineyards are in the western and more volcanic half of this island, which is almost cut in two by the deep gouge of Moudros Bay, one of the biggest and best natural harbours in the Aegean. 
In complete contrast to the barren and rocky western half of Lemnos, the east is mostly low-lying and agricultural, apart from several areas of marshland. There are a number of good beaches scattered around the coast, although nowhere has really developed very much in terms of tourist facilities. The main town is Myrina, or Kastro, on the west coast, which is also where the ferries call in that link the island with towns such as Kavala and Rafina on the mainland, and other islands like Lesbos and Chios. There is also a small airport with daily internal flights to Athens, Thessaloniki and Lesbos.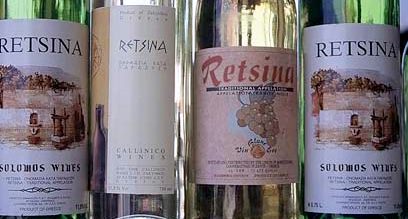 Myrina
Myrina is an enjoyably ordinary town, with an attractive waterfront, a couple of decent beaches close at hand and a picturesque small fishing port. There are also the ruins of its Byzantine Castle to explore, and from here there are excellent views over the town and the whole west coast from the site where the original acropolis once stood. In the old part of the town there are cobbled streets and some grand Ottoman houses, some of which have seen better days.
In one 19th-century mansion is the Archaeological Museum, which does its best with the limited displays that it has. There are several minor classical sites around the island, such as Polyochni (which dates back to 3000BC), Ifaistia and Kabireio, but much work remains to be done on these.
GETTING TO LEMNOS
Flights to Lemnos
You can fly to Lemnos International Airport from Athens on Olympic Air. There are also flights on Sky Express to Lemnos from Thessaloniki, Lesbos and Ikaria. In 2013 British Airways began direct summer charter flights from London Heathrow Airport to Lemnos. 
Ferries to Lemnos
There are daily ferries to Lemnos (or Limnos) from Kavala on the Greek mainland, with a journey time of between four and five hours. There are also one or two ferries a week to Lesbos (journey time over five hours). Ferries between Athens and Lemnos depart from the ferry terminal at Lavrio, about 30 miles south-east of Athens. There are 1-2 sailings per week and the  journey time is 10-11 hours.
Greek Ferry Information and Booking Tickets
There's a really comprehensive guide to Greek ferries, including suggested itineraries, guides to the different island groups, advice about cars on ferries, the differences between fast and convenient ferries, taking your dog on a ferry, printing your ticket and e-ticketing, and a much-needed guide to the port of Piraeus, on the Aferry website.

You can also book tickets online.
WHERE IS LEMNOS?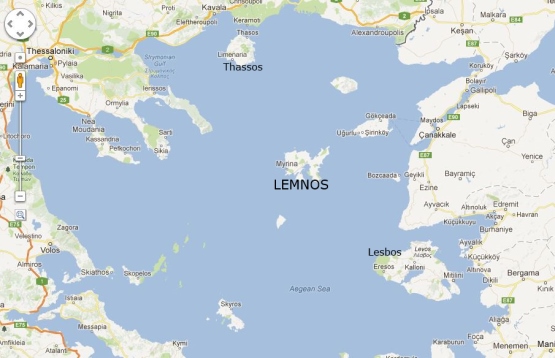 LEMNOS ON YOUTUBE
Watch this YouTube video about Lemnos
to get an idea of what the island is like:




---
---
Easter in Athens is, like Easter everywhere in Greece, the biggest religious celebration of the year and this page on Greece Travel Secrets tells you what to expect over the Easter weekend.

Peter Sommer Travels has a great trip on offer that enables you to get a real experience of Easter in Athens from 2-9 April 2018. This is what they say: "Explore ancient Athens and experience a tradit…

Athens culinary tours are among the food walking tours offered by an unusual company, Culinary Backstreets.