Greek Food and Drink
Greek food and drink for us is one of the highlights of any visit to Greece and the Greek islands, and across the website we have stories and advice from all over the country, from Athens to Zakynthos.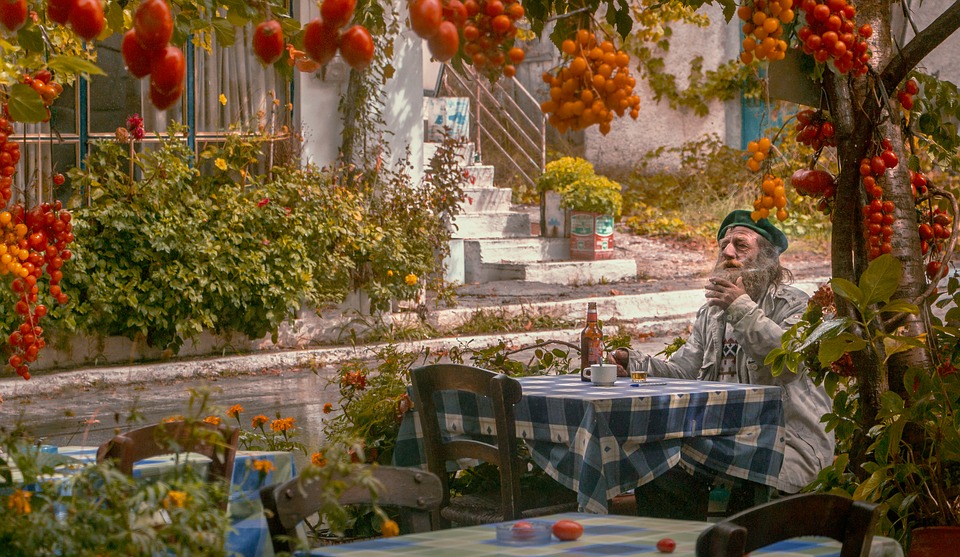 We've visited wineries and olive oil factories on Crete, toured the wine museum on Samos, talked to some of the world's best bartenders in Athens, and even tried being a waiter in a restaurant on Zakynthos, which was incredibly hard work.
We've learned how they make unusual Greek products like rakomelo and petimezi, visited food growers, shops and, of course, tavernas and restaurants! We've got some advice on tipping, too.
First here's some general information about typical Greek food and drinks, and eating practices. After that are links to our Greek food and drink stories, first listed by topic and again afterwards by destination. Let's start with Greek drinks - yammas! (That's the Greek for 'cheers', in case you didn't know.)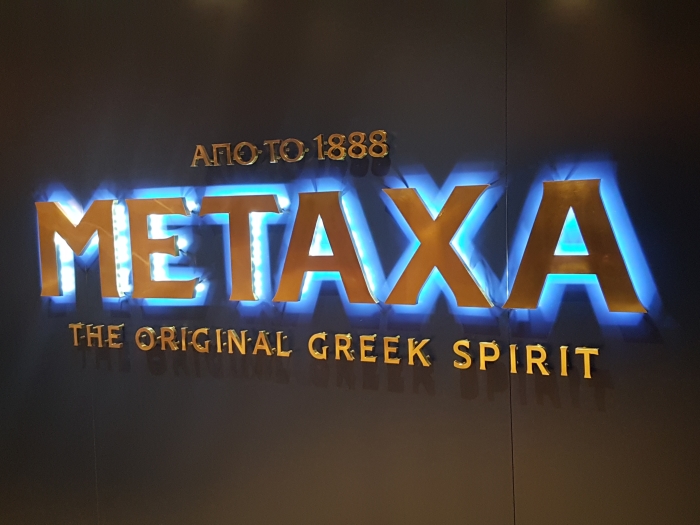 In the Metaxa Distillery in Athens
Greek Alcoholic Drinks
We've written a separate page on Greek Alcoholic Drinks, one about Greek ouzo, one about Greek raki, one about Metaxa, and one about Greek retsina, the country's unique resinated white wine.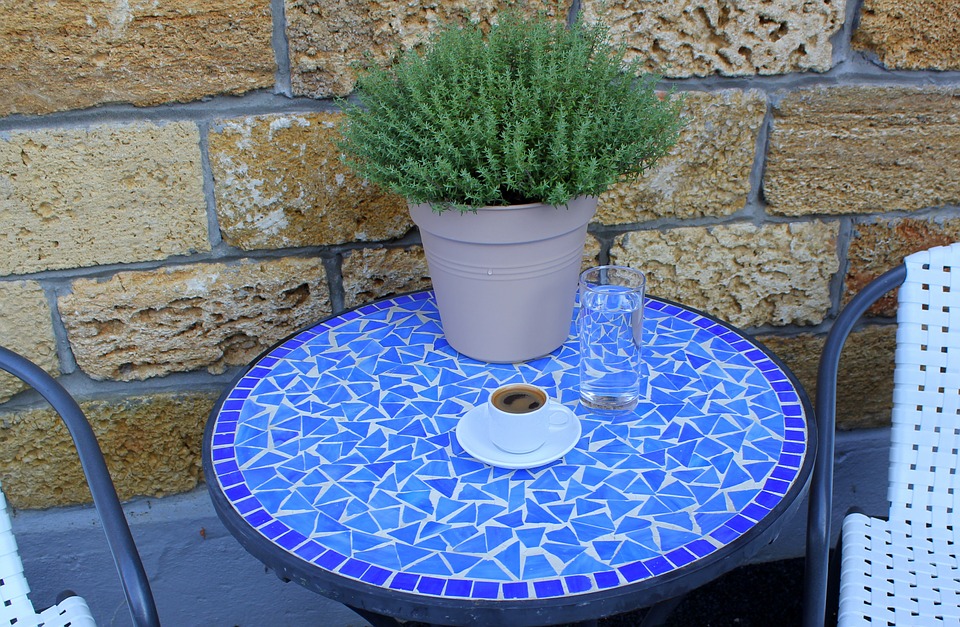 Greek coffee
Tea and Coffee
If you're someone who prefers a cup of tea rather than coffee, be prepared to be disappointed. You can get tea in Greece but it will usually be served as a teabag with some hot water. If you want milk, it will probably be served in one of those little cartons like you get at breakfast buffets. The taste isn't great. You can also find herbal teas, sometimes in surprising places, but don't expect to find them everywhere.
When it comes to coffee, there are various choices, all very different. Greeks love to drink Frappé. This is cold and usually instant coffee. It sounds a bit odd at first, but if you want a coffee fix on a hot day, it can be very refreshing once you get used to it. If you prefer a more conventional hot coffee, ask for it American-style.
What is specifically called Greek Coffee is different yet again. It's very intense in flavour and served in a small cup, like an espresso. It will, however, have the grounds in the bottom, so watch out for those and don't try to down it all. With Greek coffee you sip it, with sips of water inbetween. It also comes in three types, depending on the amount of sugar you like. If you like it very sweet, ask for a 'glyko' or 'glykos'. Most people prefer a 'metrio' or 'metrios', which is medium and has a little sugar to balance the bitterness of the coffee. If you want no sugar at all, it's a 'sketo' or 'sketos'.
Water in Greece
Greek tap water is perfectly safe to drink, though many people prefer to drink bottled water. If you don't like to drink bottled water because of the excessive use of plastic bottles, bear in mind that on some Greek islands there isn't sufficient water supply to cope with the needs of visitors, and water has to be shipped in. My choosing bottled water instead, you're reducing the amount of shipping needed, so always ask locally which it is better to do.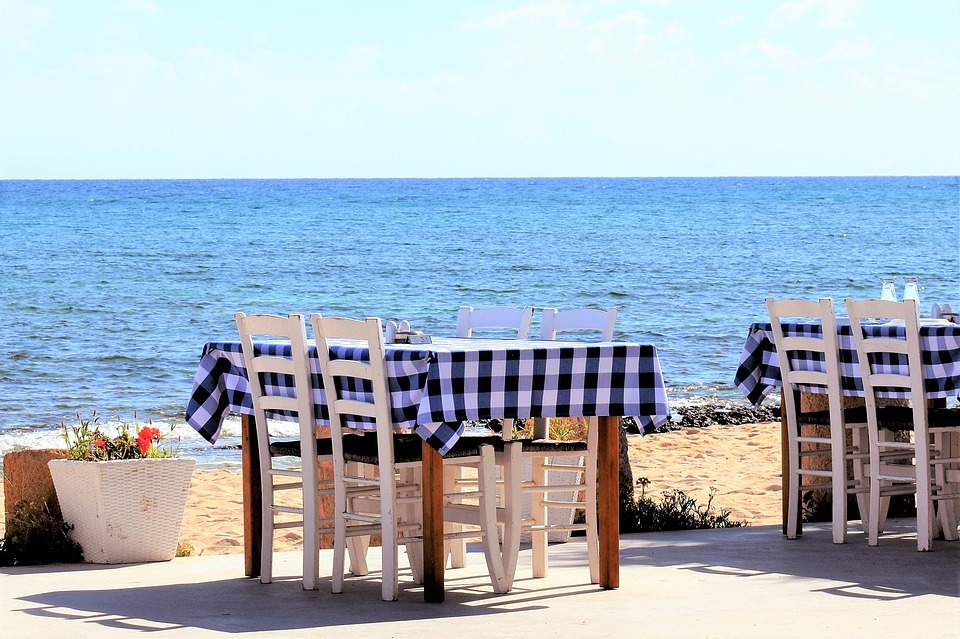 Greek Eating Places
Some differentiation is made between restaurants and tavernas, though there is some blurring at the edges. 
Restaurants tend to be more upmarket, or aspire to be, and you will probably get a proper wine glass and tablecloth rather than a little tumbler and a plastic cloth.
Tavernas are more homely, often family-run places, where children might be serving and the atmosphere is totally informal. The cooking may be every bit as good as in more expensive restaurants.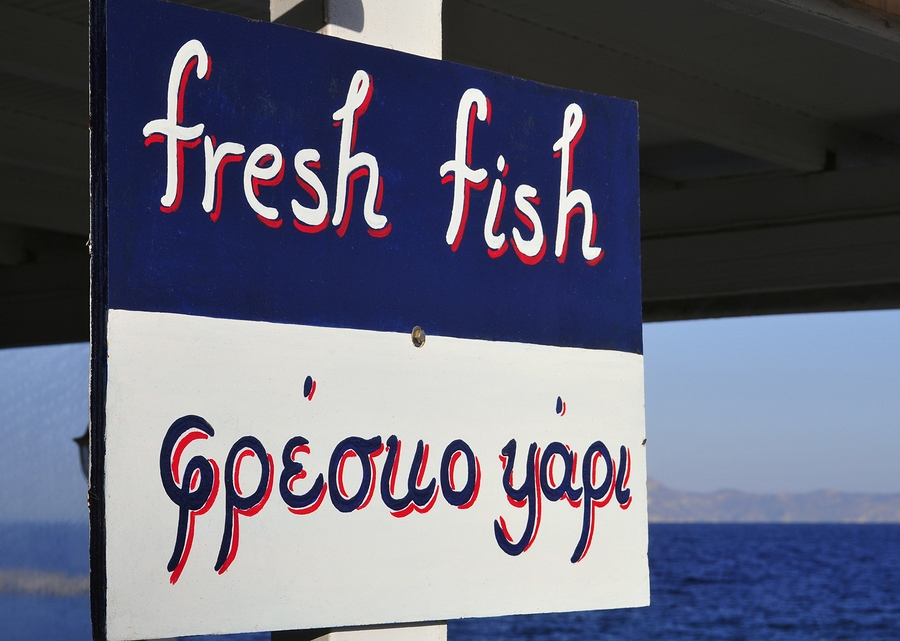 A Psarotaverna
Psarotavernes specialise in fish, psistaries feature grills and spit-roasted items, ouzeri are more like bars but where snacks like the Spanish tapas will also be available.
Dress code in all but the smartest places is very relaxed.
It's quite common to be taken into the kitchen and shown what's cooking, rather than have the dishes explained to you.
By law, anything not fresh should be described on the menu as frozen. This particularly applies to fish.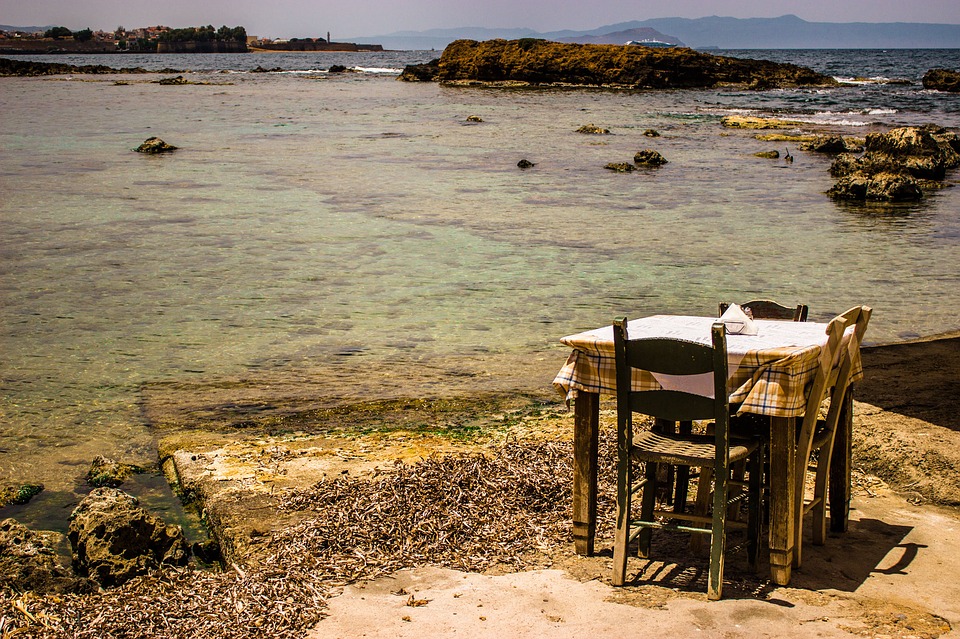 Restaurant near Chania on Crete
Booking a table is the exception rather than the rule, apart from in the most expensive places where you would not want to be disappointed. Elsewhere people usually just turn up and expect to find a table. If one is not available then the staff will either produce and set a new table, or ask you to wait till someone else has finished. Informality is the norm.
Eating Times
Breakfast is usually served from an early hour in hotels, and many cafés open for breakfast in resort towns from about 7:30 or 8 am onwards.
Lunch and dinner for Greeks are both late affairs. Lunch seldom starts before about 2 pm, and dinner from about 9 pm onwards. For the benefit of visitors, however, lunch will be available from about noon onwards, and dinner from about 7 pm, or even earlier depending on local demand.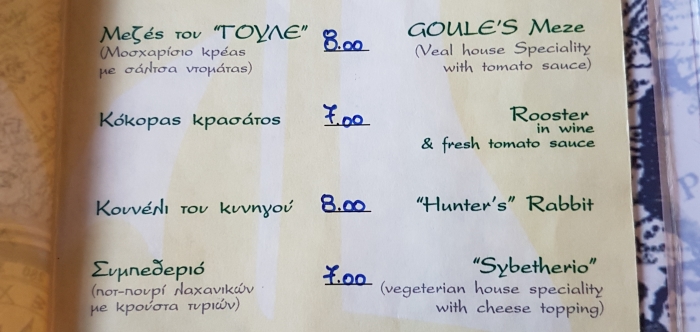 Menu at the Goules Taverna on Crete
The Menu and the Bill
Menus often show two prices, with and without tax, but you will pay the 'with tax' price. Most places will have menus in Greek and English, and in other European languages too. Service is usually included so there is no need to add a tip, but people often leave an additional small amount on the table or the loose change from the bill.
Greek Food and Drink Stories by Topic
Beer
Dining Guides
Food
Food Tours
General
Olives and Olive Oil
Regional Cuisine
Dining
Shops
Spirits
Tipping
Wine
Manousakis Wine Tasting on Crete
Touring the Lyrarakis Winery on Crete
Zacharioudakis Winery on Crete
Unusual Greek Food and Drinks
Greek Food and Drink Stories by Destination
Athens
Corfu
Crete
Touring the Lyrarakis Winery on Crete
Ikaria
Ikaria Food and Recipes Book Review
Samos
Santorini
Zakynthos