What Is Metaxa?
What is Metaxa? Metaxa is an amber Greek spirit combining brandy made by distilling wine, sweet wine from Samos, and a secret recipe of Mediterranean botanicals.
What is Metaxa's History?
Metaxa was created in Greece in 1888 by Spyros Metaxa. He was a silk merchant and enjoyed trying spirits from different countries as he travelled the world. Many of them were rough on the palate, though, and he wanted to create a unique spirit that was as smooth as the silks that he sold. Metaxi is the Greek word for silk showing that the family's silk trading goes back for generations.
Along with his brothers Elias and Alexander, Spyros built the first Metaxa distillery in Piraeus in 1888. They wanted to be near the port, and began exporting Metaxa around the Mediterranean, and it was a huge success. By 1900 they were exporting to the USA.
In 1968 a new distillery was built in the northern suburb of Kifissia, and the company remained a family-owned business until it was sold in 1989. It's now owned by Remy Cointreau.
Metaxa's Salamina Warrior
Every bottle of Metaxa contains an image of a Greek warrior. This is known as the Salamina Warrior, and was on a medallion that was found when they were digging the foundations of the original distillery in Piraeus. The medallion depicted someone who fought at the Battle of Salamis, a historic naval battle when the Greeks defeated the Persians.
What Is Metaxa?
When it was created in 1888, Metaxa was called a cognac as it was meant as an after-dinner dark spirit and was partly made from brandy. The definition and regulations that we have today about cognac didn't exist in 1888, and many similar drinks were called cognac.
In 1936 the regulations changed and only brandy produced in the Cognac region was allowed to be called cognac, so Metaxa was described as a brandy. 
Then in 1987 came the ruling that brandy could not contain wine, so Metaxa either changed their recipe or changed what they called their spirit. The decision was made to stick to the original and now historic and successful recipe, forget about comparisons to brandy or cognac, and simply go forward as the unique spirit that is Metaxa.
What Is Metaxa's Recipe?
Metaxa's recipe is a closely-guarded secret. Only two people know the recipe, the distillery manager and Costas Raptis, whose title is Metaxa Master rather than Master Distiller. When we visited the distillery Costas joked that the recipe is written down (and presumably locked in a safe somewhere) in case he gets amnesia!
What we do know is that the basis of Metaxa is a brandy that's made by distilling wine made from three Greek grape varieties: Savatiano, Sultanina, and Black Corinth grapes, also known as Korinthiakos. This is blended with sweet Muscat wines from Samos, and the result is aged in French Limousin oak casks, usually for at least five years although there is a 3-star Metaxa aged for at least three years.
The aged spirit is then infused with Mediterranean botanicals and rose petals, and put back into barrels for another year. We only know about the rose petals because someone saw them being delivered to the distillery one time, and let the secret out, though if you take a sniff of Metaxa it isn't too surprising.
What Are the Different Types of Metaxa?
There are several more exclusive types of Metaxa for real aficionados, but the main types most visitors to Greece will come across are 3-star, 5-star, 7-star and 12-star. This isn't a reference to quality but an indication of how many years the Metaxa has been aged for.
Inevitably, the longer you age a spirit in barrels (provided you know what you're doing), the more complex the flavours get, and the 'better' it tastes. However, taste is a very personal thing and you may prefer the 3-star Metaxa over the 12-star Metaxa. In which case, good news – it's cheaper! Of course the only way to find out which you prefer is to try them all.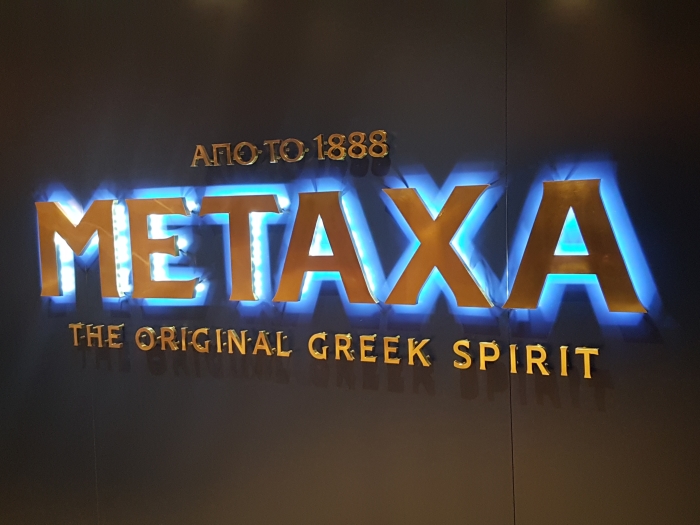 When to Drink Metaxa?
Metaxa is traditionally an after-dinner drink. You can either order a glass in the restaurant after your meal, and if they don't have any you can move on to a bar and enjoy a glass there.
However, this isn't a hard and fast rule. Bartenders are now using Metaxa in cocktails, too, so you can drink Metaxa in a cocktail before dinner if you like. However, if you order a neat Metaxa before dinner or during a meal, you'll probably get a funny look.
You should drink Metaxa neat, but by all means drop an ice cube in the glass if you prefer your spirits to be a little diluted.
All Photos (c) Mike Gerrard Unless Otherwise Stated.
Check out a shorter version of this page on our YouTube channel:
What Is Metaxa?