How to Make Petimezi
How to make Petimezi, the sweet Cretan syrup made from wine must, is explained to Greece Travel Secrets.
'We're looking for the house with a big cactus outside,' our guide Isidoros tells us. We're driving through the little town of Kounavi, about nine miles south of Iraklion, the capital of Crete.
We've hired Isi for one of the private tours he offers through his company, www.GoCrete.net, in our case with an emphasis on food and drink. Today he's going the extra mile, literally, and on our way to a pre-arranged vineyard tour and wine tasting Isi's squeezed in a visit to someone he's found for us who makes petimezi.
All Photos by Mike Gerrard and (c) www.Greece-Travel-Secrets.com
We'd discovered this delicious Cretan syrup the evening before at dinner at the Goules Taverna, where mouthwatering dishes like pork in a wine and honey sauce, and rooster in a white wine sauce with cinnamon, cost a paltry seven or eight euros and were followed by a complimentary dessert which surely came not from the kitchen but from heaven. Grapes that had been preserved in a sugar syrup were served over thick creamy yoghourt and doused in what we learned was petimezi.
Next day, after a few phone calls, Isi's arranged for us to meet Spiros and Rena Paspati, who make petimezi in their house which does have a giant prickly pear cactus outside. They don't do tours and it's the wrong time of year so they won't actually be producing any petimezi right now, but Rena's happy to show us how it's made.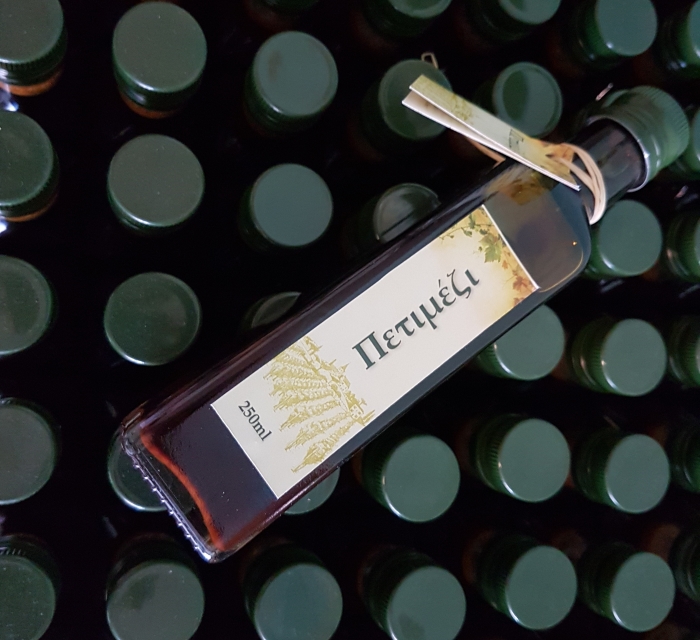 The town of Kounavi has always been associated with wine, and the Paspatis collect grape must from the vineyards and farmers all around. 
'We only use organic grapes,' Rena says, 'and we use the leaves for making our dolmades: stuffed vine leaves. Traditionally petimezi was made out of the kind of grapes called soultani, which were brought to Greece in 1922 when there was an exodus of Greeks from Turkey. They brought the wine and the petimezi recipe with them. Other producers use other types of grape but we use soultani and the taste and smell are much better.'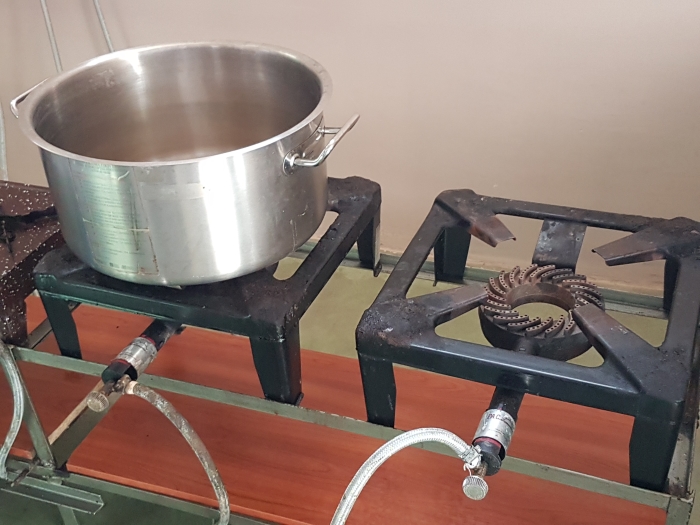 Simple Equipment!
The must from the grapes is heated on a simple gas stove, but to the pan they add a chalk-like white stone called asproxoma that's found locally and removes any imperfections from the must, acting as a kind of natural disinfectant.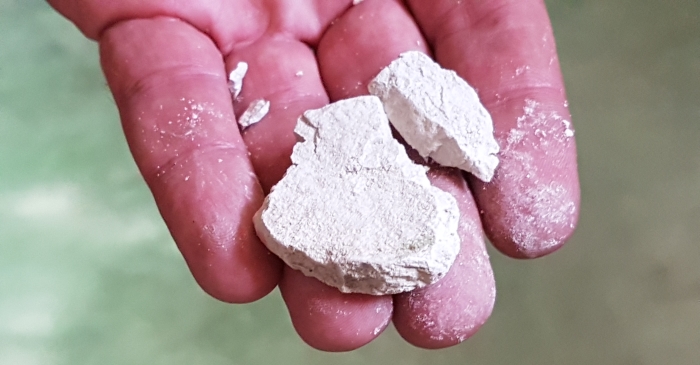 Asproxoma
'After 30 minutes you start to see a foam forming,' explains Rena, 'and this has to be removed with a big spoon, without mixing the must. You keep going until there's no foam left. Then it's added to a bigger pot for 12 hours. It's cone-shaped at the bottom to remove the last imperfections. Then it goes back into smaller pots over a low heat, and you wait 12 hours or so. The longer you leave it, the thicker the result, so it's up to the maker what kind of petimezi you want.
'But there are two important things. You never cover it, and you never touch it. You check the solution and the colour. When it becomes dark brown, almost black, it means it's almost ready.'
Rena Paspati Checking Sugar Levels
All you need to do then is let it cool and bottle it. One great virtue of petimezi is that there's no expiry date. It lasts for years. Unfortunately you won't find Rena's petimezi in the main tourist shops as their production is small and they distribute it through friends, into specialist shops selling organic produce, and, as it happens, through her friend Manolis Igoumenakis, whose organic farm is where we're going to be spending the night. Ah, now we know who one of Isi's Mr Fix-It phone calls was to!
'If it gets cold,' Rena says, 'it can start to solidify, like honey, so you just warm it up in a bain-marie... or in the sunshine! Its uses are like honey too. You can have it on yoghourt, in herb tea as a sweetener, or mix it with vinegar to make a dressing like balsamic vinegar. You can marinate food in it, mainly meats. You can also use it to make sweets and pastries, and in cakes, instead of sugar. It goes well with tahini on bread – it's a superfood!'
More Information
Spiros and Rena Paspati don't normally accept visitors but a behind-the-scenes look can be arranged through www.gocrete.net.