Greek Alcoholic Drinks
Greek alcoholic drinks include distinctly Greek drinks such as ouzo, Metaxa, retsina, raki, tsikoudia and tsipouro, but also Greek wines and Greek beers.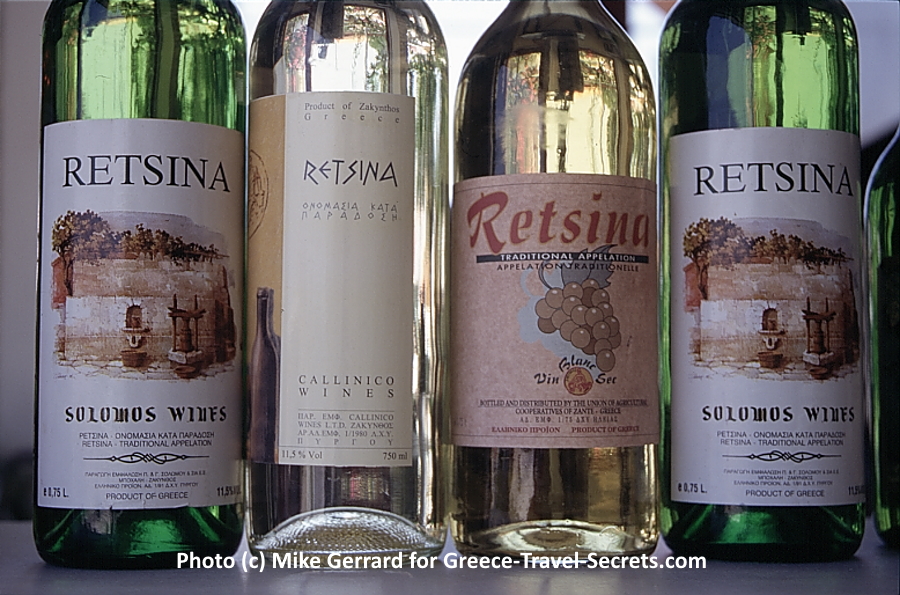 Greek Alcoholic Drinks
Ouzo
Ouzo is a very popular aperitif. It's an aniseed-based drink a little like pastis, raki, or arak. It is served neat in a tall glass with an accompanying glass of water. Some people prefer their ouzo neat and will sip at the water, but the most common way to drink it is to pour some water into the ouzo, till you get the taste that you prefer. Adding water turns the ouzo milky. You can drink it on its own as a pre-dinner drink, or enjoy it with your meze starters. See more information on our special Greek Ouzo page.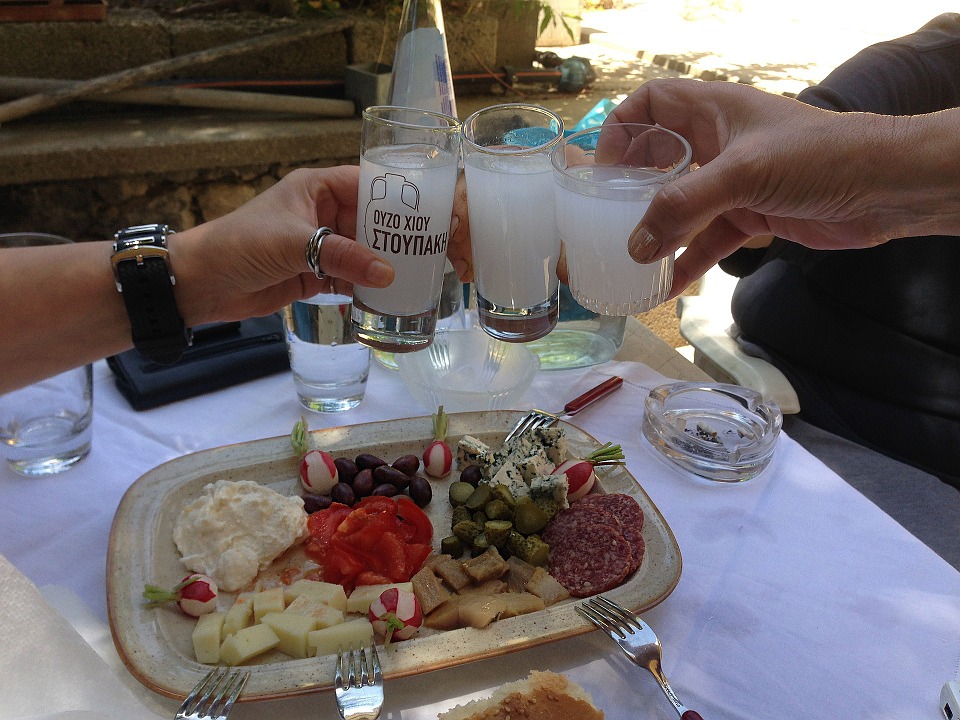 Yammas!
Ouzo is typically about 37-40% ABV so is as strong as other spirits like vodka and gin, but it's got a very more-ish taste and is very refreshing in a hot climate so it's easy to overdo it. The best ouzo is said to come from the island of Lesbos.

Beer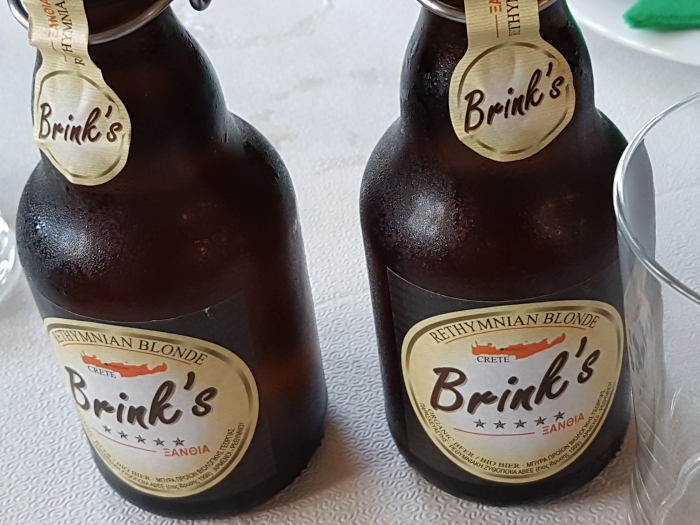 Bottles from a Craft Brewery on Crete
Beer is very popular in Greece and many Greeks drink beer with meals rather than wine. Two of the main Greek brands to try are Fix and Mythos, and if you like light beers brands like Amstel and Heineken are also widely available. For a little variety there are also now an increasing number of craft breweries around the country, so ask if the bar or restaurant has any local beers they can recommend.
When we were on Crete, we did a tour and tasting at the Brink's Brewery, just outside Rethymnon. We had some Brink's beers at the Goules Taverna one night, and we loved them. Our enterprising tour guide Isi, from Go Crete, surprised us by arranging a tour of this small craft brewery. Here's a YouTube slideshow of behind the scenes at Brink's.
Greek Wine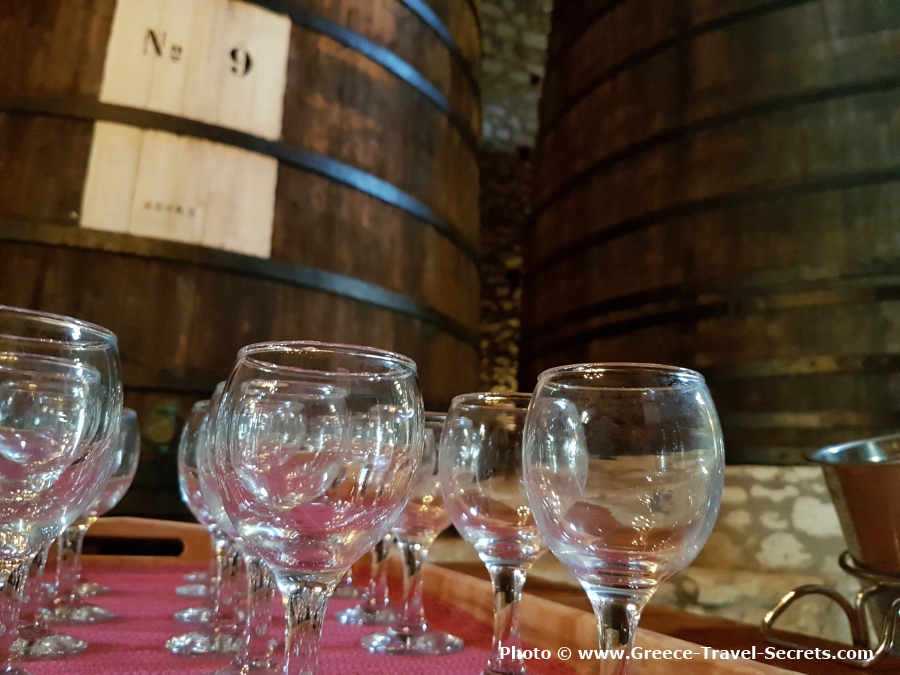 Wine Tasting on Samos
Greek wine has improved by leaps and bounds over the years, helped by increased demand from visitors and also young Greek winemakers travelling around the world and bringing new skills and techniques home with them. Long gone are the days when your only choices were Retsina and Domestica (red or white and nicknamed Domestos).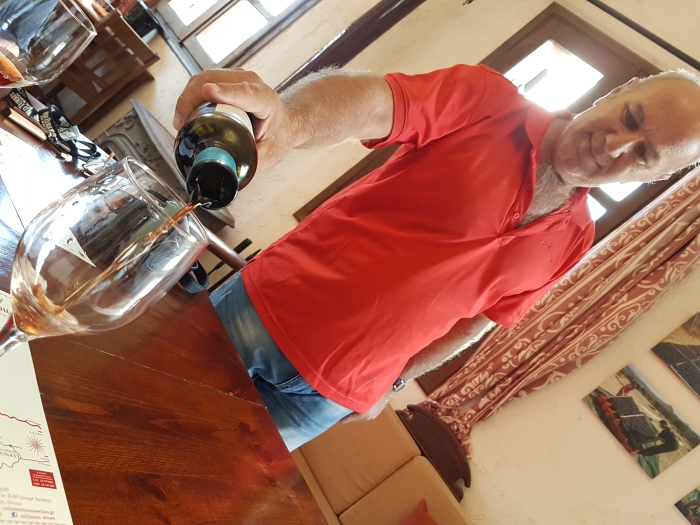 Wine Tasting at the Stilianou Winery on Crete
House wines can vary in quality, but in some tavernas it really will be house wine, made by the owner in the family's own vineyards. In smarter places the wine lists will naturally be more sophisticated. Familiar grape varieties like cabernet sauvignon and chardonnay do grow in Greece but the country also has a wide range of indigenous grape varieties with unusual names like agiorgitiko and roditis. Be adventurous, and don't be afraid to ask what a particular wine is like, if you don't know the grape variety.
Here's a brief chat with one Cretan winemaker, Ioannis Stilianou, from our YouTube channel, where you'll find other videos about Greek food and drink.
Retsina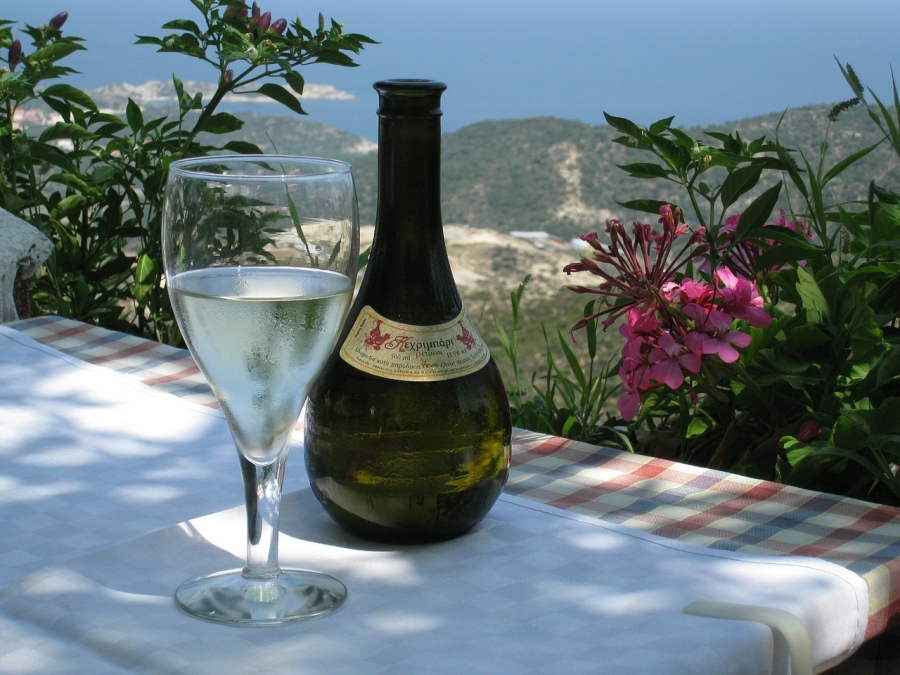 Retsina
Retsina is a peculiarly Greek white (or occasionally rosé) wine which has a slight resiny flavour. Some people love it, some people never get a taste for it, but you should certainly try it to find out which camp you're in. The resin taste is said to have begun some 2,000 years ago when wine was stored in clay amphora, which were sealed at the top with Aleppo resin. This acted as a very effective seal, good at keeping wine fresh, but it did imbue the wine with a slight resin flavour. 
The Greeks developed a liking for this distinctive wine. Even when it became possible to store wine in wooden barrels (which needed no resin stop and gave wines a different taste), the Greeks still wanted their retsina and the flavour was added in different ways. Retsina has a reputation as a 'rough' wine, not very sophisticated, but today's winemakers have reinvented retsina and there are some remarkably subtle retsinas available. The name 'Retsina' is acknowledged by the European Union as a PDO (Protected Domain of Origin).
We like retsina so much we've now written a whole retsina page.
Metaxa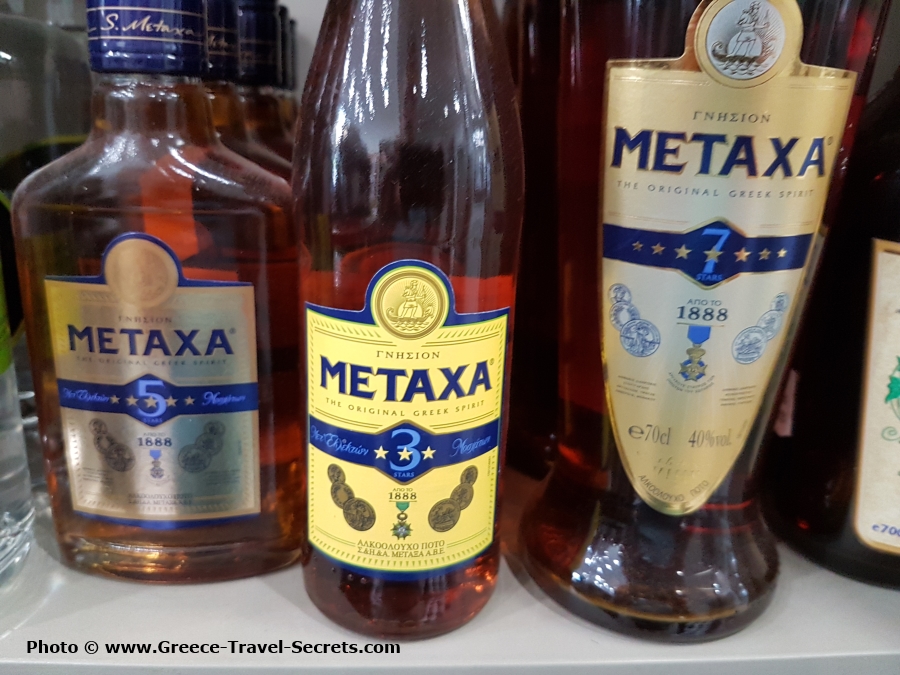 Metaxa is a common after-dinner Greek alcoholic drink, which people refer to as Greek brandy, though this isn't strictly the case. It's a good way to convey what kind of a drink it is. It was originally referred to as Greek cognac, until cognac-makers came up with a definition of cognac, so Metaxa (which is the family name of the original maker) described itself instead as a brandy, which wasn't then strictly defined. Later, though, the rules for calling yourself brandy were laid down, and Metaxa didn't meet the requirements so it became... just Metaxa.

In the Metaxa Distillery in Athens
In fact in international competitions Metaxa is in a class of its own as it doesn't fit into any official categories. It's a dark spirit that's distilled at the Metaxa Distillery in Athens, then blended with wine from Samos grapes, with added herbs and other secret ingredients. One known ingredient is rose petals, as someone once observed them being delivered to the distillery, so that little secret was out! It isn't hard to tell, though, as Metaxa does have a fresh and floral taste as part of its overall complex flavour. Think of it as a brandy/liqueur/digestif kind of drink that is distinctly Greek, and do try a glass after dinner. You can read more on our page, What Is Metaxa?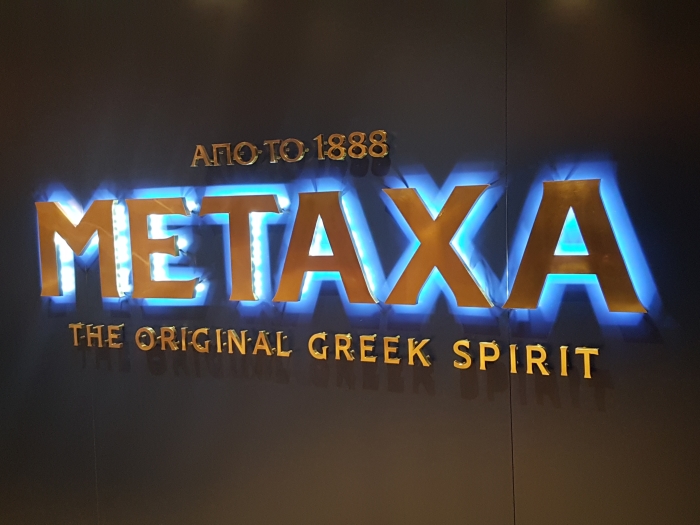 It's common to leave a restaurant/taverna after a meal and move on to a bar or café for a Metaxa (or two) and maybe a dessert or some fresh fruit. Metaxa comes at different prices and, naturally, different qualities. The most common are 5-star, 7-star, and 12-star, with a few special (and expensive) limited editions. The more stars, the better, is a good rule-of-thumb, although even 5-star Metaxa is a delicious and smooth drink. Try a Metaxa cocktail, too.

Raki or Tsikoudia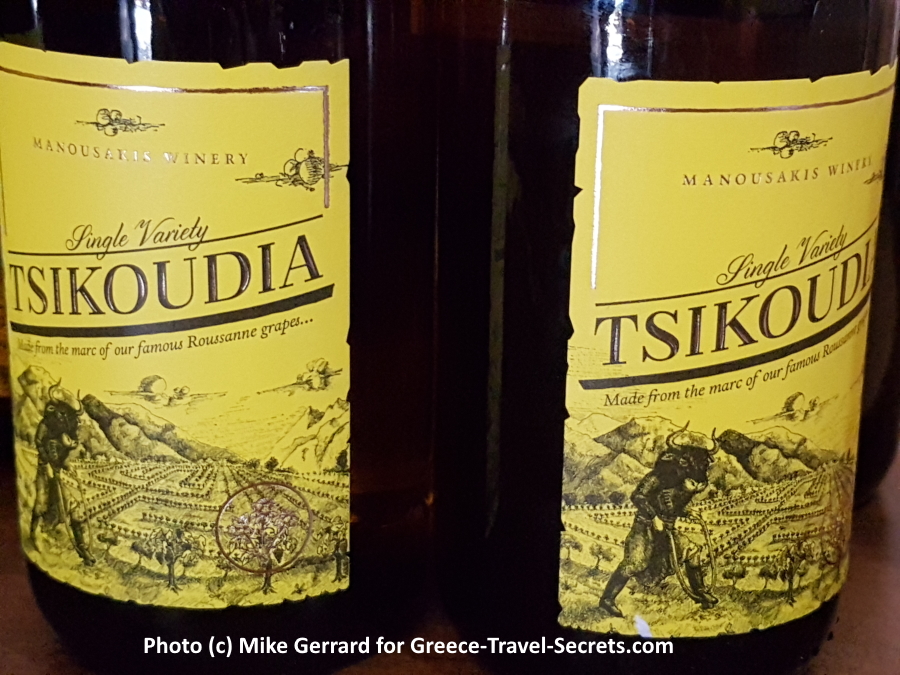 Superior Tsikoudia from the Manousakis Winery on Crete
Raki or tsikoudia is one of the strongest Greek alcoholic drinks. It's the after-dinner drink of choice on Crete, where it originated. It's a spirit distilled from the bits of the grape that are left over from the wine-making process. Waste not, want not. It's so common that many tavernas and restaurants give customers a complimentary glass at the end of a meal. Quality and strength varies enormously and it can be anything from a standard 40% ABV (like ouzo) to an eye-watering 65%. Our advice is knock it back and hope for the best! See our separate page asking What is Greek Raki?

Tsipouro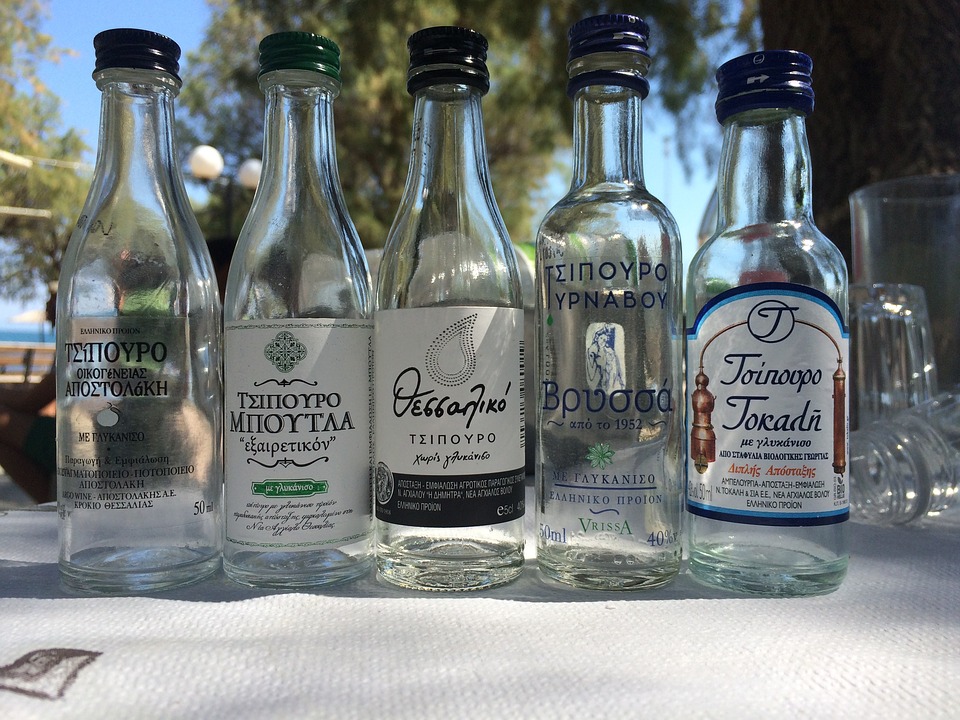 Tsipouro
Tsipouro is a similar drink to raki that is made widely on the Greek mainland, the main difference being that it rarely exceeds 40-45% ABV in strength, and doesn't get up to the high-octane alcohol content that it can do on Crete. 

Rakomelo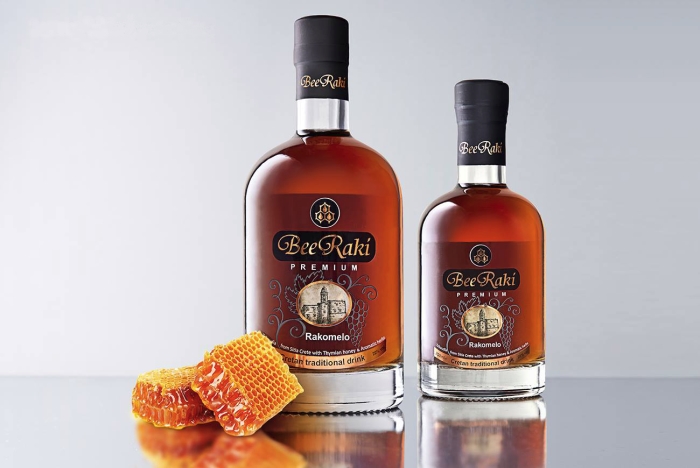 Rakomelo is a Greek alcoholic drink made in several places in the country but notably on Crete, which is where we met a rakomelo-maker.