What Is a Greek Salad?
What is a Greek Salad – a Greek Salad is made up of tomatoes, cucumber, onions, green pepper, olives, and feta cheese.
You'll see Greek Salad on almost every restaurant menu throughout Greece, but what is a Greek Salad?
What Is a Greek Salad?
A Greek Salad is common throughout the whole of Greece, and you might also see it called Horiatiki, Country Salad, Village Salad, or Peasant Salad. It's a very healthy dish and can be served either as a starter or as an accompaniment to a main course. Sometimes at lunch you can have it as a meal in itself. Greek Salads usually come in generous portions, in a large bowl.
There can be slight variations in the way a salad is served, but nine times out of ten it will be a bowl of sliced-up tomatoes, cucumber, onions, and green pepper, with olives, and have a slab of feta cheese on top. There will be a sprinkling of fresh herbs over the top, usually oregano, and a drizzle of olive oil, though sometimes this will be left to you to add for yourself.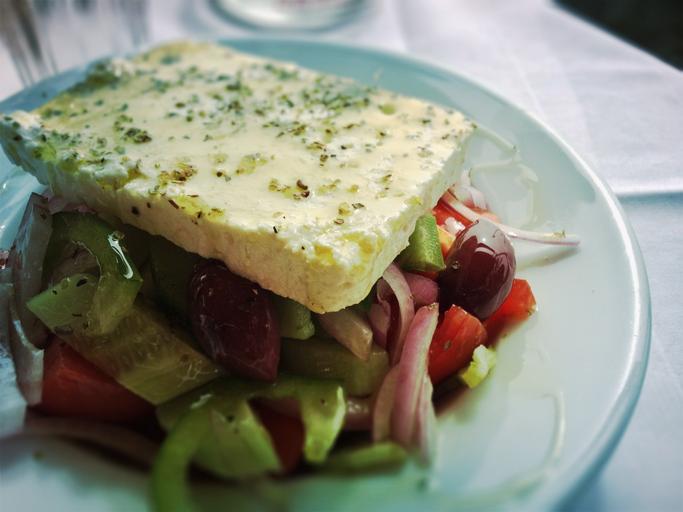 Feta Cheese
Although it's common practice to put a whole slab of feta cheese on top of the salad, and let people cut it up as they dish out the salad onto their plates, when we make Greek Salad we prefer to cut up the feta cheese into cubes and mix it in with the other ingredients. It's entirely up to you. There's no hard and fast recipe.
Making a Greek Salad
You'll find a recipe for Greek Salad in the lovely book Ikaria, but you can easily make it up for yourself. Here's what we do.
Take three or four large tomatoes and slice them up into chunks. Finely chop a small red onion. You'll be putting things into a big serving dish so each time you prepare an ingredient, put it in the bowl and mix it around, as this is easier than putting everything in and then trying to mix things.
Next slice up a small cucumber, or half of one of those big cucumbers you get in the supermarket. We like to cut up each cucumber slice into quarters, to give you very small pieces. That way the different flavours spread further throughout the dish. Mix in the cucumber.
Next slice up one green bell pepper. Again, we like to cut it into small pieces so that everything gets mixed in more and you get more of the different flavours in each mouthful. Stir it all into the mixture again.
Then add the black olives. We like to use pitted Kalamata olives and slice them into quarters, but you can do what you like. In Greece you'll find both pitted and unpitted olives used. There are no rules!
We then add the feta cheese. As I said, we like to chop it up and mix it in, but for the traditional look you can put a whole slab of cheese on top. Finally, sprinkle it with oregano, which always looks nice against the white feta, and cover it with as much olive oil as you like. Serve it with some bread, to mop up the juices. We always make up a big bowl, enough to last us 2-3 days.
For a little variety, you could also add in some capers. They do this in some of the islands in the Dodecanese. A Greek Salad basically uses up the healthy ingredients that are available, so if you want to add in something you have to hand, go ahead and do it. You don't need salt, though, as the feta cheese is fairly salty.
The word 'salad' by the way, comes from the Latin word 'sal', which means salt. The Romans would make their equivalent of the Greek Salad by using raw vegetables dressed with salt, olive oil, vinegar, and herbs.
What Is a Greek Salad Outside Greece?
If you order a Greek Salad outside Greece, you won't necessarily get what we've just described. For a start, you're unlikely to get one big bowl for everyone to share. You'll probably get individual portions, often served on a bed of lettuce, even though this never happens in Greece. It may well have other ingredients, like salad potatoes, beetroot, cabbage, or garlic. But whatever is in it, it should still make for healthy eating.