Ikaria Book Review
Ikaria by Meni Valle, brings together the best and healthiest Greek recipes with an evocative travelogue about Ikaria, one of the world's Blue Zone places.
Ikaria
Ikaria is one of the North-East Aegean Islands a few miles from Samos, though about half its size. You can get there by ferry from Samos, from Mykonos, or from Athens.
What Is A Blue Zone?
What is special about Ikaria is that it is one of only five places in the world that has been designated a so-called Blue Zone. A Blue Zone is an area where people live for longer than average, with about one person in every three living into their 90s. There are many reasons for this, but a major factor is diet. The only other Blue Zone place in the Mediterranean is Sardinia, with the remainder are in Japan, California, and Costa Rica.
Ikaria Book Review
What better place in Greece, then, to have a cookbook devoted to traditional recipes from than Ikaria? This is more than just a collection of recipes, though. It's also a beautifully-written and photographed handsome coffee-table book, though I expect my copy to soon be spattered with olive oil stains as we try out some of the recipes.
Ikaria Author
The author of Ikaria, which is sub-titled Food and Life in the Blue Zone, is Meni Valle. Valle is an Australian Greek cookbook author and food teacher, who also leads culinary tours to Greece, naturally including to Ikaria. Some of her other books include My Greek Kitchen and My Mediterranean Kitchen. 
Superb Photography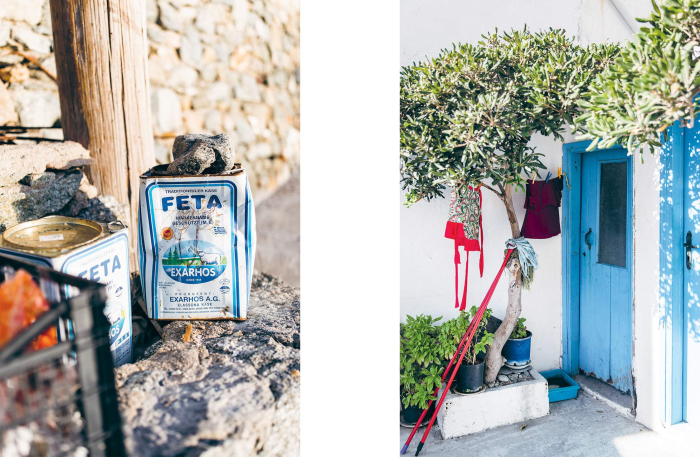 The photography in the book is by Tessa Kiros, who specialises in food and travel photography and whose father is a Greek Cypriot. She is also an author, though, and her own books include Food from Many Greek Kitchens.
Travels in Ikaria
The author and photographer travel together to get the photos for the book, to collect the recipes, and to meet the people of Ikaria. They talk to women in their own kitchens about their traditional dishes, and to people they meet on the way about the secret to long life on Ikaria.
The author asks one man:
'What do you think is the secret to longevity?'
He answers:
'Meni, here in Ikaria we do not try to add years to our life. Instead we add life to our years. We make the most of every day.'
Ikaria Recipes
The recipes in the book are largely vegetarian. This isn't a choice by the author, but it's simply a reflection of the diet on Ikaria. Many of their dishes are made from fresh seasonal ingredients, and though there is a section on Seafood and Meat it has only ten recipes in it. The majority of these are seafood recipes, as fresh seafood is also a big contributor to a healthy diet, as we also know from studies of the Cretan Diet. It isn't that red meat is ignored, but on Ikaria it's an occasional treat rather than something people eat several times a week.
As well as Seafood and Meat, the recipes are divided into Salads, Accompaniments, Vegetables, Legumes, Pasta, Bread and Pies, and Sweets. As well as the recipe itself, and the instructions, each recipe also has a little introduction. Some of these make suggestions for variations on the recipe, some suggest what goes well with the dish, while others are longer background stories about either the dish or the ingredients.
All in all, this works whether you're interested in Greek recipes or wanting to read about Ikaria. If you're interested in both, it's a gem!
Buying Ikaria
Ikaria: Food and Life in the Blue Zone by Meni Valle is published by Hardie Grant Books and is available from their website. It's also available from Amazon.