Hydra Travel Writing Classic
Peel Me a Lotus
Peel Me a Lotus by Charmian Clift is a Hydra travel writing classic, describing her family's life on this tiny Greek island near Athens in the 1950s.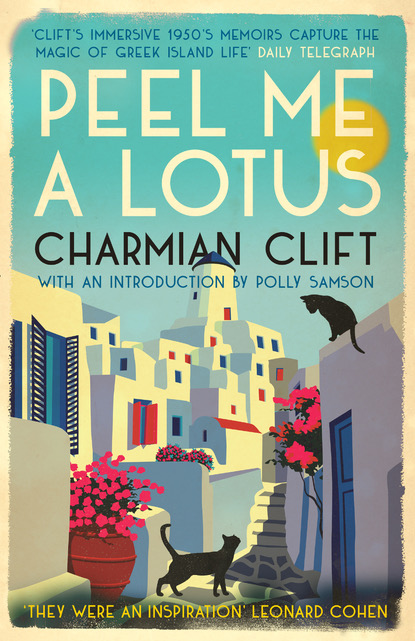 Peel Me a Lotus is the successor to Charmian Clift's excellent book about living on Kalymnos, Mermaid Singing. That book began in 1954 when she and her husband, and their two children, left London to live on Kalymnos in the Dodecanese. The follow-up takes up their story after they have moved to Hydra in the Saronic Gulf Islands near Athens, where a new baby arrives and they become part of a growing community of writers and artists.
Hydra would become more famous a few years later when a Canadian poet named Leonard Cohen went to live there, and people including Eric Clapton, John Lennon and various Rolling Stones all visited. By then more tourism had also began to change the island, although at the time of Peel Me a Lotus the only visitors were Athenians arriving for the weekend.
Another Hydra resident is the British author Polly Samson and her husband, the Pink Floyd guitarist David Gilmour. Samson provides an entertaining introduction to Peel Me a Lotus where, amongst other things, she reveals the names of the real people who appear in the book under pseudonyms. One was 'Ursula', the wife of the artist Sidney Nolan, and she was so offended by her admittedly rather wicked portrait in the book that she ended her friendship with Clift.
Another character, 'Jacques', is an extremely pretentious French artist. It adds an extra layer of interest to the book when you learn from the introduction that he and Clift eventually became lovers, despite her cruel depiction of him, and it triggered the end of her marriage. 
One of the more interesting – if depressing – sections of the book is when an American film crew descends on Hydra to shoot the 1957 film, Boy on a Dolphin. They tear the main town apart – literally, in places – but pump much-needed money into the local economy. Especially the bars.
Mermaid Singing
The book is one of contrasting moods. The antics of the Bohemian crowd of artists and writers can be hilarious, with the author keeping an objective distance and painting a punishing portrait of them. On the other hand, there is much more introspection than in Mermaid Singing, with the author frequently in a melancholy mood. 
Another difference between this and the previous book (reviewed here) is that while the first one describes the fascinating and often surprising lives of her poor Greek neighbours, here the focus is very much on the ex-pats, whose lives aren't as interesting as they think they are. We're all familiar with pretentious artists and struggling poets, but knew little about the lives of sponge fishermen before reading Mermaid Singing.
Hydra Travel Writing Classic
Despite these drawbacks, it's still fair to call this a Hydra travel writing classic, to go on the bookshelves alongside A Rope of Vines by the Welsh author and artist Brenda Chamberlain. Chamberlain must have arrived on Hydra not long after Charmian Clift left, and a back-to-back reading would be interesting.
Peel Me a Lotus is published by Muswell Press and available from their website, as well as worldwide on Amazon.