A Rope of Vines
A Rope of Vines by Brenda Chamberlain is an evocative memoir of the author's time living on the Greek island of Hydra in the early 1960s.
A Rope of Vines begins with the kind of opening sentence that compels you to read on:
I have returned to the good mothers of Efpraxia while my friend Leonidas serves sentence for manslaughter of an English tourist in the port of Ydra.
Ydra is an alternative spelling for Hydra, of course, and Efpraxia is a convent on the island, where the author stays for a part of the time during the six years that she lives on Hydra. She returns to the story of Leonidas later in the memoir, naturally, and we learn what exactly happened down in the port.
A Rope of Vines: The Author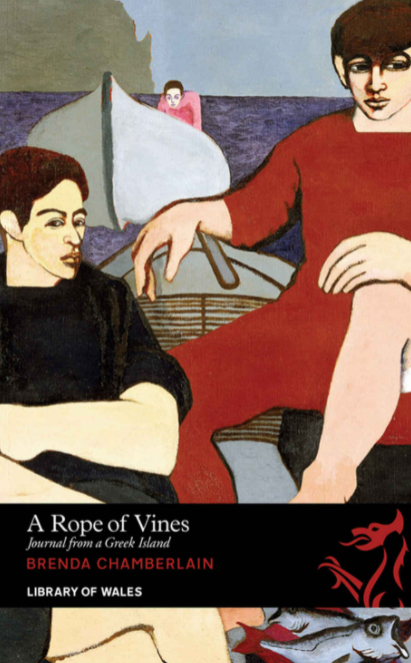 Brenda Chamberlain (1912-71) was a Welsh writer and artist who moved to Hydra in the Saronic Gulf Islands, not far from Athens, in 1961, having previously lived on the Welsh island of Bardsey for 15 years, an experience she also wrote about.
She returned to Wales in 1967 and died in Bangor, where she had been born, only four years later. She wrote fiction, prose and poetry, and her paintings are on display in several collections in Wales, and in London.

A Rope of Vines: The Book
A Rope of Vines was first published in 1965, when the author was still living on Hydra, and republished in 2009 by the Library of Wales, which holds her papers. It's a fairly short book of less than 150 pages, which also include many of the author's line drawings of Hydra, mostly of buildings but a few including people too.
It may be a short book but it is also very intense. There are vibrant scenes of people, incidents, wildlife, scenery, and especially the weather, and its intense heat. Hydra is a bare and rocky island, where cacti grow, and it's ironic that its name is the Greek word for 'water', yet it has to bring in most of its water by boat.

Life on Hydra
A Rope of Vines gives you very much a behind-the-scenes look at life on Hydra. The author lives in a house high up above and away from the port, which even then bustles with life and visitors.
She dislikes the port and all its transient activity, and the Hydra described in these pages is the Hydra of ordinary people. They're the people who live simple lives, with hand-to-mouth existences, some with emotional and physical problems. It's a day-to-day existence which is captured, warts and all, in the pages of A Rope of Vines.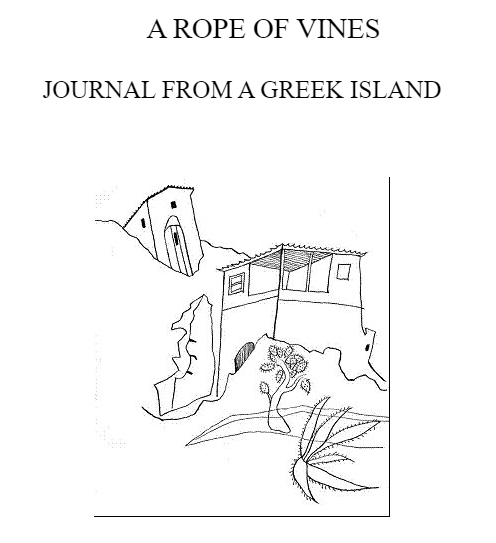 The title, incidentally, comes from the way fishermen used to tie their boats up with a rope made from twisted vines, before proper ropes and metal ties became widely available. It's the way she sees herself tied to the island.

Leonard Cohen on Hydra
Don't turn to this book, as I did, if you expect to read at least a little something about one of Hydra's most famous residents in the early 1960s, Leonard Cohen. His life on the island overlaps with that of Brenda Chamberlain, though the bohemian art scene of which he was a part gets no mention in the book.
It's not that his life there was secretive. While living there he published his poetry collection Flowers for Hitler (1964), as well as his novels The Favourite Game (1963) and Beautiful Losers (1966).
Indeed, TripAdvisor has a long thread about how to find Leonard Cohen's house on Hydra. As both were writers and artists, and foreigners on Hydra, it's unlikely they wouldn't at least have known of each other's existence. But Chamberlain's writing is more inward-looking.
As artist Shani Rhys-James points out in her introduction to the Library of Wales edition, she makes a hike and camps out overnight on a pilgrimage with an English family, yet we learn nothing at all about the family, though the descriptions of the hike, the landscape, the wildlife and the experience are brought vividly to life.
It has to be said that this won't be a book for everyone. The style can be florid and very intensely personal, and sometimes the stories can be vague and mysterious. We never do find out, for example, the nature of her relationship with Leonidas. Were they friends or lovers? The reader will never know.
Buying A Rope of Vines
The book is well worth buying, for anyone who wants to learn a little more about Greek family life, and what goes on away from the tourist zones. If you have any interest in Hydra, you'll want to read it as the author does visit a lot of the island, going on hikes and describing the flora and fauna beautifully.
Her artist's eye and her poet's use of language make this an exceptional and unusual book about Greece. You can find it on Amazon.