Hydra
Saronic Gulf Islands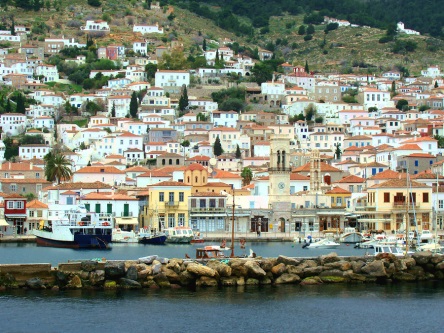 Hydra (or Ydra) is an island best appreciated if visited out of season, as it is almost too popular in the summer for its own good. It is a small and very rocky island, quite barren too, with the main town clustered around the harbour. It is certainly an attractive town and a fascinating island, but its cramped nature can mean severe overcrowding and lack of accommodation if visiting in July or August. It is also expensive, by Greek island standards, and its waterfront of chic boutiques and art galleries shows a very different face from most other Greek islands.
Fashionable Hydra
It became fashionable in a bohemian way in the 1950s and early 1960s, when poets and painters – including the Canadian poet and singer Leonard Cohen – made their homes here and added a layer of sophistication to the basic Greek feel of the place.
Not that Hydra was neglected before then, as like others of these Saronic Gulf Islands it has some fine 18th and 19th century mansions, paid for largely from the wealth created by Hydra's astonishing fleet of merchant ships. To look at the tiny harbour today it is hard to believe that the island owned some 160 ships, which traded across the Atlantic in North America. It is also hard to believe that there was once a population of 20,000 people here, when today it is little more than 3,000.
Beaches
Hydra is not an island for sun worshippers as most beaches are either pebble or rocks, with very few sandy options. The best is probably Mandraki Beach to the east of Hydra Town. There are other pebble beaches scattered around the island, which is big enough to enable you to escape the crowded harbour during the day, and return in the evening for the comforts of a smart hotel and more sophisticated cuisine than average. You can get to these other beaches either by walking or by boat.
There are also several monasteries and convents in the interior of Hydra, to remind you of another face of Hydra that is more spiritual.
GETTING TO HYDRA
Flights to Hydra
To get to Hydra you must fly to Athens and then take the ferry from Piraeus.
Ferries to Hydra
There are several flying dolphins and flying catamarans each day from Athens (Piraeus) to Hydra, with a journey time of about 90mins-2hrs.
Greek Ferry Information and Booking Tickets
There's a really comprehensive guide to Greek ferries, including suggested itineraries, guides to the different island groups, advice about cars on ferries, the differences between fast and convenient ferries, taking your dog on a ferry, printing your ticket and e-ticketing, and a much-needed guide to the port of Piraeus, on the Aferry website.

You can also book tickets online.
SO WHERE IS HYDRA?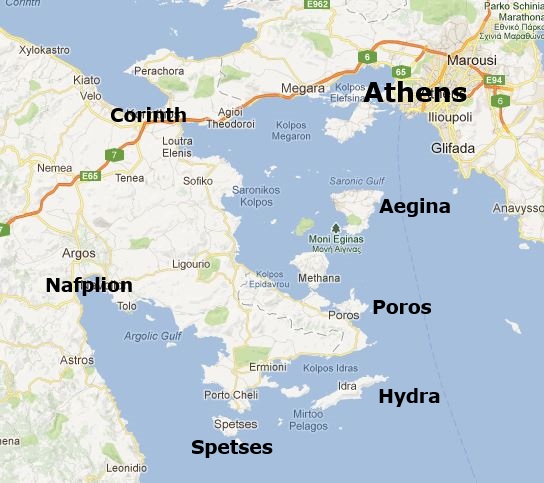 HYDRA ON YOUTUBE
Watch this YouTube video by Rick Steves for a look at Hydra


---
---
Easter in Athens is, like Easter everywhere in Greece, the biggest religious celebration of the year and this page on Greece Travel Secrets tells you what to expect over the Easter weekend.

Peter Sommer Travels has a great trip on offer that enables you to get a real experience of Easter in Athens from 2-9 April 2018. This is what they say: "Explore ancient Athens and experience a tradit…

Athens culinary tours are among the food walking tours offered by an unusual company, Culinary Backstreets.