Aegina
Saronic Gulf Islands
The name Aegina means 'pigeon island', which it was dubbed by early Phoenician settlers. Today Aegina Town (above) is an elegant place, even when packed with holidaymaking Athenians out for the weekend. The town has many elegant 19th-century mansions, which testify to a prosperous past due in large part to maritime trade.

During Greece's Classical period Aegina was a major rival to Athens, and was in fact the first place in Europe to make its own silver coins, a currency that was adapted throughout the whole of Greece. The town was briefly the capital of Greece, in 1828, which certainly seems rather odd if you compare it with Athens today.

Nowadays it makes its money from pistachio nuts and tourism, and visitors can enjoy seeing not only the mansions but also a wealth of churches and other historical buildings in the main town. There are the remnants of the ancient town on the acropolis, which stands on a fairly low hill not far from the town beach, its most distinguishing feature being a still-standing column from the Temple of Apollo.
Temple of Aphaia
The main archaeological site on Aegina is the Temple of Aphaia. This magnificent building stands about 12km (7.5 miles) east of Aegina Town, easily accessible by bus or car and close enough to walk to from the beach resort of Agia Marina.
The Temple is one of the finest examples of Doric architecture in Greece, built on a hill which is known to have been a place of religious worship since at least the 13th century BC. The present Temple, which is in a very good state of preservation, was built in about 490 BC, making it about sixty years older than the Parthenon.
Like the Parthenon, its pediments are no longer in place. Just as the Turks sold the Parthenon's friezes to Lord Elgin, who then sold them to the British Museum in London, so they also sold the pediments from Aegina to Crown Prince Ludwig of Bavaria and today they can be seen in the Glyptothek Museum in Munich. Even without these, the Temple is an essential part of any visit to Aegina.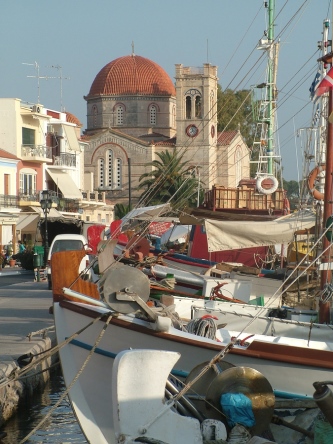 GETTING TO AEGINA
Flights to Aegina
To get to Aegina you must fly to Athens and then take the ferry from Piraeus.
Ferries to Aegina
There are numerous ferries a day from Athens (Piraeus) to Aegina Town, usually 1-3 an hour depending on the season, the day of the week and the time of day. Note that some ferries go to Agia Marina and Souvala rather than to Aegina Town, so make sure you catch the right one. The regular ferry journey time is about 60 minutes, while the faster and slightly more expensive flying dolphins do it in about 40-45 minutes.
Greek Ferry Information and Booking Tickets
There's a really comprehensive guide to Greek ferries, including suggested itineraries, guides to the different island groups, advice about cars on ferries, the differences between fast and convenient ferries, taking your dog on a ferry, printing your ticket and e-ticketing, and a much-needed guide to the port of Piraeus, on the Aferry website.

You can also book tickets online.
SO WHERE IS AEGINA?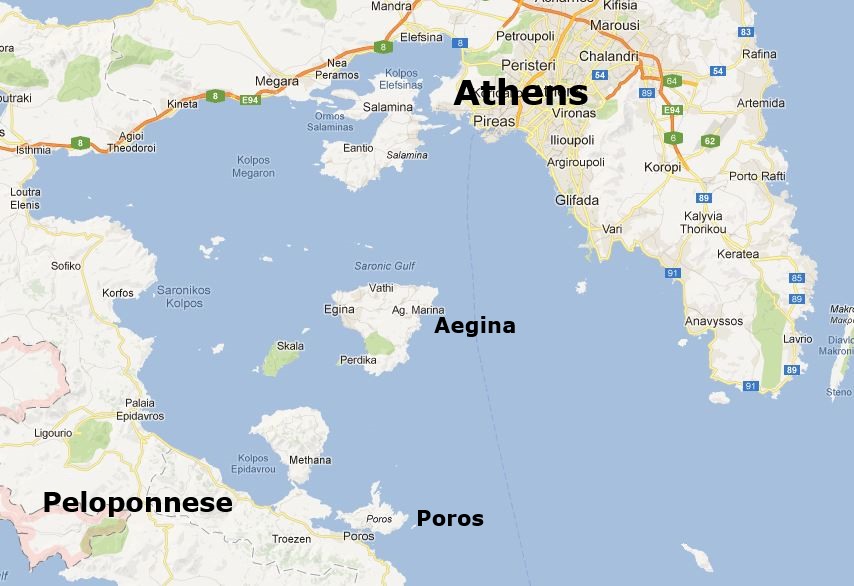 AEGINA ON YOUTUBE
Watch this YouTube video for a look at Aegina


MORE INFORMATION
For much more information on Aegina visit the 
excellent online travel guide: www.aeginagreece.com
---
---
Easter in Athens is, like Easter everywhere in Greece, the biggest religious celebration of the year and this page on Greece Travel Secrets tells you what to expect over the Easter weekend.

Peter Sommer Travels has a great trip on offer that enables you to get a real experience of Easter in Athens from 2-9 April 2018. This is what they say: "Explore ancient Athens and experience a tradit…

Athens culinary tours are among the food walking tours offered by an unusual company, Culinary Backstreets.