Island Hopping in Greece
Island hopping in Greece has long been a popular way to visit the Greek islands and we look at what it involves and weigh the advantages and disadvantages.
Both of us behind Greece Travel Secrets enjoyed island hopping in Greece, long before we met each other. We even looked into getting married in Greece but couldn't make it work. Island hopping provided a happy and carefree time, back in the days before cellphones.

It was hard back then to get information and do too much planning ahead. If you were on one island for a few days, it was usually a case of finding out the ferry schedule, and deciding which island you fancied seeing next.
Ferries in Greece
Ferries in Greece has an excellent and very thorough website where, in addition to checking ferry schedules and times, you can also book tickets and get lots of useful information about travelling by ferry in Greece.
The Advantages of Island Hopping in Greece
The advantages of island hopping are many. It means that you don't have to do too much planning ahead. You can simply stay on one island until you feel it's time to move on, and then decide which ferry you're going to get and which island you're going to visit. Unless, that is, you're travelling in busy periods (see Disadvantages below).
The ability to be flexible also has other advantages. One is that you don't have to be bound by a set itinerary. If you find that the next ferry to your chosen destination is full, you can either wait for a later ferry or choose a ferry to a different destination.
Another advantage is that you can be flexible with your accommodation. Normally, if you've paid in advance for a hotel room then you're stuck with it if you don't like it, unless the owner will let you cancel and give you a refund. When you're island hopping, ferries will be greeted by people who have accommodation to rent. You can take a look first, and decide if you like it or not. If it's not ideal, you might decide to spend one night there for convenience, then look for somewhere else the next day.
We've had some of our best experiences when island hopping. Finding a room to rent in someone's house as you walk off the ferry is a hit or miss affair, but we've had lots of hits. Staying with a family can be a joyful experience. You have your own room, which is often simple but comfortable, and you can easily become a part of family life. We've found grandma knocking on the door with a bowl of fresh eggs for us for breakfast, or grandpa waving us over to share his bottle of raki. We've been invited to meals, and been taken to local feasts when we were the only non-Greeks present.
The Disadvantages of Island Hopping in Greece
There aren't too many disadvantages to island hopping when you're in Greece. The main thing is to avoid busy periods, when ferries might be full and accommodation is hard to find. One such is Easter, and also most of August, especially around the national and religious holiday of August 15th, when many Greeks travel home.
Remember that Greek Orthodox Easter doesn't necessarily coincide with the dates of the Western Christian Easter. We discovered this when we decided to visit Hydra one year, not realising that it was the start of the Greek Easter weekend. The ferry was indeed jam-packed, but the worst thing was that when we arrived on Hydra there weren't the usual people waiting to greet the boat offering rooms to rent.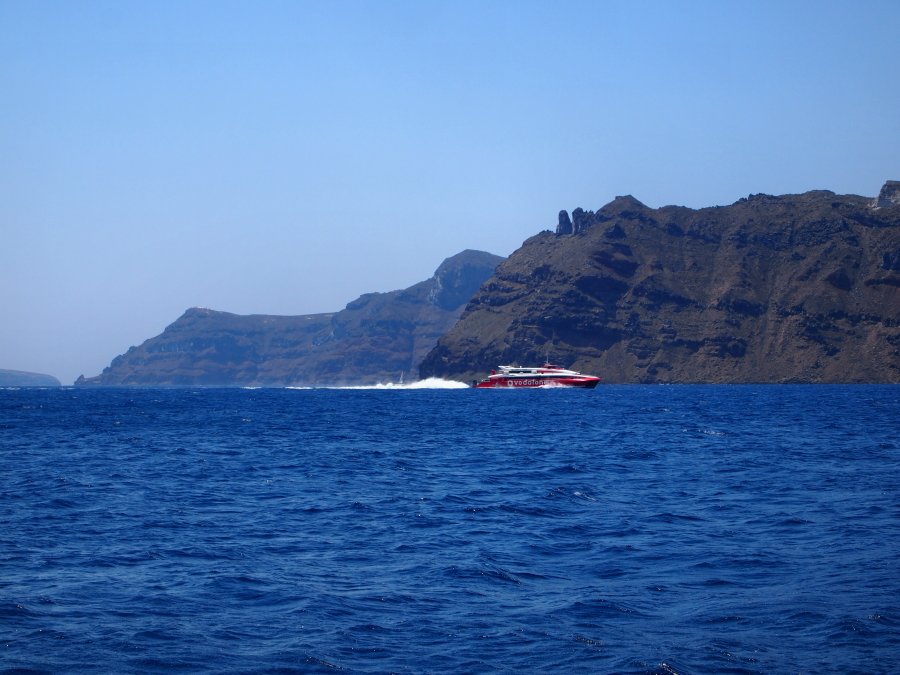 Eventually we found the office of the Tourist Police, who keep notes of available accommodation, and we ended up sleeping on the balcony of someone's house! Luckily it was a warm few days, and after the weekend we were able to move to more conventional accommodation. But Easter is one of the absolute best times to visit Greece. We've experienced it several times - but always booking ahead!
It used to be that it was hard to book ferries in advance, and you simply turned up and bought a ticket at the quayside. Since the advent of the internet, though, more people are buying tickets in advance and the footloose traveller can find it hard to get tickets.
Advantage or Disadvantage?
No matter how you're travelling in the Greek islands, your trip will come to an end sometime. For most people this means having to catch a flight home. This means having to be at the airport by a certain time on a certain day. If you have set plans, you might have no leeway in case something goes wrong.
If you're island hopping, you can adjust according to changes in conditions. Bad weather can easily affect ferry schedules, even in summer when strong winds can blow in the Aegean. A cancelled ferry could mean a missed flight. If your plans are flexible and you hear bad weather's coming in, you can make sure you catch an earlier ferry. 
In any case, if you're in the Greek islands our advice is to always plan to get back to the airport the day before the flight and stay overnight somewhere nearby. If your flight is from somewhere like Santorini, say, that won't be a hardship!
Island Hopping Modern Style
Though it's nice to remember 'the old days' before smartphones and the internet came along (actually, not that long ago), these needn't take the pleasure away from island hopping. When you decide it's time to hop from one island to the next, you can check ferry schedules online, and book your ticket, and even find your accommodation using websites like Airbnb.
While we have fond memories of carrying a battered copy of the Rough Guide to Greece around, they did weigh a heck of a lot. These days you could have the Rough Guide to the Greek Islands on your Kindle for a few dollars. A Kindle with 100 Greek guidebooks on it still weighs less than one Rough Guide or Lonely Planet guide, and there are such enormous Greek resources online that it doesn't matter which island you choose to visit next, you can research it thoroughly online. However, we still prefer that feeling of walking down the ferry gangplank and not knowing what's in store. That, to us, is island hopping in Greece.