Easter in Athens
Easter in Athens is one of the best times to visit the city. Not only is the weather usually starting to warm up but for the Greeks Easter is the big feast of the year, much more so than Christmas, New Year or any other events. It is celebrated everywhere, from the tiniest village through to here, in the nation's capital of 4 million people.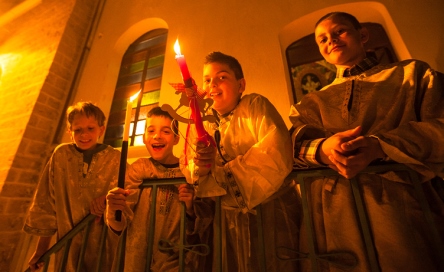 Greek Easter is a Time of Celebration Everywhere
When Is Easter in Athens?
Easter in Greece is a movable feast and only coincides with the western Easter every few years, so it is important to check the dates before arranging to travel if you specifically want to be in Athens for Easter.

The Build-Up to Easter in Athens

The build-up begins on the Wednesday before Easter, when churches are cleaned and the biers which will carry a statue of Christ through the streets start to be decorated with flowers. Pop into any open church door and see what preparations are being made. Everyone is welcome. 
Easter Weekend in Athens

The parishioners from each church come together to prepare for the big weekend, and there will be many small processions throughout the city, as well as larger ones from the major churches. The first procession is on Friday evening. As it starts to get dark the funeral bier is carried from the church and paraded through the nearby streets. Parishioners follow on, and others watch from windows and doorways, sprinkling holy water liberally around.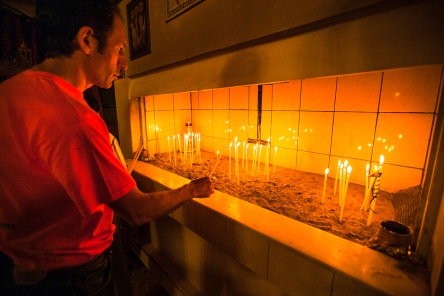 Easter Saturday in Athens

Saturday evening sees the main service of the week, building up to midnight when lights in the church are put out. The priest then lights a candle, from which the worshippers in turn light their own candles, then leave the church producing an effect like a river of light, flowing from the church doors. People then try to get home without the candle blowing out, which brings good luck for the coming year. Once home they eat the traditional magaritsa soup, made from lamb offal, rice and lemon.
Easter Sunday in Athens

Easter Sunday is a day of joy, and a day for families to get together. Lambs are roasted, and you may be able to find some on the restaurant menus that day. Christ is Risen, and the year can begin. You don't have to be religious or Christian to be moved by the Greek Easter experience, and spending Easter in Athens will be something you will never forget.