Athens to Santorini
There are lots of flights from Athens to Santorini as well as a ferry service from Piraeus, with flights to Santorini leaving from Athens International Airport.
The reason for the number of flights from Athens to Santorini is because Santorini is one of the few islands in the Cyclades to have an airport of international standard. Anyone headed to Ios, for example, will have to fly to Santorini from Athens and then take the hour-long ferry ride to Ios.
Flights to Santorini leave from Athens International Airport, with a flight time of about 45 minutes. At the height of summer there can be 15-20 flights a day, and flights go all year round.
Flights from Athens to Santorini
Obviously flight schedules from Athens to Santorini change regularly, in particular after the outbreak of Covid-19 which resulted in the cancellation of many flights during 2020. You should check direct with the airlines, but at the time of writing the main airlines operating Athens-Santorini flights are:

Aegean Airlines
Aegean Airlines operates seasonal flights to Santorini from various European destinations, including Thessaloniki within Greece, as well as from Athens. Under normal circumstances there are daily flights between Athens and Santorini, with several per day in the summer season, though fewer out of season. 
Olympic Air
Olympic Air is owned by Aegean Airlines and although they operate as separate companies, the flights (and prices) from Athens to Santorini are identical.
Ryanair
The Irish budget airline Ryanair flies between Athens and Santorini daily in the summer season and several times a week otherwise. 
Sky Express
Sky Express is a Greek airline based in Athens and Crete, and with flights between numerous Greek destinations as well as to several European countries. Its many Greek destinations range from Alexandroupolis to Zakynthos, including Santorini. In high season it might operate as many as nine flights per day between Athens and Santorini, though fewer out of high season.
Volotea
Volotea is a Spanish budget airline but its route network does include flights between Santorini and Athens. Flights operate from May to October, with 2-3 per day.
Some Cool Santorini Gifts
Santorini (Thira) International Airport
Santorini Airport is about 5 km (3 miles) southeast of the main town of Thira, less than a 10-minute drive to Thira and about 25 minutes if you're going to Oia. There are buses and taxis linking the airport with Thira, and many hotels operate shuttle buses when they have guests arriving or departing. You can also rent cars at the airport, with companies including Hertz, Europcar, and Sixt all having offices at the airport.
See Our YouTube Video of Santorini
In addition to the Athens-Santorini flights, you can fly to Santorini from Thessaloniki, Rhodes, Crete, and Mykonos. In the holiday season there are also charter flights from numerous European cities direct to Santorini. Out of season you'll need to fly to Athens and get a connection to Santorini.
Santorini Airport opened in 1972 and by 2019 it was being used by 2.3 million passengers, though obviously the number was a lot less in 2020 due to the coronavirus. The IATA code for the airport is JTR.
Athens to Santorini by Ferry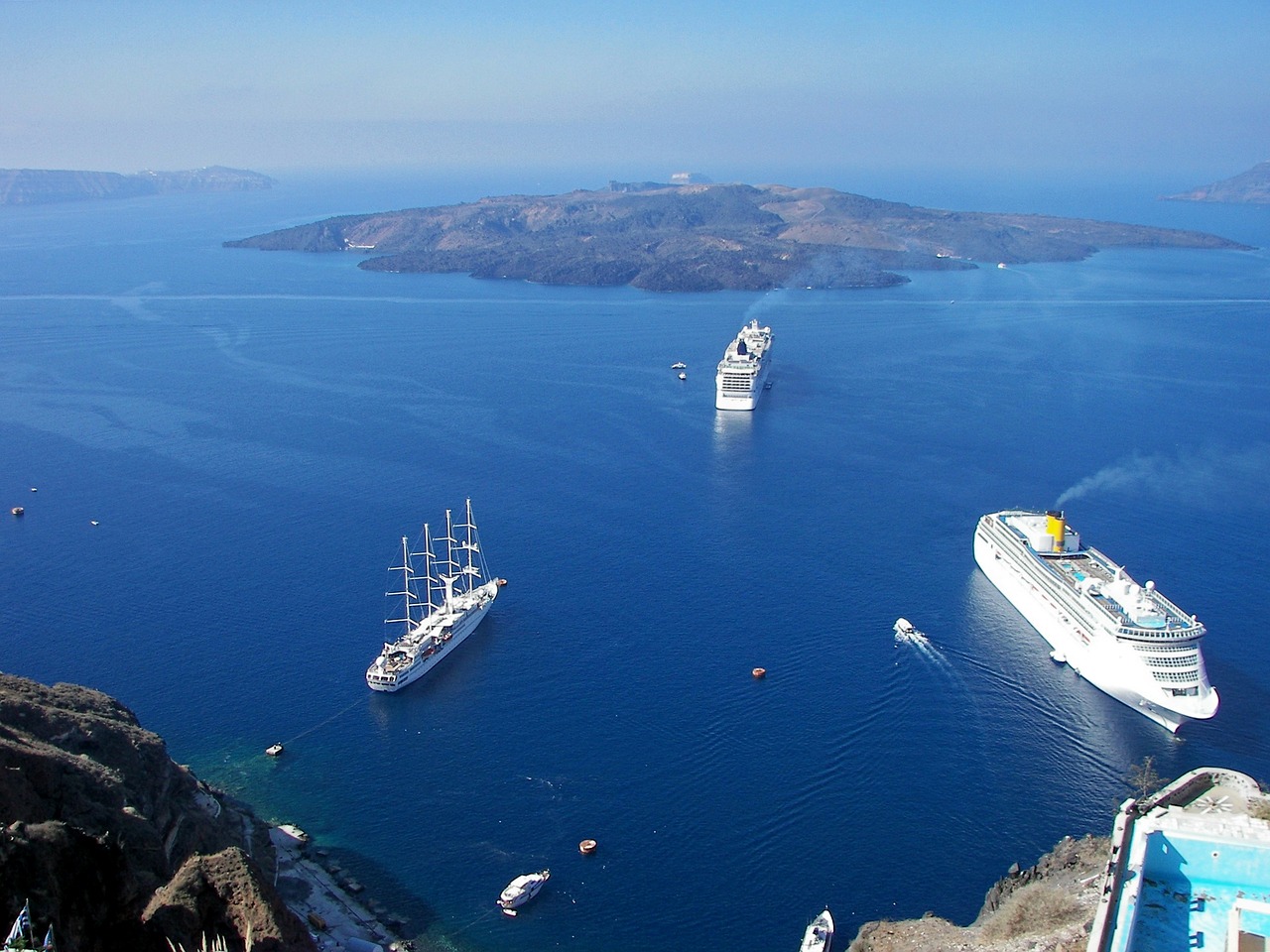 You can catch the Athens to Santorini ferry in Piraeus. Santorini also has ferry connections with Thessaloniki, Crete, Mykonos, Rhodes, and many other Greek islands. The ferry from Athens to Santorini takes about 5 hours if using the more expensive high-speed service, or 8 hours on the regular car ferry.

Note that you must buy your ticket in advance, and you cannot get a return ticket, only two singles. In Piraeus you can buy a ticket from one of the ticket agent offices near gate E7 of the port, which is close to both the metro station if coming from central Athens, and close to the stop for the X96 airport bus. On Santorini there are numerous agencies where you can buy ferry tickets.
You can also buy tickets online through websites like Ferries in Greece.
Ferries in Greece
Ferries in Greece has an excellent and very thorough website where, in addition to checking ferry schedules and times, you can also book tickets and get lots of useful information about travelling by ferry in Greece.