Alexandroupoli
Although written off in some books about Greece as being mainly a military base, Alexandroupoli is in fact a very pleasant seaside resort with a long promenade and a long stretch of sandy beach. It is very much a family resort, and the beach has lots of facilities for children, as well as water-skiing, parascending and other watersports for the adults.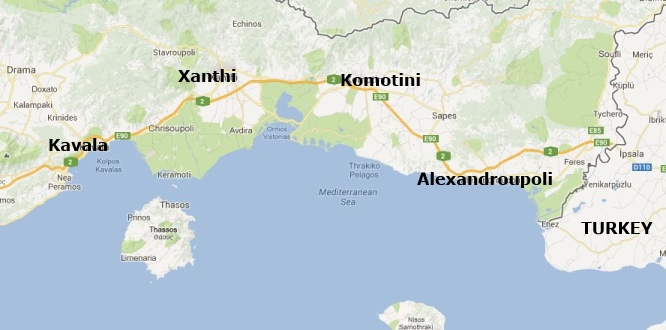 Alexandroupoli, Close to the Border with Turkey
Narrow Old Town Streets

Beyond the promenade is the old part of the town, a warren of narrow streets with a delightful mix of workshops, junk shops, food stores, souvenir shops, bars and several good restaurants and cafés. In the evening the promenade fills with Greeks – locals and visitors alike – doing their evening volta, or parade up and down, prior to eating and drinking. It is a lovely sight, when you will see grandparents walking hand-in-hand with tiny grandchildren, and groups of girls and boys taking the chance to eye each other.

The Alexandroupoli Lighthouse

Also on the promenade is the town's most notable sight, its lighthouse, which was built in 1800 and is illuminated at night to add to the atmosphere. Alexandroupoli is a port as well, with ferries to the North-East Aegean Islands and as far south as Rhodes and Kos in the Dodecanese.
It is also the closest town to the Turkish border (about 45kms/28 miles by road), and has rail links with Istanbul in Turkey, Sofia in Bulgaria, and with Athens via Thessaloniki.

Despite these links the town is not as multi-cultural as Komotini or Xanthi, as it only expanded in 1878 during the Russian-Turkish war when the Russians turned it into a purpose-built modern city. It was known then by its Turkish name of Dedeagac, which it had had since the 15th century, when it was merely a small and insignificant fishing village.
It only acquired its modern name in 1919 after the then Greek King, Alexandros. It still is a military base, and you will certainly see soldiers in the streets, but it is much more pleasant than that limited description implies.

Alexandroupoli Museums
The city has an Archaeological Museum, an Ethnological Museum, and a Natural History Museum.

Where to Stay in Alexandroupoli