Kos
Kos is the second largest of the Dodecanese after Rhodes, and also the second busiest after Rhodes when it comes to mass market tourism. Because of its size – almost 40km (25 miles) from end to end – there are still places to escape the crowds if you wish, but if visiting at the height of the summer season you need to be careful in choosing where to go.

The island is one of the more fertile in the Dodecanese, and is of course the home of the kos lettuce, not to mention orchards, olive groves and vineyards. It is not particularly a mountainous island, although Mt Dikaios in the southeast does reach 846m (2776ft)  in height. It does have some very good beaches, part of the reason for its popularity, and Kos Town is an enjoyable mix of ancient culture and modern hedonism.

Kos Town
The father of modern medicine, Hippocrates (460-375BC), was born on Kos, and a plane tree which he is said to have planted and to have taught under stands in Plateia Platanou. In fact it is almost 2000 years too young for that to have happened!

Close by is the town's dominant feature, the Castle of the Knights, which was built over several centuries, mostly from the 14th to the 16th, and incorporates some marble taken from the island's principal archaeological site, the Asklepieion.
Kos is quite rich in both Greek and Roman remains, and the town's Archaeological Museum has a good collection of the best of them, including a marble statue of Hippocrates that has been dated back to the 4th century BC, when he was alive.
Kos Town also has the splendid remains of the Casa Romana, a grand Roman villa that was restored in the 1930s and which has wonderful mosaics, painted walls and, within the site, part of the main Roman road in Kos Town. The Roman Agora also survives nearby, as part of the Ancient Agora site that has several layers of history including the Temple of Herakles from the 3rd century BC.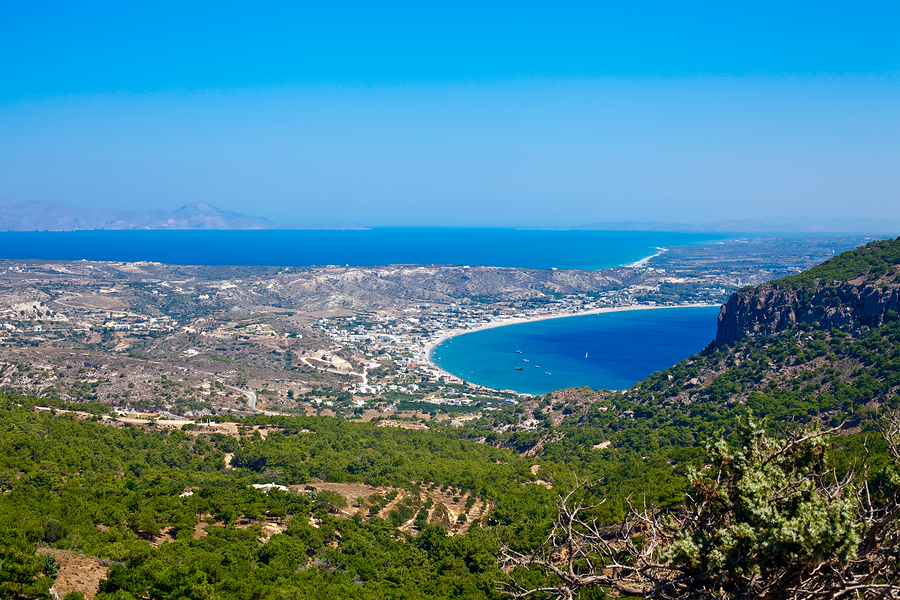 Kos Town
The Asklepieion
Four kilometers (2.5 miles) outside Kos Town is the Asklepieion, which was built in the 4th century BC, not long after the death of Hippocrates, as the ancient Greek equivalent of a health club. It is in a lovely hillside setting and dedicated to Asklepios, the god of healing. There were many of these throughout Greece, and the fine remains here include baths and several temples.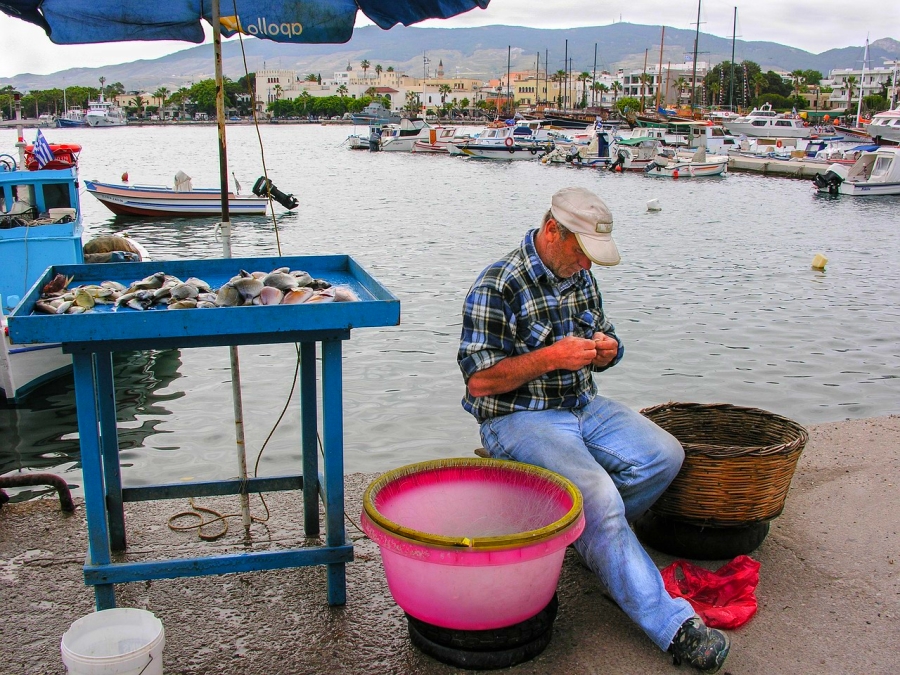 Parties, Paradise… and Peace

Kos's biggest resort is at Kardamaina (or Kardamena), a one-time fishing village which has been transformed beyond recognition into a cosmopolitan rendezvous for young Europeans attracted by its bars, discos and long stretches of sandy beach.
The island's best beaches are further west, including the white-sand Paradise Beach, and many of these are quite remote from the resorts, although that doesn't prevent them from getting busy with the arrival of large numbers by boat. For a more peaceful experience visit the villages on the slopes of Mt Dikaios and known as the Asfendiou Villages, though the peace here too can be shattered by the arrival of regular coach parties. Take a walk in the woods till the coach parties have disappeared, and experience the villages then as they really are.

Nisyros
The volcanic island of Nisyros makes a popular day-trip from Kos, although it does have a few hotels and is the kind of island to choose if you want to get away from it all. The volcanic crater is its unique attraction, with its bubbling sulphurous vents and, in summer, its intense heat, captured by the surrounding rim. More conventional delights are at the small port of Mandraki, with a few rooms to rent and a maze of whitewashed streets. See our Nisyros page for more details.
Getting to Kos
Flights to Kos
Kos has an international airport with numerous flights in summer from all over Europe. There are also flights with Aegean Air to Athens and Thessaloniki, and with Olympic Air to Athens, Astipalaia, Kalymnos, Leros and Rhodes.
Ferries to Kos
Kos is very well-served with ferries including regular services to Athens (Piraeus), and to many other islands including Astypalaia, Crete, Halki, Kalymnos, Leros, Lipsi, Patmos, Rhodes, Santorini, Symi, Syros and Tilos.

Ferries in Greece
Ferries in Greece has an excellent and very thorough website where, in addition to checking ferry schedules and times, you can also book tickets and get lots of useful information about travelling by ferry in Greece.
Where to Stay on Kos
More Information
Visit the official Kos website