Patmos
Patmos in the Dodecanese islands is famous for the monasteries of St John and the Apocalypse and on this page you can also read about flights and ferries.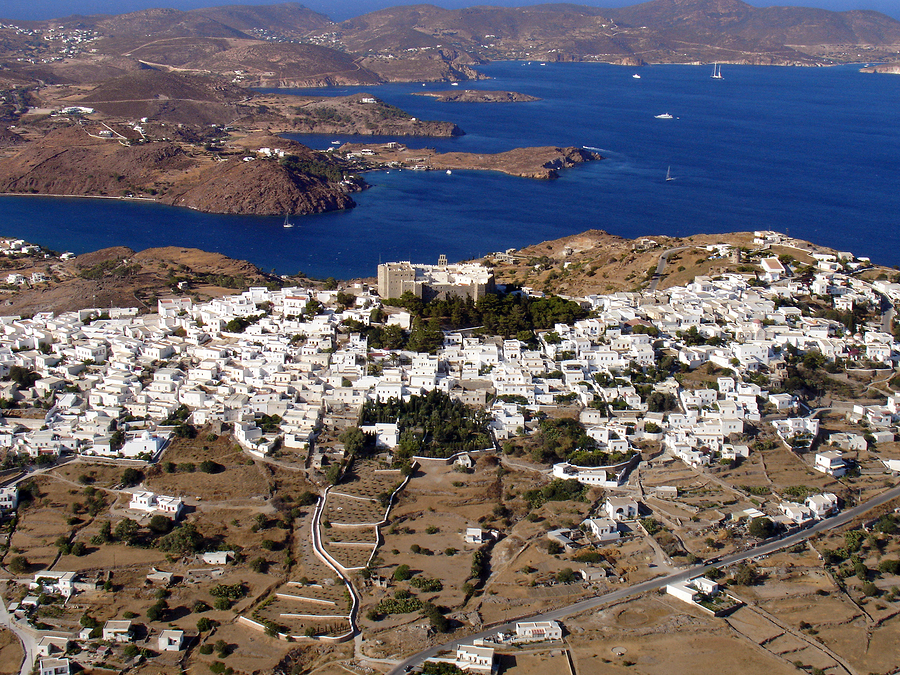 St John the Divine arrived on Patmos in A.D. 95 and it was here that he had the vision described in The Book of Revelations, which he dictated to a disciple to write. The vision took place in the Holy Cave of the Apocalypse, which can be visited inside the church of Agia Anna, founded in 1090, two years after the founding of the Monastery of St John.

 It is the presence of the monastery and the holy cave that has kept Patmos a place of holy significance, one of the most important in the Greek Orthodox Church. As a result the island, while welcoming tourists, has not seen the worst excesses of modern tourism that has blighted places elsewhere.
Skala Village on Patmos
Photo by Milan Gonda (see more of his photos on our page Photos of Greece).
Mountain and Beach

Patmos is a beautiful island, and has excellent beaches around the coast, with a scattering of hill villages and some mountain scenery that attracts keen walkers. The highest point, at the southern end of the island, is Mt Prasino, which is 775m (2543ft) above sea level. It plunges down quite steeply to the Aegean Sea below. To its west is the best beach on Patmos, at Psili Ammos, a fine stretch of sand backed by dunes and with a backdrop of the mountain beyond.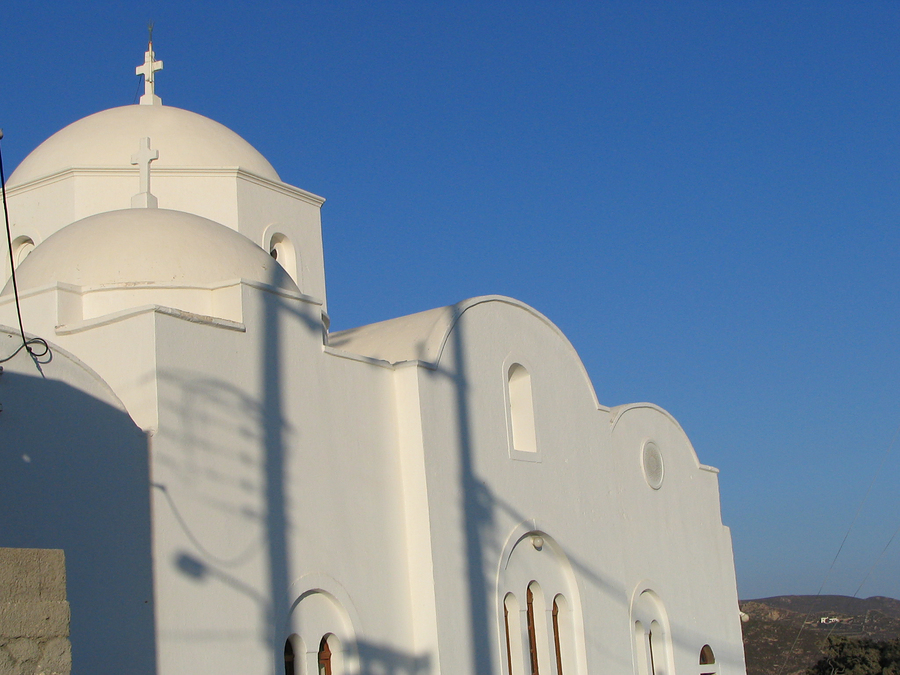 Patmos Town

Patmos Town is divided into two parts. Down below is the harbour, or Skala, with an attractive waterfront that is much smarter than many such places. It is a steep but spectacular walk up to the high part of town, the Chora, which has lots of lovely old mansions as well as about forty churches, chapels and monasteries. 
The Monastery of St John is the most famous of these. It was built in 1088 with fortified walls to resist attack by pirates. It is still a working monastery and only parts of it are open to visitors. The Monastery of the Apocalypse is partway between Skala and Chora, and here there are frescoes and icons to be seen as well as the Holy Cave and the fissure in the rock from where God's voice is said to have made itself heard to St John.
Getting to Patmos
Flights to Patmos
Patmos does not have its own airport. The best option is to fly to Samos or to Kos, which both have ferry connections to Patmos.
Ferries to Patmos
There are ferries to Patmos from Piraeus and from several islands including Agathonisi, Kalymnos, Kos, Leros, Lipsi, Mykonos, Naxos, Paros, Rhodes, Samos, Symi and Syros. The journey time for the daily ferry from Piraeus is anything from 7-10 hours, depending which ferry you catch. 
Ferries in Greece
Ferries in Greece has an excellent and very thorough website where, in addition to checking ferry schedules and times, you can also book tickets and get lots of useful information about travelling by ferry in Greece.
Where to Stay on Patmos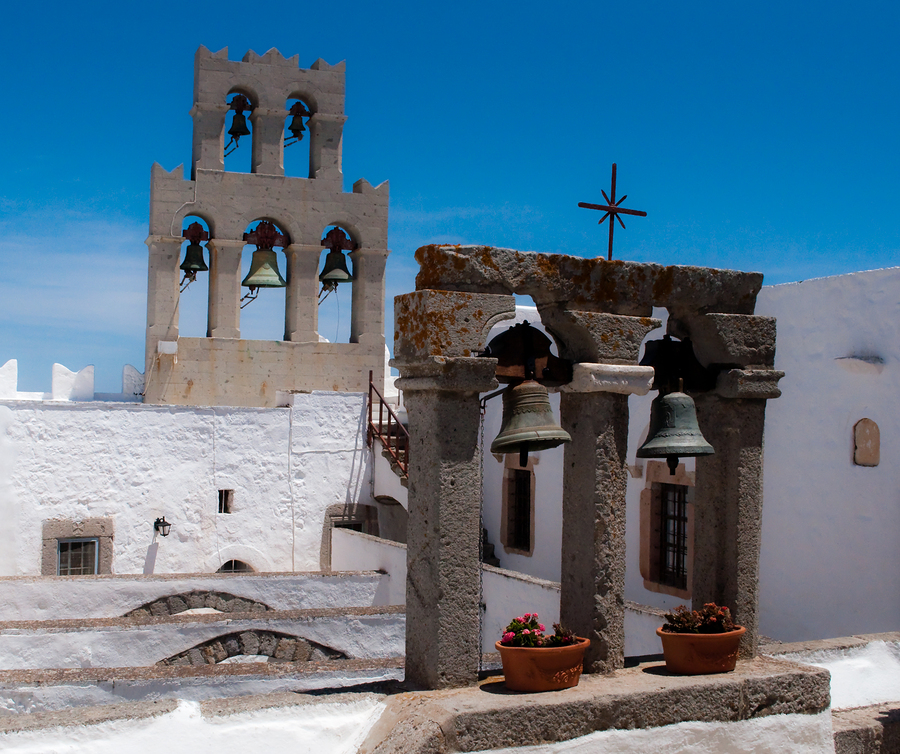 Bells at the Monastery of St John on Patmos
Here's a good YouTube video about Patmos
More Information
Visit the official website for Patmos.
And read this enjoyable story about A Day on Patmos.