Arki


Dodecanese Islands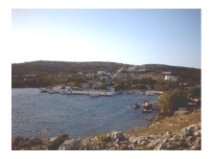 Arki is for people who really like secluded Greek islands that don't have a lot of tourism. Arki doesn't even have a lot of people, full-stop. Only a few dozen people live there, and there are no cars on the island. If you like walking and totally unwinding, this is definitely the place for you.
Ferries to Arki
Despite its smallness and the fact that when you're there it seems a million miles from anywhere, Arki is easily accessible by ferry. Several times a week there are ferries from Samos and Patmos, although the closest island is Lipsi which is 15 minutes away by ferry though the ferry only goes twice a week. There is also a ferry to the nearby satellite island of Marathi, which has an even smaller population but manages to retain a couple of tavernas with rooms to rent.
Greek Ferry Information and Booking Tickets
There's a really comprehensive guide to Greek ferries, including suggested itineraries, guides to the different island groups, advice about cars on ferries, the differences between fast and convenient ferries, taking your dog on a ferry, printing your ticket and e-ticketing, and a much-needed guide to the port of Piraeus, on the Aferry website.

You can also book tickets online.
What to Do on Arki
There's obviously not a lot to do on Arki, and you have to enjoy swimming, sunbathing, walking, and peace and quiet. There are several sandy beaches you can walk to from the main town, which is also called Arki, and where there are several tavernas which also have rooms to rent. These include the Nikolas Taverna, which also maintains a website about the island, Arki Island, where you can book rooms online by email.
---
---
Easter in Athens is, like Easter everywhere in Greece, the biggest religious celebration of the year and this page on Greece Travel Secrets tells you what to expect over the Easter weekend.

Peter Sommer Travels has a great trip on offer that enables you to get a real experience of Easter in Athens from 2-9 April 2018. This is what they say: "Explore ancient Athens and experience a tradit…

Athens culinary tours are among the food walking tours offered by an unusual company, Culinary Backstreets.