Astypalaia
Shaped like a butterfly, the lovely island of Astypalaia is the most westerly of the Dodecanese and largely unspoilt. It could just as easily be one of the Cycladic islands with its tumble of white-washed houses on the slopes below its excellent Venetian castle, and a string of windmills silhouetted against the sky.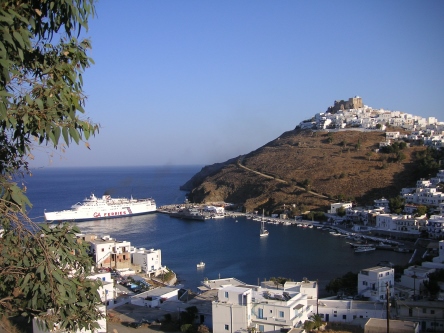 Astypalaia is a hilly island with lots of good beaches, its peculiar shape giving it much more coastline than other islands of a similar size. The main town gets busy in summer but there are still numerous quiet retreats to be found. You'll see the name spelled several different ways, when you translate the Greek letters into English, including Astipalia.
Chora and Castle

The original town of Chora built up on the top of the hill where the castle now stands on the site of what was the acropolis. The castle came in the 14th century and is remarkably well-preserved, with two 14th-century churches incorporated into the walls, houses also built into the walls for protection, an art collection and stunning views over the Aegean.

Beaches

There are the ruins of a Byzantine castle on the west coast at Agios Ioannis, where there is also an excellent beach and something of a rarity in the Greek islands: a waterfall. Also on this western 'wing' of the island is Astypalaia's main resort, Livadi, but even this has far fewer visitors than comparable resorts on more popular islands. It is easily reached on foot from Chora, and if you wish to cast your clothes to the wind you can carry on a little further to Tzanaki, where there is an unofficial nudist beach.
Don't miss reading our account of when we visited Astypalaia on August 15th when they celebrate the Feast of the Assumption, with fun and games on the beach as well:
Heading east from Chora the road crosses the narrow neck that links the two halves of the island, with the sea on both sides visible at the same time. Just beyond is this region's main resort, Analipsi, also known by its earlier name of Maltezana. It is still relatively quiet, but increasing in size and popularity. At the very northern tip of this eastern 'wing' are the caves of Drakospilia, only accessible by boat and not yet an 'official' tourist attraction, which indicates the fairly unspoilt nature still of Astypalaia.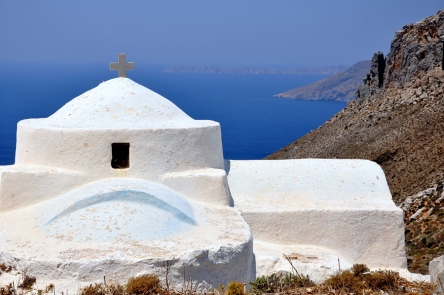 Getting to Astypalaia

Flights to Astypalaia
Astypalaia has a small airport but with no international flights. The best way to get there is to fly to nearby Kos and take a ferry to Astypalaia, though you might have to go via Kalymnos. There are domestic flights to the island with Olympic Air from Athens, Kos, Leros and Rhodes.
Ferries to Astypalaia
There are ferry connections to Astypalaia from Athens (Piraeus) and from islands including Kalymnos, Kos, Naxos, Paros, Rhodes and Tilos. There are four ferries a week between Athens and Astypalaia with a journey time of 9-10 hours. 
Ferries in Greece
Ferries in Greece has an excellent and very thorough website where, in addition to checking ferry schedules and times, you can also book tickets and get lots of useful information about travelling by ferry in Greece.