Kalymnos
Known throughout Greece as the island of the sponge-fishers – although Symi also built up a good reputation for this – Kalymnos has had to diversify in order to survive.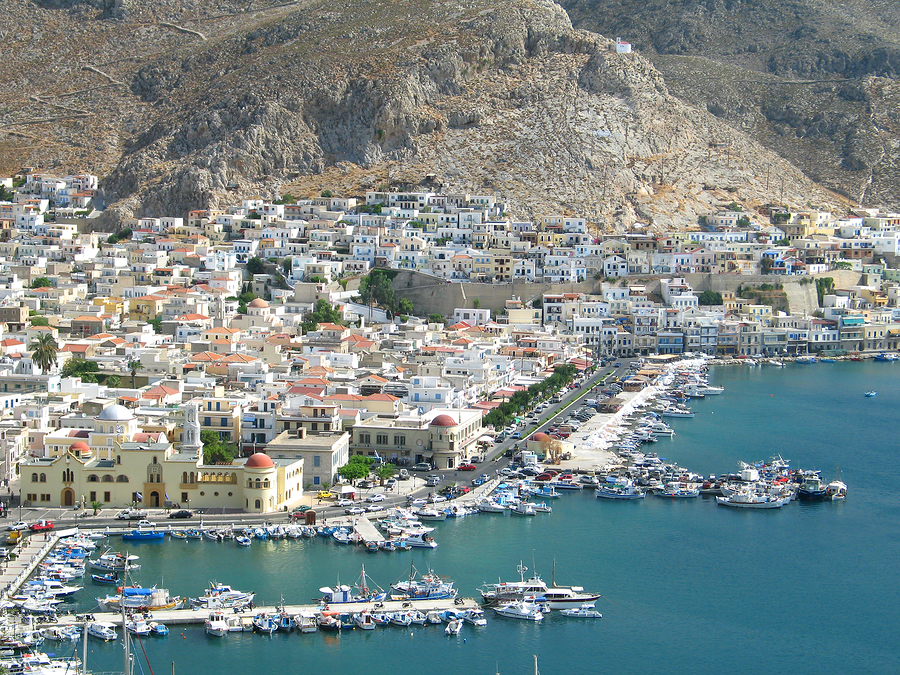 Many of the best sponge fields were wiped out by blight, others were simply overfished, some such as Libya's went off-limits for political reasons, and then there was also the introduction of synthetic sponges. These aren't as good as the real thing but are much cheaper. Kalymnos did diversify, into shipping and also a modest amount of tourism, but there are still a few of the old sponge-fishing fleets around, which set sail for a few months in the late spring and early summer.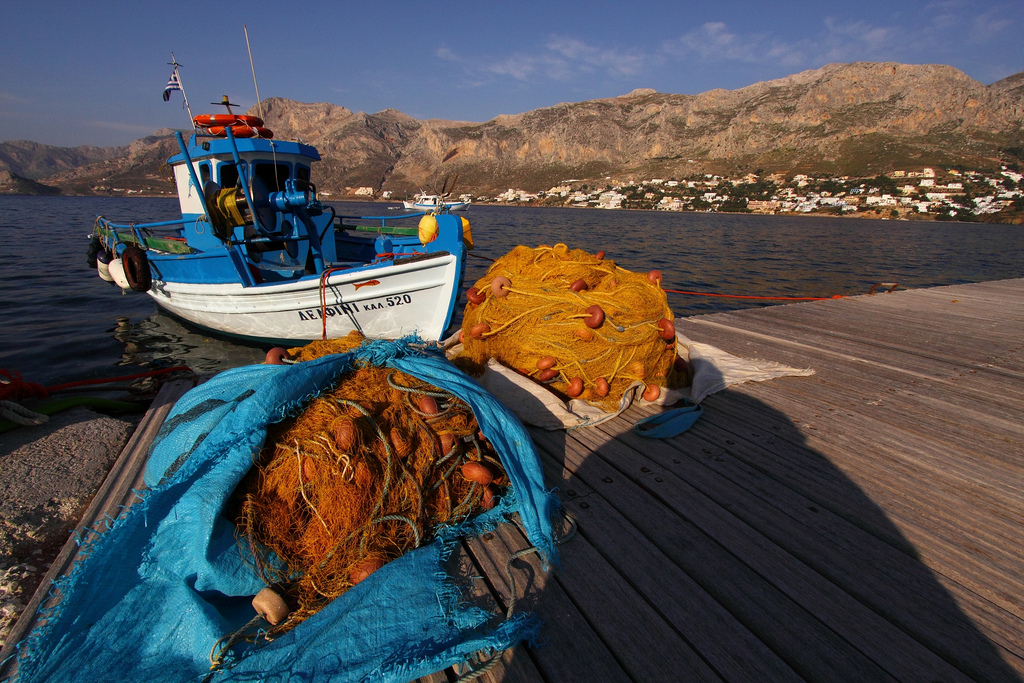 Kalymnos Town
There is no doubt when you are in Pothia, the main town and also known simply as Kalymnos Town, that you are in a sponge-fishing centre. Souvenir shops have sponges by the hundred, and many shopkeepers will offer to show you how to tell the best sponges… which of course they naturally all sell. Others go a little further and will demonstrate the entire process, showing how sponges are turned from black, odorous objects to clean and pleasant ones that you are happy to share your bathtub with.
Away from the very busy harbour, the back streets of Pothia remain truly Greek, and life goes on pretty much as it has for centuries. The main sights in town are the 19th-century cathedral of Agios Christos, with its distinctive silver dome, the Archaeological Museum and the Nautical and Folklore Museum, which you'll find on the waterfront.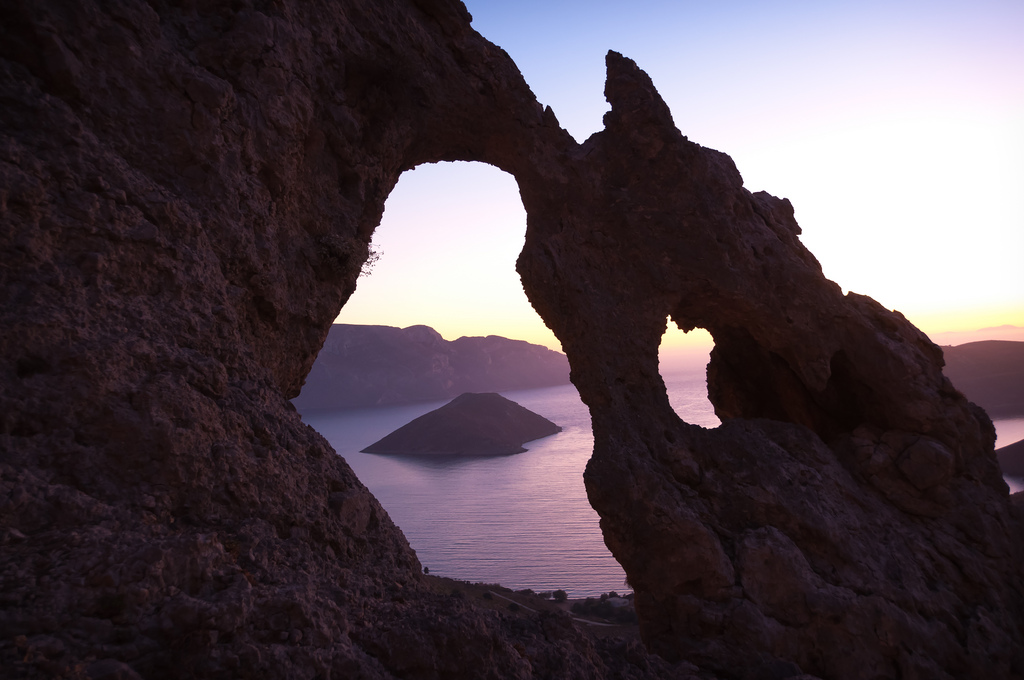 Holiday Spots

The main holiday spots are on the west coast, at Myrties and Masouri, which have good beaches and where you can also catch boats across to the offshore island of Telendos, where there are quieter beaches and a few places to eat and to stay. East of Pothia is Vathi, often called the Fjord of Kalymnos, a deep inlet of the Aegean that leads into a lush valley with several beautiful old-fashioned villages. It is one of the loveliest places on the island.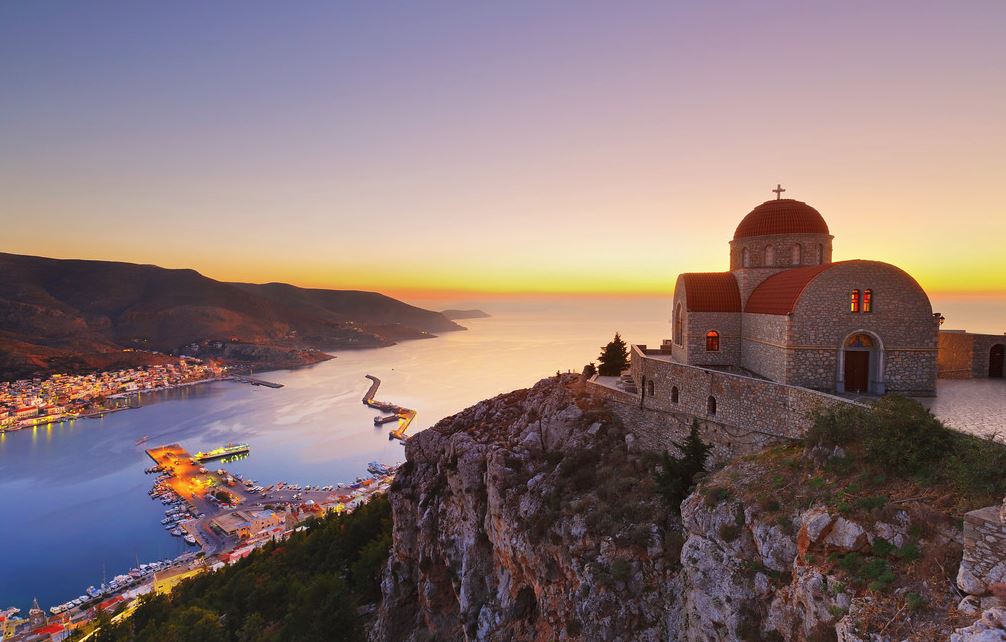 Kalymnos Town
Pserimos
Little more than a speck in the sea, with one small town and less than 100 permanent inhabitants, Pserimos is swamped with visitors in midsummer, who come across on day trips from the nearby larger islands of Kos and Kalymnos. After they depart, the one village with its good beach returns to normal, with just a handful of visitors enjoying its peaceful charm and good, simple accommodation and tavernas.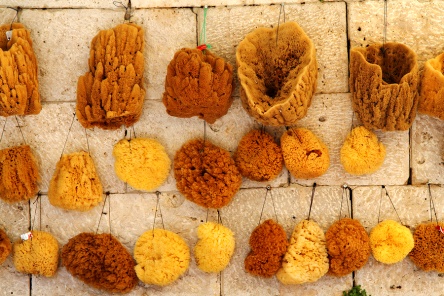 Sponge Fishing
The Greeks have been sponge fishers for several thousand years, as ancient pots and painting show, with the islands of Kalymnos and Symi being the two best-known centres. On either you may still see men with twisted legs, the result of being brought to the surface too quickly. Local sponge fields no longer provide the rich harvests they once did, having been badly affected by a blight, and the few remaining sponge-fishers today must make their way to the North African coast. If you want to buy sponges, make sure you get good ones. The best sponges have the greatest concentration of holes, and you should also try pulling a little bit off the sponge (out of view of the shopkeeper) as poor sponges come apart very easily.
Getting to Kalymnos
Flights to Kalymnos
Kalymnos has its own small airport, which connects it to other parts of Greece although there are no international flights. Olympic Air flights link Kalymnos with Athens, Astypalaia, Kos, Leros and Rhodes. To get to Kalymnos by air from overseas, you need to fly to the neighbouring island of Kos and take a ferry from there, or get a connection in Athens.

Ferries to Kalymnos
Kalymnos is well-served by ferries with links to Piraeus, Samos, Tilos, Kos and most of the other Dodecanese islands.
Ferries in Greece
Ferries in Greece has an excellent and very thorough website where, in addition to checking ferry schedules and times, you can also book tickets and get lots of useful information about travelling by ferry in Greece.
More Information
Visit the official Kalymnos website

Where to Stay on Kalymnos