A-Z Guide to Santorini
The very thorough A-Z Guide to Santorini by Tony Oswin is now in its 15th edition, a sure sign that the guidebook is both popular and kept up-to-date.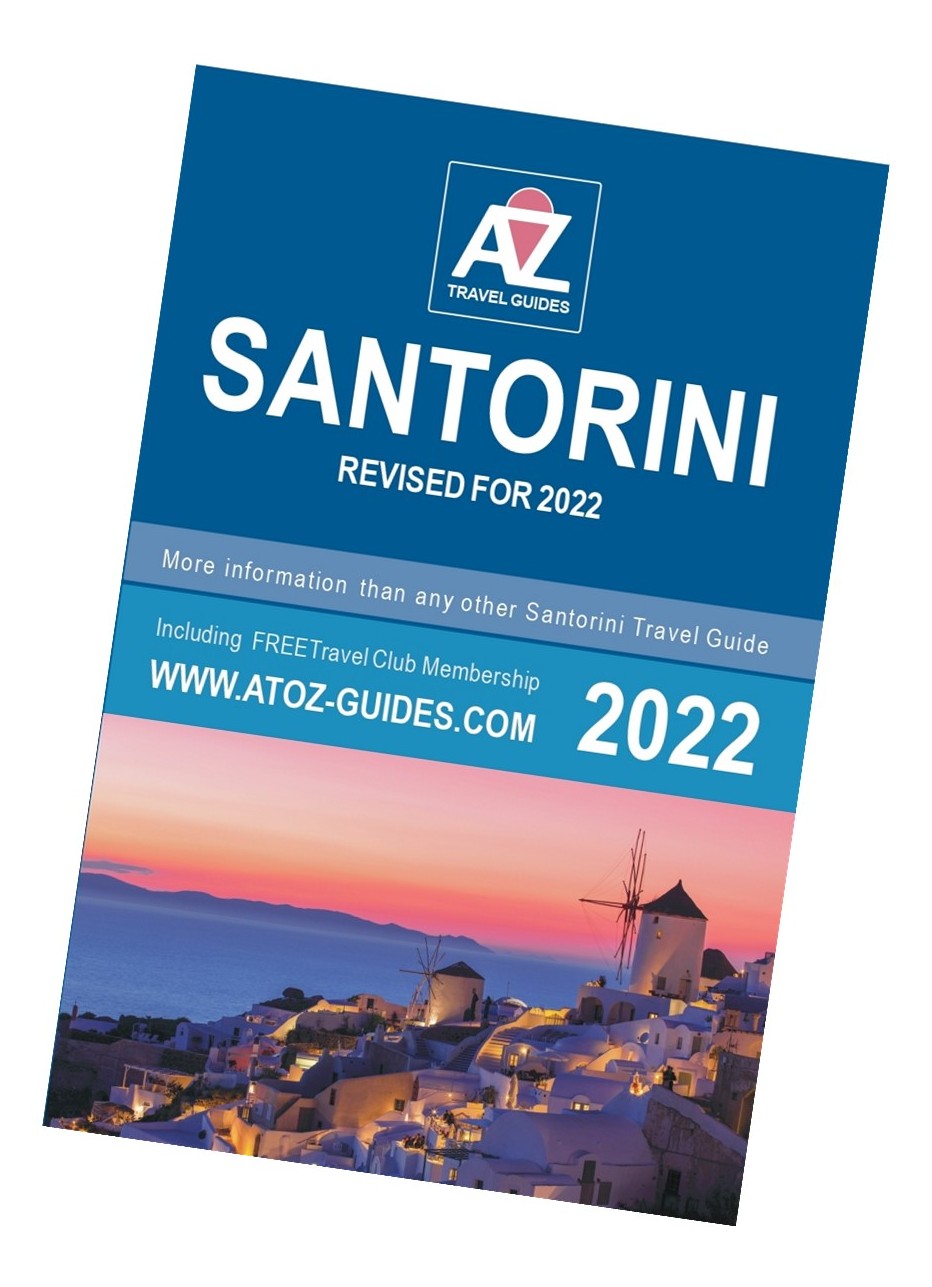 At 173 pages, the A-Z Guide to Santorini is one of the most thorough Santorini guidebooks around. In fact if you check on Amazon, there are only a handful of guides that deal purely with Santorini, and of these the longest we could see was the Marco Polo guide, which came out in 2018 and is only 136 pages long. Other guides are under 100 pages.
One advantage the author has is that he lives in Greece and has done since 2006, giving him a deep insider knowledge of the way of life. He doesn't live on Santorini but on Thassos, which is about 500km (311 miles) due north, making regular visits to update the guide quite easy. Needless to say, the first of his four current guides to Greece was to Thassos (the others are to Kos and Rhodes).

A-Z Guide to Santorini Contents
The author is obviously a history buff as the A-Z Guide to Santorini begins with almost 20 pages of history and mythology. It was a bit too much for me and I began skimming, although Santorini does have more history behind it than most other small Greek islands. At the back of the book there are also six pages of a Greek Timeline, which starts in 2700BC but curiously ends in 1453, the fall of the Byzantine Empire. Did nothing happen in Greece after that?
Practical Information
It's for the practical information that people will want to buy this book, and in that respect it scores really well. There's a section on culture, another on how to get to Santorini, eight pages just on beaches, another ten pages on activities, and advice on hotels, camping, tavernas, and Greek food generally. There are, however, no listings of hotels or restaurants.
Places of Interest
The main section of the book is the Places of Interest, which is very comprehensive. There are several pages on Akrotiri, plus a map (though the map is at the back of the book and would be more helpful next to the text,) Ancient Thera gets three pages, and a map at the back, and the rest of the island's main attractions, from archaeological museums to wineries, is listed alphabetically.
Some Cool Santorini Gifts
A-Z Guide to Santorini Photos
In short, there are none. The author uses a POD (Publish on Demand) service, which keeps the cover price down, but if you start to add photos, especially colour photos, the cost of the book rockets. I would have done exactly the same. For a guidebook, facts are more important than photos, and there are several black and white maps and tables. And if you want to see what Santorini looks like, check our Pictures of Santorini page!
Keeping Up-to-Date
If you want up-to-date information on Santorini then that is no problem. Buying the A-Z Guide to Santorini also provides you with free membership of the Travel Club which the author runs through his website: atoz-guides.com. This provides you with bonus information and updates on all the A-to-Z guides. As if that wasn't enough, the author also provides his email address in the book so you can send him any questions you might have directly. That's the advantage of buying a book from a small-scale publisher.
See Our YouTube Video of Santorini
In short, although this isn't a glossy guidebook with lots of colour photos (and a price to match), we definitely recommend is as a very thorough guide to everything you might want to know about Santorini.

Buying the A-Z Guide to Santorini