Thassos Travel Guide
The A-Z Thassos travel guide, including Kavala and Philippi, is newly updated for 2022 and is the most comprehensive guide to Thassos available.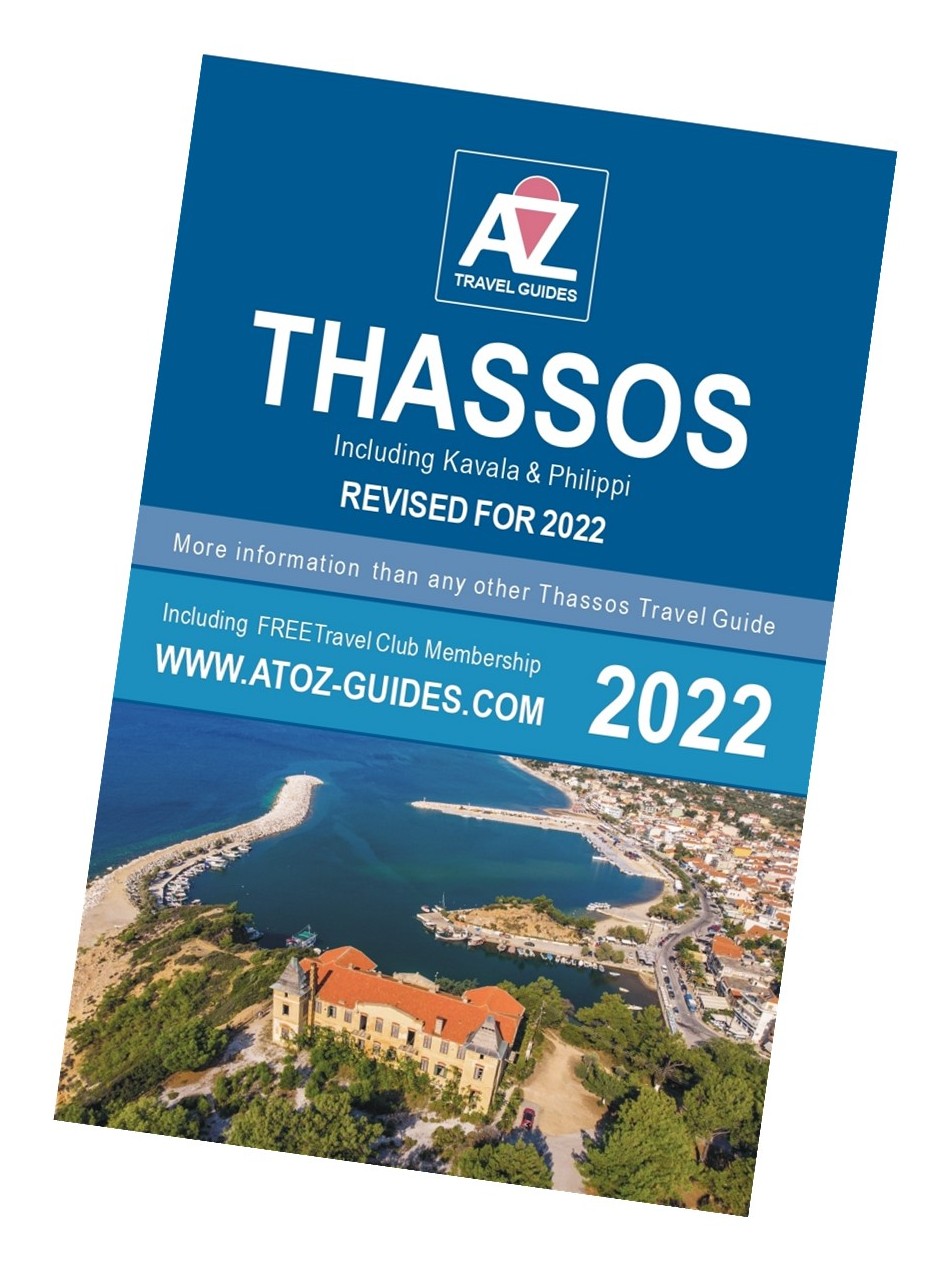 The A-Z series of travel guides by Tony Oswin only covers four Greek islands as yet – Kos, Santorini, Rhodes, and this guidebook to Thassos – but they are the most in-depth Greek travel guides you'll find.
Thassos Travel Guide
The A-Z Guide to Thassos (or Thasos) should be especially good as that is where the author and his wife chose to live way back in 2006. That is also when he wrote his first guide to Thassos, and he has updated it every year since, making this the 17th edition.
This is a testimony both to the author's dedication and to the demand for the guide – you don't go to the effort of updating and publishing a guide like this (and three others) every year unless they sell well enough to make it worthwhile. 
A-Z Guides Travel Club
Even when you update a guide constantly, there's still the risk that something will be out-of-date after a few months. The A-Z guides get round that problem by giving every purchaser of a guide a password which provides access to internet updates via their website.
On Thassos, for example, if you go to the Travel Club page and sign in, you find a drop-down menu of ten sub-topics that are a problem for a printed guide:
·         The current weather from three different services.
·         The latest news (bang up-to-date when I checked).
·         Hundreds of colour photos (the guides have no photos, to keep the cover price down).
·         3D photos (though you'll need to buy 3D glasses).
·         A host of panoramic 360-degree photos.
·         Maps, and much more besides.
Kavala and Philippi
In addition to the wealth of information about Thassos itself, the A-Z Guide to Thassos also includes four pages on Kavala, almost twenty pages on the archaeological site of Philippi (the author loves his history), a page on the site of Amphipolis, and two pages about the Alistrati Cave. These are all sites you will want to visit if you're spending a few days in the area.
You may well have to spend at least a night in Kavala, as the only way to get to Thassos is to take a ferry from Kavala, so depending on flight times to Kavala or your other arrangements, Kavala may well be an overnight stop for you. That's no great hardship. I spent several days there one year and certainly didn't get bored.

Thassos
And now to Thassos itself. By the time you get to page four, you'll be wanting to go to Thassos, because of the author's enthusiasm for the island where he lives. He explains that it is the most fertile island in the Aegean Sea, its inhabitants maintain a respect for culture and tradition that is being lost on some other islands, and that Thassos has a greater percentage of repeat visitors than any other island, with many people returning year after year. But if you're looking for the Ibiza of Greece, you can skip Thassos, the author also advises readers.
This Thassos travel guide runs to 198 pages in all, including 11 pages of maps at the back of the book and 9 pages of history and mythology near the front. There are over 50 pages on Places of Interest, covering Thassos Town, archaeological sites, the island's villages, monasteries and the sites in and around Kavala.
There are separate sections on beaches, eating out, and activities, not to mention weather, health, how to get around the island, money, bugs, a Greek glossary, and plenty more. 
Best Thassos Travel Guide
It's easy to say that this is the best Thassos travel guide as it has no competition. Search for Thassos travel guides on Amazon and this is the only one that comes up.
For comparison, I picked up a copy of a guide to the whole of Greece from one of the major publishers, and Thassos gets just 6 pages. The same publisher's guide to the Greek Islands also offers a mere 6 pages on Thassos. In comparison, this guide is 198 pages long. It's no contest!
You can find the Thassos guide on Amazon.