Thassos
Thassos is only 7.5 miles (12 kms) from the Greek mainland, reached by ferry from Kavala, and has been a popular holiday spot for Greek people for some considerable time.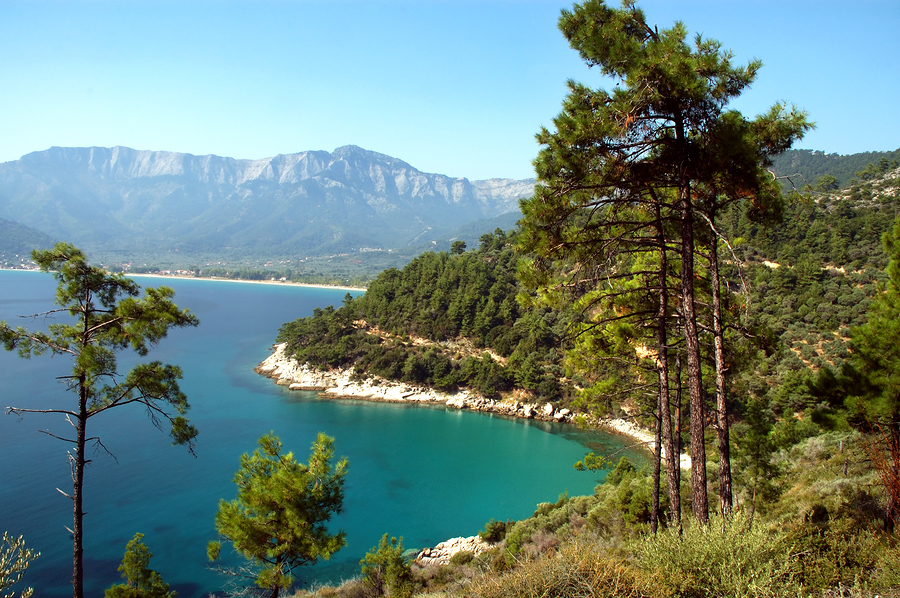 Thassos sees fewer foreign visitors than many islands, because of the transport connections. In summer you can fly to Kavala and take a ferry to Thassos, but at other times of year you would need to fly to Athens, take an internal flight to Kavala - and then a ferry.
Most visitors stay in and around Thassos Town, which has some ancient remains as well as beaches, with the rest spreading themselves around this almost circular island.
Thassos has a hilly interior, though many of its pine forests were wiped out in extensive forest fires several years ago. A coastal road goes all the way round the island, and the whole journey is easily done in one day, whether with your own transport or on the local bus service.
This makes it easy to spend a few days sampling different resorts, or to travel round first and select your favourite as a base. Several roads branch off inland from the coastal road, going up into the hills to the remoter villages and monasteries of the interior.
Ancient Theatre Above Thassos Town
Thassos Town

Thassos Town is also known as Limin, Limenas or just Thassos, something you need to remember if traveling by bus or ferry. To add to the possible confusion, the island's second town on the southern side of Thassos has a very similar name: Limenaria. The Kavala ferries actually dock at the port of Skala Prinou, a few kilometers west of Thassos Town, and linked to it by bus when a ferry arrives.
Out of high season Thassos Town is a pleasant place, the more so for its several interesting Roman remains scattered about. Due to its closeness to the mainland, Thassos was inhabited as long ago as the Stone Age, and as a known source of gold, silver and other minerals, including white marble, it was both valued and fought over. It was an important and wealthy port during the Roman occupation, and some of the Roman buildings have survived.
The most extensive area is that of the agora, which is fenced off and not officially open, but if the gate is open it is possible to wander round and take a look, no-one minds. With a little imagination and a good map, you can make out the remains of shops and the foundations of temples and other public buildings.
The remains of a Temple to Athena Poliouchou from the early part of the 5th century BC are located just below the site of the acropolis, and on the far side of this is one of the gates in the original city wall, the Gate of Parmenon. This still has its immense lintel, and takes its name from that of the mason who made the gate, which is carved on a nearby wall.
It is worth making the walk up to the remains of the theatre, not so much for the building itself but for its good views over the Aegean. The other main sight to see is the fortress, dating mainly from the 13th-15th centuries but incorporating stonework from a Temple of Apollo which first stood on the site. The best of the finds are on display in the town's Archaeological Museum.
Beaches on Thassos

The island's best beaches are on the south coast, where the second-largest town, Limenaria, is also located. It's an appealing place, which manages to combine holiday resort and business centre, and has some attractive old mansion houses but no good beach. One of the best is at Potos, a few kilometers east of Limenaria, the island's second busiest resort.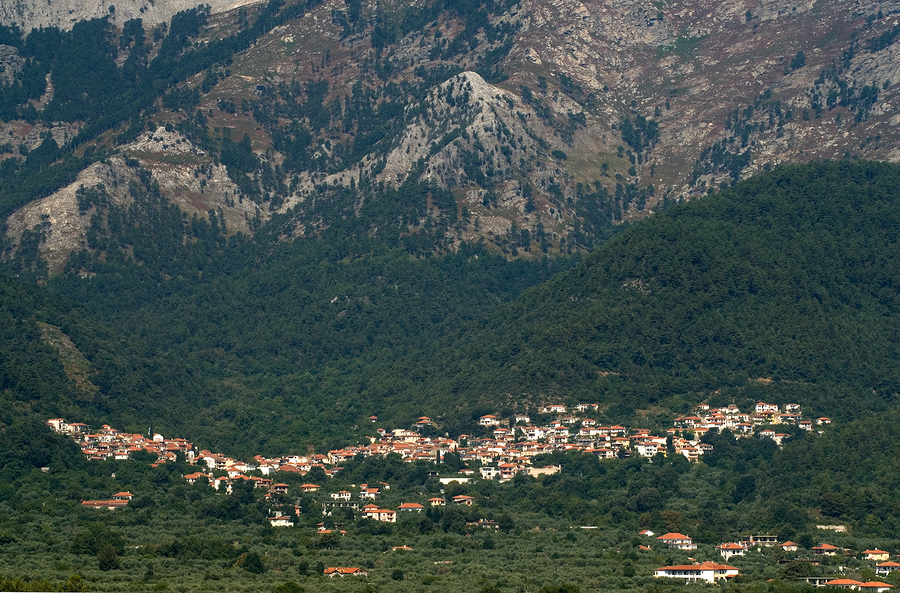 Potamia
The Interior of the Island

If it's peace you want, Thassos's interior is the place to go, and many of the coastal resorts have a matching village inland, to where the inhabitants used to retreat to escape pirate raids. Most of these have a few simple rooms to rent, for the more adventurous traveller, and a handful of tavernas to eat in. One of the biggest is Potamia, from where it is possible to begin the climb to the island's highest point, Mt Ipsarion, at 1204m, but it is a tough 3½-hour hike for which a guide or good map is essential.

Getting to Thassos
Flights to Thassos
There are no direct flights to Thassos. In summer there are charter flights from several European countries to Kavala, from where you then must catch the ferry to Thassos. Out of season you will need to fly to Athens, catch an internal flight to Kavala and then take the ferry to Thassos.
Ferries to Thassos
There are daily ferries from Kavala to Skala Prinou, near Thassos Town, operated by Thassos ferries. Tickets cannot be booked online but must be bought from the Thassos Ferries office immediately before departure. 
Ferries in Greece
Ferries in Greece has an excellent and very thorough website where, in addition to checking ferry schedules and times, you can also book tickets and get lots of useful information about travelling by ferry in Greece.
Where to Stay on Thassos
Where is Thassos?