Lonely Planet's 
Crete
Lonely Planet's Crete is an excellent and thorough guide of almost 300 pages to the largest of the Greek islands.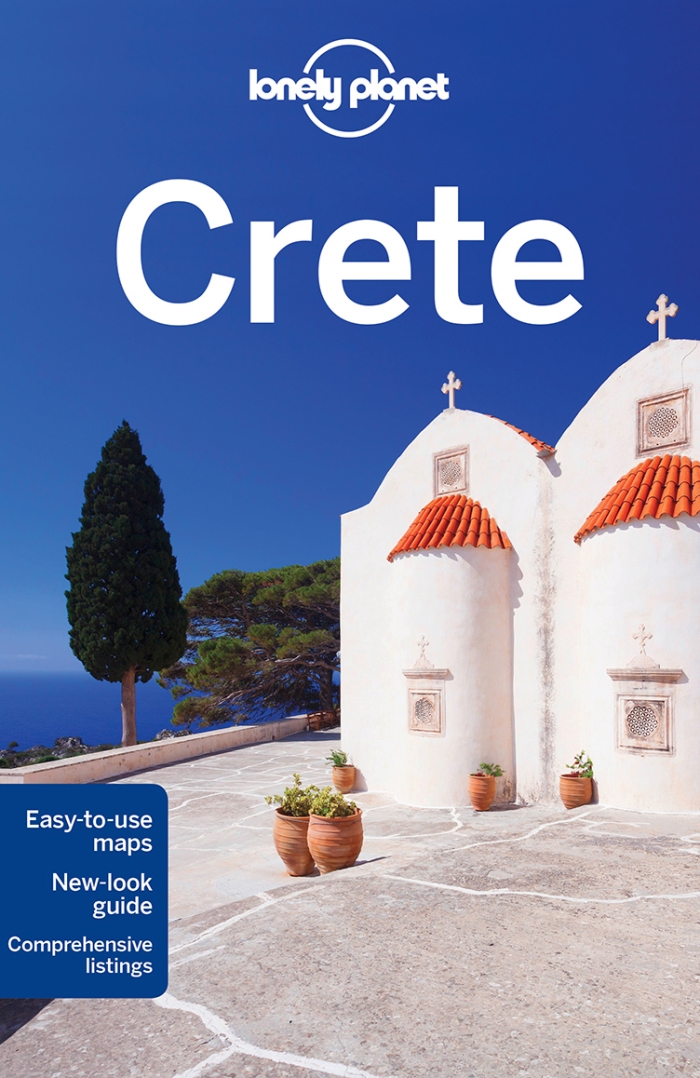 We recently reviewed Lonely Planet's Greek Islands and highly recommend it as an overall guide to all the Greek islands (and Athens). That guidebook has 56 pages on Crete but if it's just Crete you're interested in you need to take a look at Lonely Planet's Crete. This has almost 300 pages dedicated to this very special Greek island.
The book begins with a brief overview of what to expect from Crete, then goes on to list its Top 15 Attractions and Experiences. We don't want to repeat their list in full, but the first few are:

The Old Town of Chania

The Beach at Elafonisi

Heraklion Archaeological Museum

Touring Southern Crete by Boat (a great suggestion!)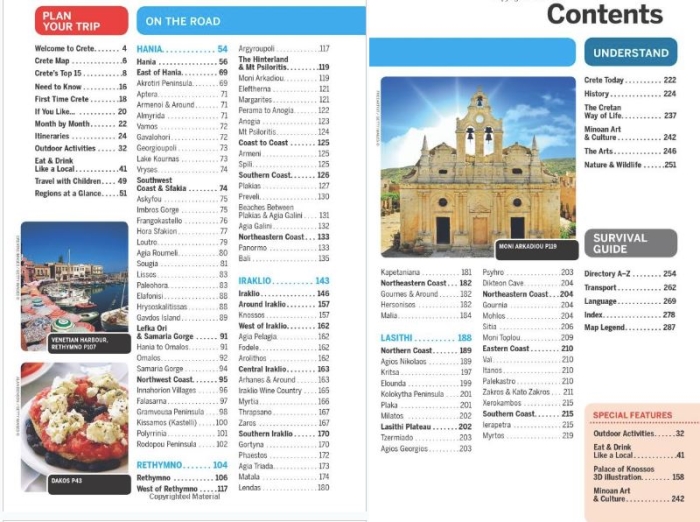 We've no arguments there, nor with the rest of the list which includes the wine country in the Iraklion region and, another excellent choice: Village Tavernas. Eating at one of these places is definitely a highlight of any visit. They single out one place which we were lucky enough to eat at on our last visit, To Skolio in Anidri near Paleohora, and while we wouldn't say it was a typical village taverna, it did serve amazingly inventive and inexpensive food, all prepared fresh every morning.
Plan Your Trip
There are then several suggested itineraries for different ways of getting the most out of your visit to Crete. The first is a 2-week Essential Crete trip, starting in Iraklio and then heading south, then west, taking in many of the island's main attractions such as Knossos, Chania, Rethymnon, the Samaria Gorge, Phaistos and the Arkadi Monastery.
A suggested 1-week tour limits itself to places reachable from Iraklio, and the Eastern Crete itinerary restricts itself to one week, as there are fewer sights to see in the eastern half of the island. Our advice, though, would be to take two weeks anyway and take it slow.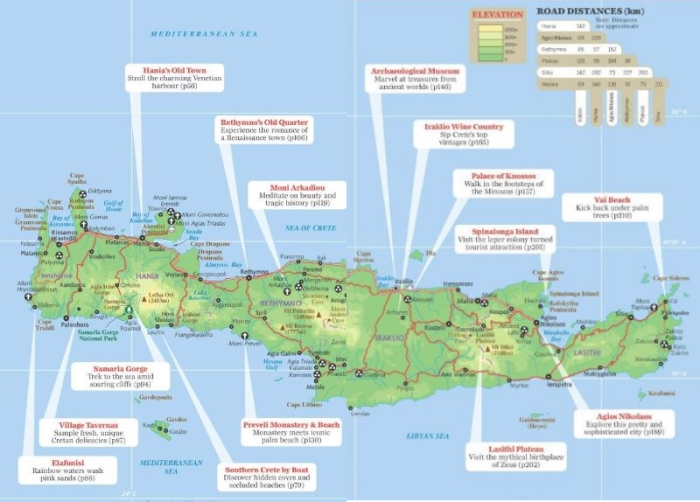 The Cretan Diet
The next section provides sections on different themes, such as Outdoor Activities (of which there are plenty), Travel with Children and Eat and Drink Like a Local. We were delighted to see that this runs to eight pages, as there's a lot to say about Crete's distinctive and outstanding food and drink. There are sub-sections on important topics like olive oil, wine and raki. We'll drink to that.
Where Is Gavdos?
The guide rightly says that the island of Gavdos, off the southern coast of Crete, is the most southerly point of Europe. But what it also says is that Gavdos is closer to Africa than to Greece. Er, excuse us? Gavdos is part of Greece. We think what they meant to say is that Gavdos is closer to Africa than to Athens!
Top Crete Guide
We only spotted that one small mistake as we read quite thoroughly through the sections on places in Crete that we know ourselves. It was the only mistake that we found, and even then it was more of a slip of the brain than a genuine factual error.
On the places that we checked we found Lonely Planet's Crete to be thorough, accurate and well-organised. It's also very good on the nitty-gritty practical details, including local transport. How many buses a day are there from Rethymnon to the Arkadi Monastery, what does it cost and how long does it take? (The answers are - or were when this book was researched - three, €2.80 and 40 minutes.)
Buying Lonely Planet's

Crete
Where to Stay on Crete