The Icon Painter
Icon painting is a centuries-old tradition in Crete and the rest of Greece, and Greece Travel Secrets meets a modern-day icon painter in Elounda on Crete.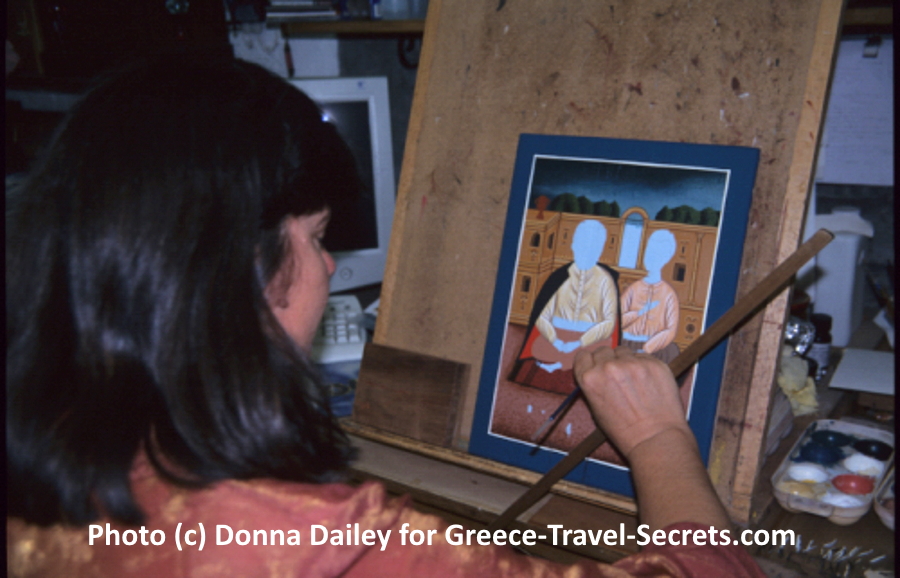 Yiorgia Petrakis: Photo by Donna Dailey
All Other Photos Courtesy of Ioannis and Yiorgia Petrakis
'There are still plenty of icon painters in Crete,' says Yiorgia Petrakis, 'but not many of them are painting with the heart.' Yiorgia is taking a break from her own work at the Icon Workshop she runs with her husband Ioannis in Eloúnda. At the back of the shop stands a canvas on its easel, specially adapted with wooden supports on which Yiorgia can rest her wrists while concentrating for long hours.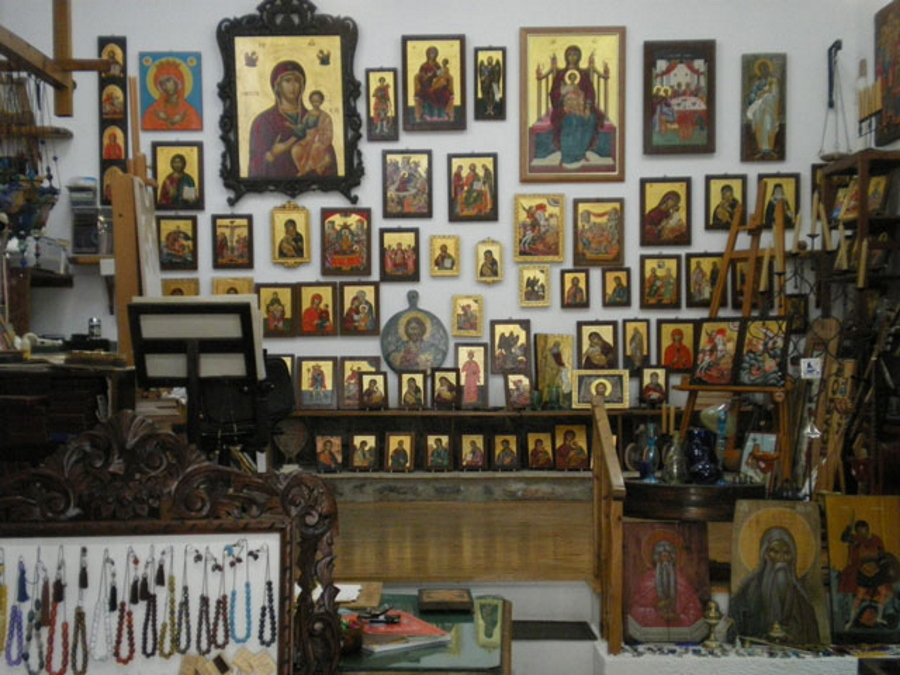 The Icon Shop and Studio
The Cretan School
Icon-painting is a great Cretan tradition, and the island's skillful artists became renowned during the 15th-17th centuries under the name of the Cretan School. Icons were being painted for many centuries before this, of course, but during that period Cretan artists were in great demand in Venice, the artistic capital of the western world.
Ioannis Petrakis at work in his studio
Studying Icon Painting
It is a skill that is still highly respected on Crete, though not many people make them like Yiorgia in the traditional way. Born in Thessaloníki, Yiorgia met Ioannis when they were both studying Icon Painting at the Painting School at Athens University. They married and moved to his home town of Eloúnda, where they opened their workshop.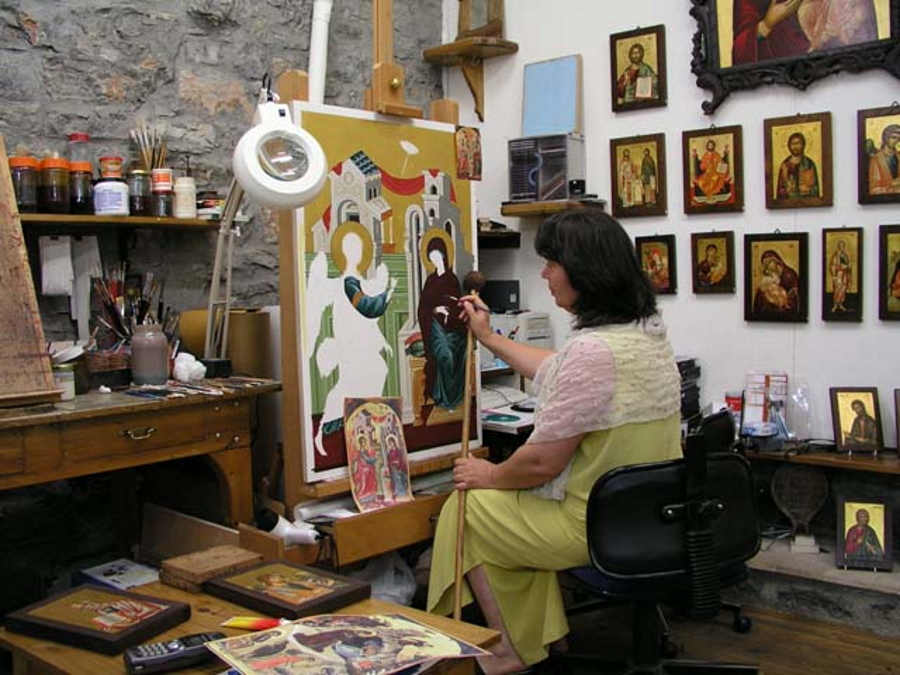 Yiorgia Petrakis at work
The Rules of Icon Painting
'We studied for several years,' Yiorgia says. 'Icon painting is full of rules. You can't explain them, you must feel them. It must come from the heart.'
The wooden frame for an icon painting must be made from a hard, dry wood like oak, chestnut or pine, not an oily wood like the olive tree. The paper is handmade from cotton. Egg and vinegar is used to make the egg tempura, and 23-carat gold leaf provides the background. Paints are also handmade in the traditional way, dyes coming from the earth, from flowers, from metals. Yiorgia and Ioannis buy their paints from the one factory in Greece which still makes them in this way.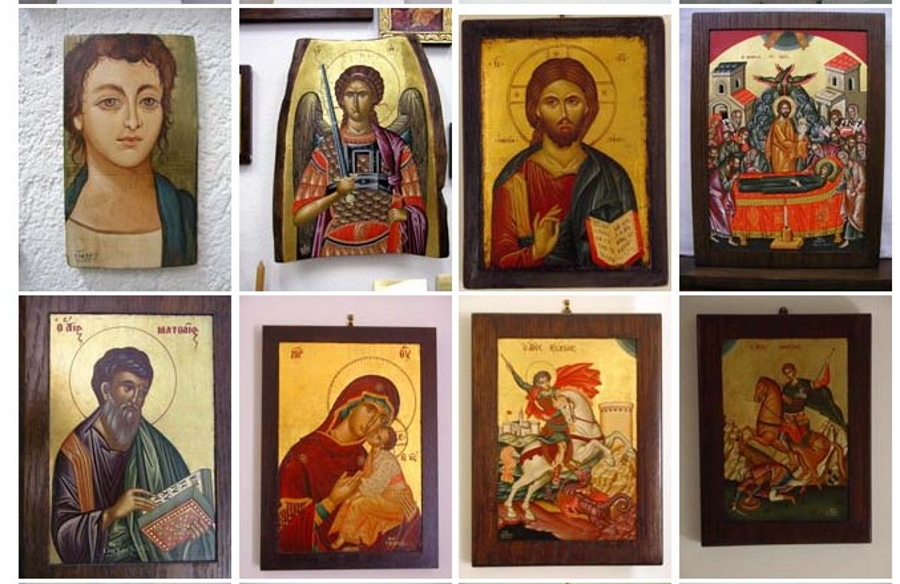 Some Works by Ioannis and Yiorgia Petrakis
Making Colours
'Sometimes to make just one colour can take years,' Yiorgia explains. 'They bury a metal in the ground until it decays to the point where they get exactly the colour that they want. And it can take one month to make one of the larger paintings, which is why real icon paintings can be expensive. But we have customers from all over the world. Most of the work that we do is to order, but we always have work in the shop for people to buy. It is not just the skill of the work, of course. It is the feeling for Mary, for Jesus, that affects the painting. Your love for them must come through.'

As Yiorgia returns to her canvas, it is quite clear that her own love shines through every icon. The spirit of the Cretan School lives on, in this little shop in the holiday resort of Eloúnda.

The Icon Shop and Studio in Elounda
Visit the Icon Painters
You'll find the Icons Art Studio on Elounda's Main Square No 8 (Mpotis Sfakianakis)
Website: greek-icons.com