Maleme
The Battle of Crete is one of the most momentous events in Cretan history, and will be talked of in centuries to come as we talk of events like the Battle of Marathon today, wondering what it must have been like to be there. To find out the grim truth, a visit to the main site of the Battle at Maleme is essential, a spot which is now the site of the German War Cemetery.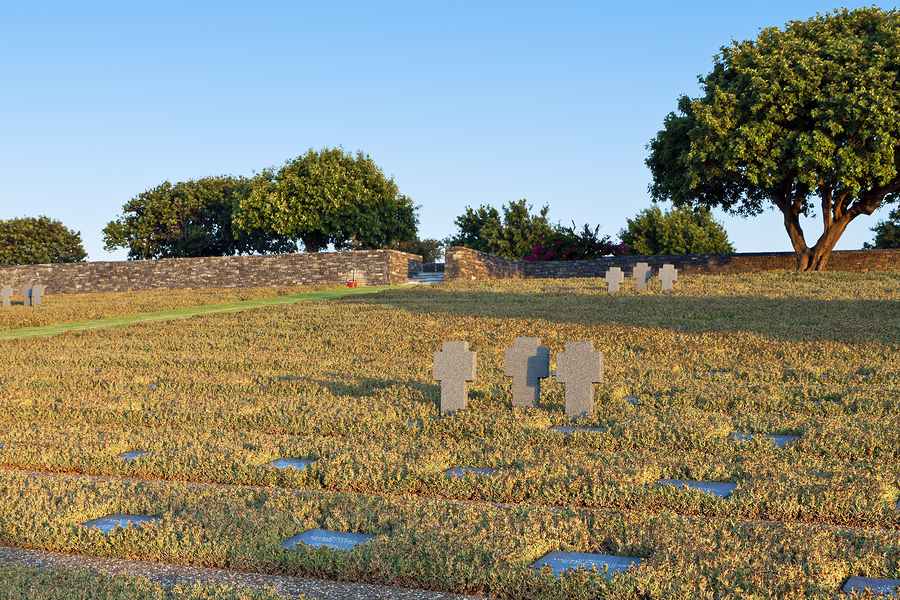 The German War Cemetery, Maleme, Crete
Row after Row of Graves

The Cemetery is laid out on the crown of what was known during the war as Hill 107. A small building near the entrance acts as an information centre, with a map showing how the battle progressed, while the hill itself is covered with row after row of graves. The German losses were 6,580 men, many of them the paratroopers who came out of the sky over this hill and were shot as they descended on their parachutes. The hill would have been strewn with bodies, just as today in the spring the lower slopes are strewn with wild flowers, an attempt to bring some peace to this turbulent spot.
The Maleme Airstrip

At the top of the hill you can look down on the Maleme airstrip, that vital piece of land which was the focus for the attack and which had to be seized at all costs. The airstrip is still there, and still in use as a military base, and if any visitor is there when a plane happens to be in the sky, and with those rows of graves at their feet, they will not fail to be moved by the enormity of what happened here on 20th May 1941.
Here's a YouTube video Showing More of the Cemetery
An account of driving in Greece for Greece Travel Secrets including links to the best drives in Greece, practical information and a note of some of the hazards.

This Athens dining guide doesn't list restaurants but gives practical advice on types of eating places, tipping, hotel breakfasts and picnics.

Spetses in the Saronic Gulf Islands of Greece is an easy day trip from Athens and has some good beaches. This page gives details of ferries and what to do.