Crete's UNESCO Sites

The largest of the Greek islands, Crete has four ENUESCO sites, which are Sitia, Psiloritis, Asterousia, and the Gorge of Samaria.
It's not surprising that Crete has four UNESCO sites, being the largest of the Greek islands with a total area of 8,450 sq kms (3,260 sq miles). The four sites all involve mountain ranges:
·         Sitia and the Zakros Mountains in the northeast.
·         Psiloritis and Mt Ida in the centre.
·         Asterousia in the south.
·         Samaria and the Samaria Gorge in the southwest.
The lovely port town of Sitia is in the Lasithi regional unit of Crete, the most easterly of Crete's regions. It's not only the town which has been recognised by UNESCO, but the area around it too. In 2015 UNESCO declared it a Global Geopark because of the Zakros Mountains, the cave systems, the discovery of fossils, and the encouragement of ecotourism and geotourism, benefitting the local communities.
Psiloritis was also declared a Global Geopark in 2015, although it had been part of the European Geoparks Network since 2001. Psiloriitis is the name of the mountain range, and the park extends from the mountains down to the Libyan Sea, an area of 1,159 sq kms (447 sq miles). The park also encompasses the Talaia Ori Mountains, and these extend all the way to Crete's north coast.
The highest peak in the Psiloritis range is Mt Ida at 2,456 metres (8,058 ft). UNESCO recognised the area, amongst other things, for its geodiversity, with its many caves and deep gorges, for its plant and animal life, including wild cats, and for the way its attractions help sustain local communities by bringing in visitors.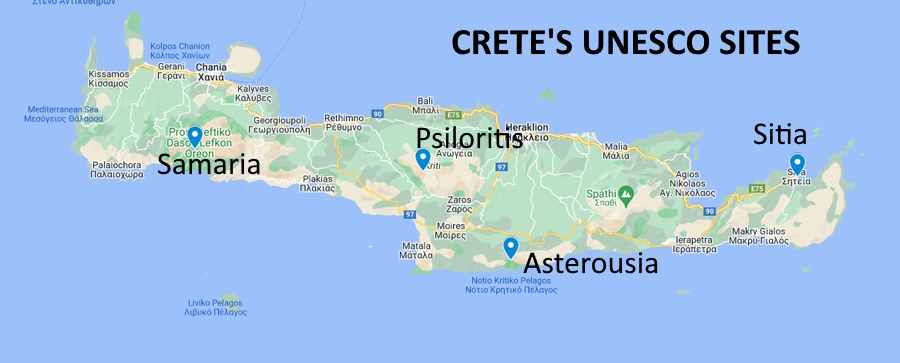 Crete's UNESCO Sites
Map (c) Google Maps
In 2020 UNESCO designated this area, the most southerly mountain range in Europe, as the Asterousia Mountain Range Biosphere Reserve. It's not only for its dramatic beauty, but also for its rich archaeological heritage: people have lived here since Neolithic times. It's also home to 55% of the animal and plant species that are found on Crete, including the Bearded Vulture, Griffon Vulture, Golden Eagle, and Bonelli's Eagle.
The Gorge of Samaria, and surrounding area, is also a UNESCO Biosphere Reserve, created in 1981. This makes it the oldest of Crete's UNESCO sites. It's also a National Park, and the only one of these four areas to be uninhabited. It does, however, have ancient ruins, including churches and castles, from the days when people did once live here.
For more information, see our pages on the Samaria Gorge and Hiking the Samaria Gorge.