Art Courses on Crete
Greece Travel Secrets visits Visual Arts Crete who offer accommodation and run art courses on Crete at their home and studio in the village of Kastellos near Rethymnon.
Our guide Isidoros from www.GoCrete.net was waiting for us at Chania airport as promised. 'I think you will like where you're staying tonight,' he said as he drove us the hour or so east to the village of Kastello. 'They are a lovely English couple who teach art courses and also have nice accommodation.'
We drove in the dark into the hills south of Rethymnon, and it was midnight by the time we got there. Tim and Janice were waiting for us in the village taverna, The Castello Taverna, along with the amazing host, Vassilis Zoulakis. With his Ukrainian wife Katerina in the kitchen, Vassilis brought out a never-ending series of plates (and wine and raki) for us, eventually joining us at the table for conversation and jokes.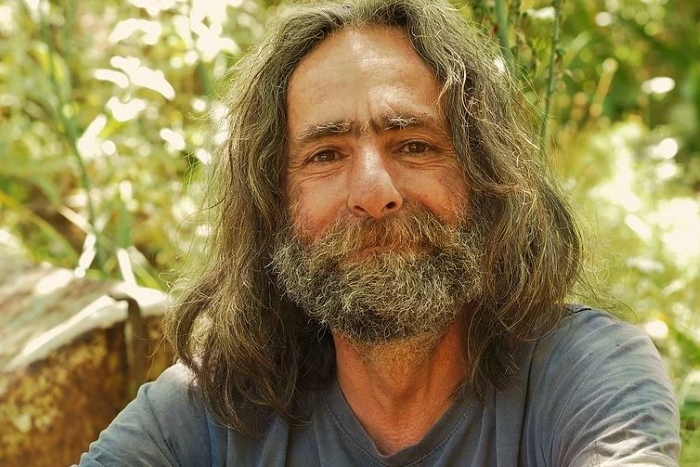 Vassilis Zoulakis
It was our first night back on Crete after a few years' absence, and it couldn't have been a better introduction. It didn't surprise us to learn later that the Castello has rave reviews on TripAdvisor, and has even been called 'The best taverna in Crete' by one enthusiastic diner. That's a big claim as we had so many great meals on Crete, but it was certainly one of the highlights of our 3-week trip there. 
Most of the food is sourced from the family's own farm, and by Vassilis foraging for mushrooms, wild greens, herbs and other goodies. When he's not doing that he's making his own wine and raki. We definitely have to go back one day and join one of his Foraging Walking Tours!
Welcome to the Rabbit House
Eventually we had to drag ourselves away and find our rooms for the night. 'You're staying in The Rabbit House.' Tim told us. We admit we were a bit dubious about what we might have let ourselves in for, but we needn't have worried. It was wonderful.
The rabbits had been kicked out and the old stone building now made for lovely self-catering accommodation. Wooden stairs led up to the bedroom, while downstairs was a kitchen area, a lounging area with a sofa, an old stove, a travel trunk and other artsy decorations. If you didn't know it you'd soon guess that the owners were artists, as their paintings, mosaics, sculptures, carvings and other creations are everywhere.
Life is Just a Bowl of Fresh Cherries in Kastellos
Next morning in the daylight we found another delightful feature that makes this such a great place to stay. Right outside the door is a stone patio courtyard with a table and chairs, all shaded by trees and totally private. Tim and Janice brought us coffee and breakfast and we were at last able to relax under the Cretan sun after the previous day's early start and late night.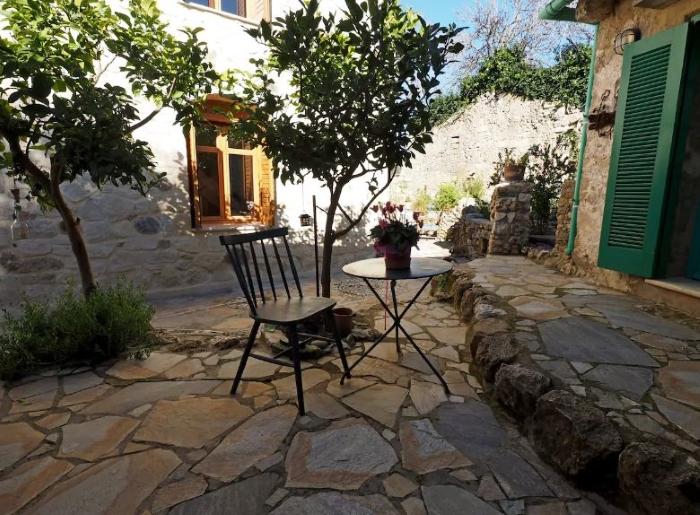 Art Courses on Crete
Later Tim and Janice gave us a tour of their art studio, and their fascinating home, and told us about the art courses they run there. You can book accommodation with them without having to do one of their courses, or you can do a course and, if they're full, they'll help you find accommodation locally.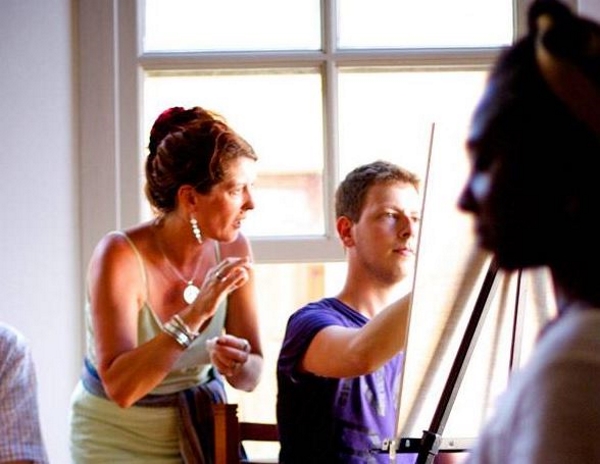 Janice in the Art Studio
Janice studied at the Glasgow School of Art, and Tim at the Camberwell School of Art. As well as being practising artists, they've also taught in Australia, Egypt, Spain and the UK.
Several years ago they came across what was then a run-down farmhouse with a Venetian tower in the quiet hill village of Kastello, and fell in love with the property and the place. Since then they've been renovating it.

Kastello is still a quiet farming village, and our guide Isidoros rounded off our visit there with a walking tour. He pointed out the Aghia Paraskevi monastery, which was first built way back in 1200, although for the last 300 years only the church has remained. 

A Student Working at Aghia Paraskevi
We were sad to be leaving after our whirlwind visit, although we cheered up when Isidoros told us: 'Before we go, I think we should have lunch at the Castello!'
We'd stayed in the unique Rabbit House and dined in one of the best restaurants on Crete, and we'd been on the island for less than 24 hours.
Tim at Work in the Art Studio