Zaros
The Greece Travel Secrets guide to Zaros in Central Crete, including what to do, where to stay, and where to eat.
Zaros in Central Crete is a lovely little town. The first time we went we were just passing through and stopped to do a walk in the Rouvas Gorge. We loved the town so much that we said we had to go back and stay sometime - so we did!
Officially Zaros is only a village but with a population of about 3,000 it's more like a small town. It certainly has a lively atmosphere and stands out for several reasons.
Zaros Water

One distinctive feature of Zaros is that it has a lake. Lake Votomos is a short walk out of the village to the west, or you can drive there. They farm trout in the lake and you'll see it on taverna menus. You have to eat trout if you visit Zaros!
The lake is fed by a mountain spring and the spring water is also bottled and well-known locally for its purity. Go into any of the shops in Zaros and ask for a bottle of the local water. You can find out much more about the lake and the area here.
Where is Zaros?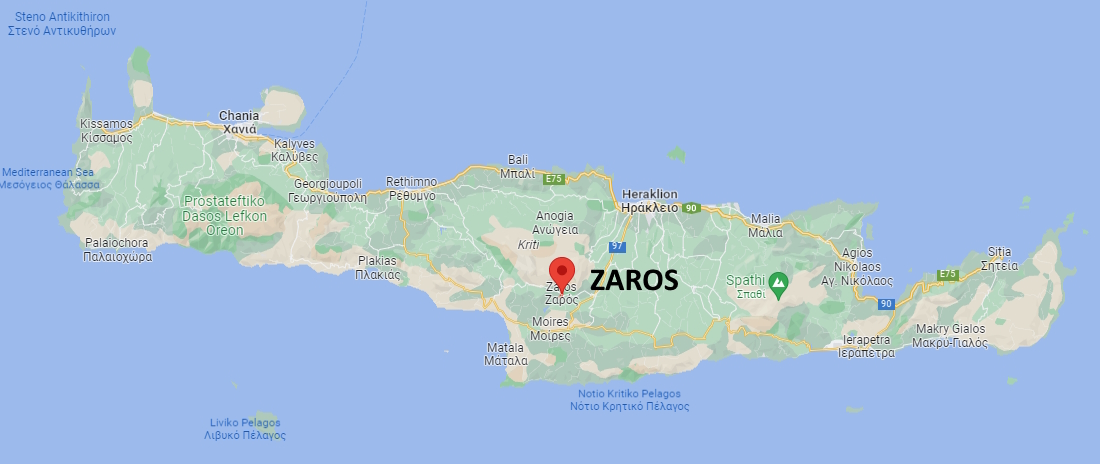 Map (c) Google Maps
As you can see from the map, Zaros is almost slap-bang in the middle of Crete. It's in the southern foothills of Mount Psiloritis, less than an hour's drive southwest of Irakleio. The Minoan Palace of Phaistos is a half-hour drive southwest of Zaros, The resorts of Matala and Ayia Galini are also both southwest of Zaros, and a 35-40-minute drive.
What to Do in Zaros

In truth, there's not a lot to do in Zaros, which is part of its charm. It makes a great base if you're exploring the area, and in our view is more interesting, more relaxing, and less expensive than nearby resorts like Matala and Ayia Galini.
One attraction is the Vrontisi Monastery, which is about an hour's walk or a ten-minute drive northwest of town. It's on the southern slopes of Mt Ida at a height of 550m (1,804ft) and you get wonderful views from there. No-one knows how old it is but there are references to it from the late 15th century - so it's pretty old!
You can also hike in the area, including the Rouvas Gorge walk we mentioned earlier. Even if you don't stay at the Keramos Studios (see our recommendation below), call in and ask about visiting the family farm, the Kamihis Farm. They're set up to do tours and it's a fascinating insight into rural Cretan life.
Shopping in Zaros

There are several craft shops in Zaros and we spent an enjoyable half-hour in the weaving shop of Maria Zacharioudakis, admiring the weavings and watching Maria work at her loom.
Zaros is also home to one of the best musical instrument makers on Crete, Antonios Stefanakis. He makes lyra, mandolins, violas, bouzouki, and Cretan bagpipe, and even if you don't want to buy an instrument he also sells CDs of Cretan music.
A Walk From Zaros

We thoroughly enjoyed this circular walk from Zaros to the Rouvas Gorge. It should take 3-4 hours and you can read about it and get directions here. Zaros is on the E4 European Walking Path.
Where to Eat in Zaros

You have plenty of choice of eating places but there's nowhere quite like Vegera, a unique and fun dining experience that we wrote about here.
If you want trout fresh from the lake then the Taverna Votomos is right by a trout farm. It's about a 20-minute walk or a 5-minute drive from the centre of Zaros.
Where to Stay in Zaros

There are a few places to stay in Zaros but we definitely recommend the Keramos Studios and you can read all about our stay there here.