Zacharioudakis Winery
Greece Travel Secrets visits the Zacharioudakis Winery near Ancient Gortina in southern Crete, and does a vineyard tour arranged by our guide from Go Crete.
'What's the point of a guy coming from France to taste cabernet sauvignon on Crete?' That's the question asked by Andreas Zacharioudakis, which is why the winery founded by his father Stelios and his mother Victoria grows predominantly indigenous Cretan grape varieties.

'Ours is the newest winery in Greece,' says Andreas of the vineyard which his parents started in 2008/9, though planning had been going on since 2000. 'It was the biggest financial investment in a winery ever in Greece.'

One look at the spectacular tasting rooms tells you it was money well spent. The stylishly-designed modern building stands at a height of 1640 feet (500 metres) on the top of the Orthi Petra hill near the village of Plouti in southern Crete, and not far from the site of Ancient Gortina. The winery is only about 16 miles (26 kms) from the resort of Matala, too.

On the slopes of the hill all around the winery, covering an area of 49 acres (20 hectares), the vines are planted, and they are 100% organic. 
'We are completely organic,' Andreas says. 'Everything is done by manual labour. We have never had a problem with disease so far. From a profit point of view, it would be better to be non-organic but our philosophy is to do things the natural way, the old way.'
This was an attitude we came across time and time again on our travels around Crete, from wine-makers, from farmers, from restaurants. For them, unlike in many western countries, organic has never gone away. That's just the way you do it, to get the tastiest results.

Andreas's father Stelios was born in a neighbouring village, and was the son of a farmer. They produced wine for the family but as he grew up he became more passionate about wine. He worked as a journalist in Italy, where his interest in wine grew. He then came back to Crete, to where he grew up, and created the first newspaper in the local area. He still runs the paper as well as the winery.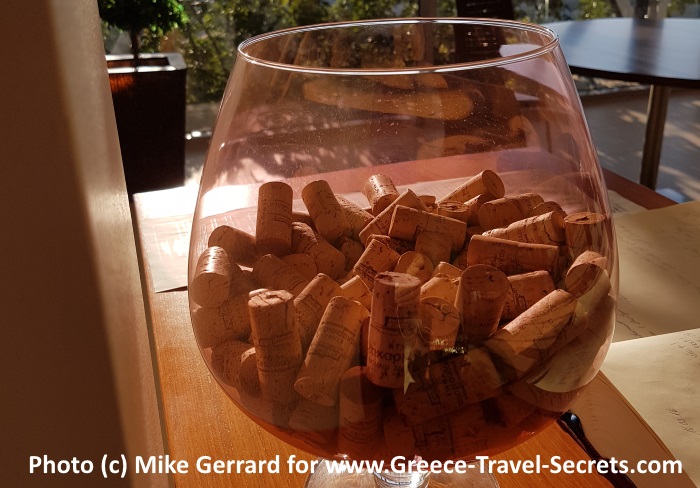 'At first,' says Andreas, 'he wanted the tables in the tasting room to be white, so you could see the colours of the wine, but then he said No, make the people hold the wine up to the windows to see the colours of Crete.'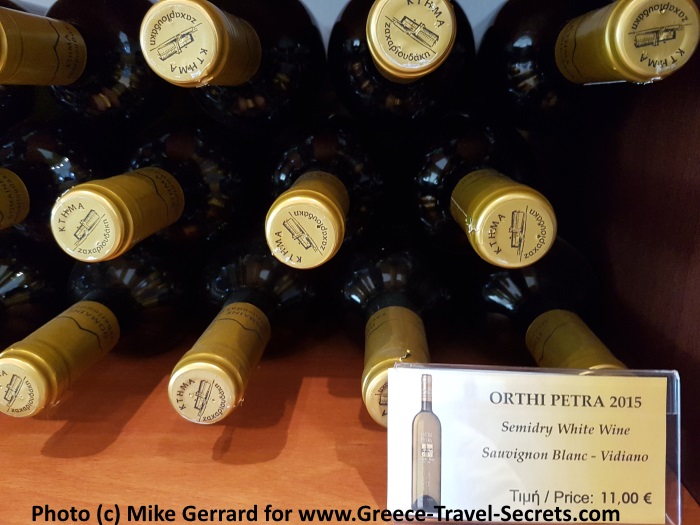 So, we sit down at one of the tasting tables and prepare to see the colours of Crete. First up was a white wine named after the mountain we're on, Orthi Petra. 'This,' explains Andreas, 'is 60% sauvignon blanc and 40% the Cretan grape vidiano, and is 13.5% ABV. It has won two gold and three silver medals in Munich, Berlin and Bordeaux. It's fruity on the nose with the gentle gooseberry aroma of sauvignon blanc. When you taste it, it's similar on the palate: gooseberry, citrus, pineapple.'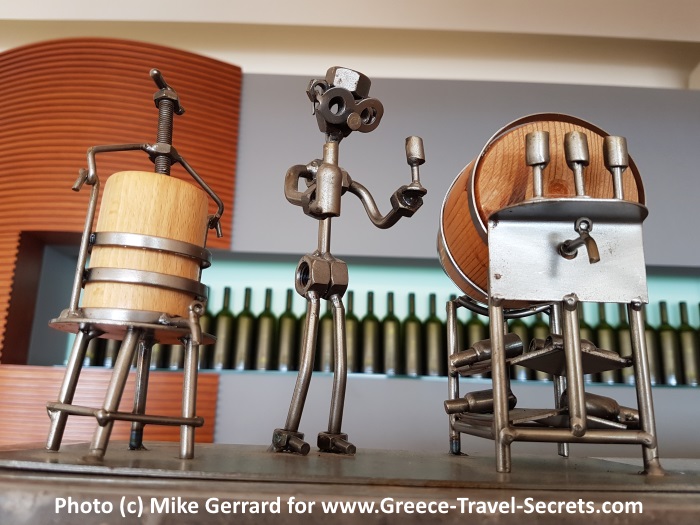 It's a deliciously subtle and complex wine, which shows just how far Cretan wines have progressed over the years. Next in line is another white, this one 100% vidiano grapes.

'You can only find this grape on Crete,' Andreas says. 'It is musty and oaky, because it spends five months in French oak barrels. This one has won three gold, three silver and one bronze medal between 2009 and 2014. It is quite strong at 14.5%.'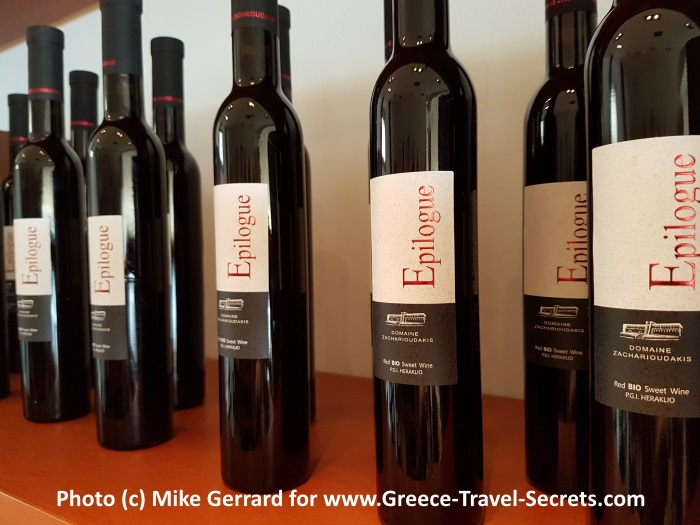 We felt that it started oaky in the mouth and ended by being quite crisp. It was fascinating to taste these unusual Cretan grape varieties, as the next glass was a red wine that was 100% from kotsifali grapes.
'This is also strong, at 14.5%. It is aged for six months in French barrels and then for another three years in the bottle. This is another Cretan grape variety. It is dry, like the landscape. It is very slightly sour, with some tannins. It coats the mouth, is soft and rich.'
Finally we taste a rosé, which is made up of 40% kotsifali and 60% syrah grapes, although they have also experimented with blending kotsifali and cabernet sauvignon grapes.
The result is a strong rosé, at 14%, with an aroma rich in fruit, like strawberries, which follows through on the palate. It's full of punchy flavours, and far from insipid, like some rosés can be. We're not surprised when Andreas tells us it's won numerous gold and silver medals at wine tastings around the world.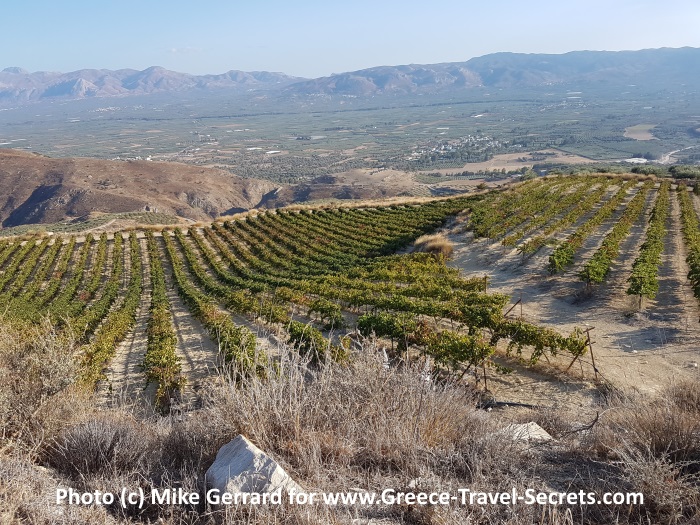 After the tasting we walked along a track that goes from the winery around through the vineyards. At one point Andreas went off the track and beckoned us to follow him on a rough path through the vines.
'This is a 3,000-year-old olive press,' he says, pointing out a circular stone object half-buried in the earth. 'When we planned the vineyard we had to have the archaeologists survey the land to make sure there were no precious ruins beneath. This is normal in Greece. What they found and identified was this olive press, and they decided it was best to leave it where it is, rather than move it.
'Five people worked for three years to create the vineyards,' Andreas continues. 'There were three Greeks and two Albanians. One of the Albanians still works in the winery and is now becoming a Greek citizen.' 
Andreas pauses and looks around at the vines, under the clear blue Cretan sky and the hot sun. 'I planted the first vine here when I was just eight years old,' he says with great pride.
More Information
For more information and to book tours, visit http://zacharioudakis.com.
For longer tours of Crete specialising in wine, food, history, music or any other topic, contact Go Crete.
Where to Stay on Crete