Eco-Tourism Accommodation on Crete
The Dalabelos Estate offers luxury eco-tourism accommodation on Crete in the hills near Rethymnon with its own farm, vineyard and olive groves.
On our recent tour around Crete our guide Isi from www.GoCrete.net found us some great eco-tourism accommodation. We spent our second night at the Dalabelos Estate in the hills between Rethymnon and Heraklion, where Vasilis was not only a great host he also gave us some good Cretan music too!
While we were checking in Vasilis told us a little about the Dalabelos Estate.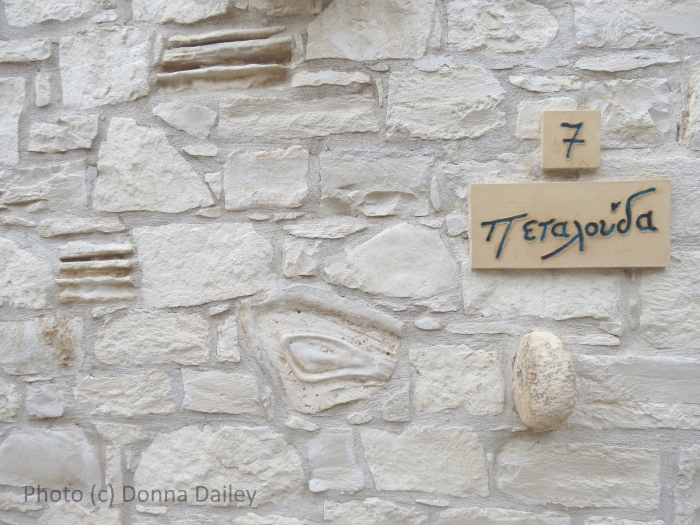 'We have our own farm so most of the food is fresh from the farm and from our gardens. We also bake our own bread. There are plenty of good bakeries in the area but our bread tastes better!'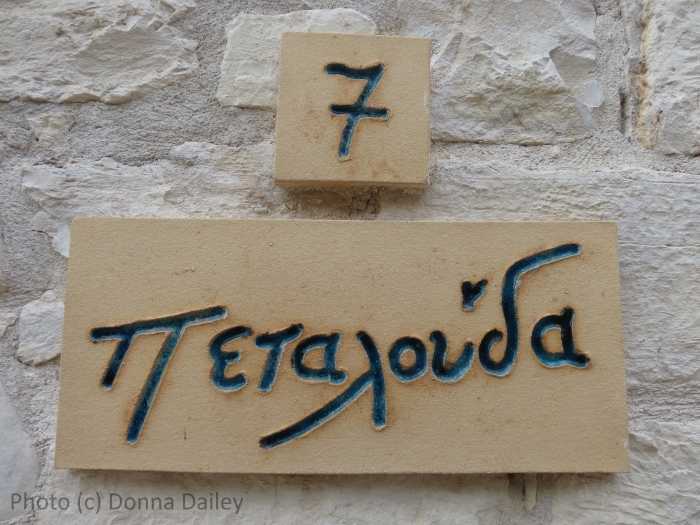 Vasilis walked us down to our apartment. Dalabelos has ten stone-built 1-bedroom apartments, with an 11th one fitted out for people with physical disabilities. They're arranged around a hillside so that they all have sea views.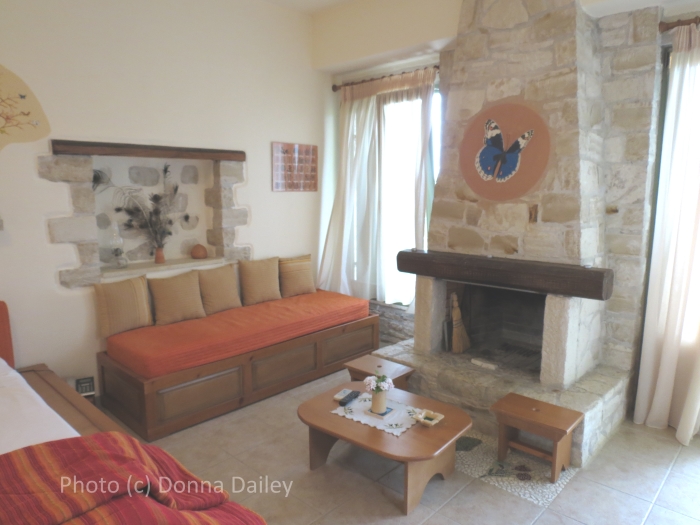 All the apartments are individually decorated, and ours had a butterfly theme. We fell in love with it at once, as butterflies were everywhere, the apartment filled with creative artworks. That wasn't surprising as Dalabelos is only a 10-minute drive from the village of Margarites, famed for its ceramics, galleries and artists. Vasilis persuaded us to visit it the next day on our way out, and we loved it. Read our Margarites page to find out why.
Dalabelos Activities
Unfortunately we weren't at Dalabelos long enough to sample the activities they have on offer, but we'd love to go back for a longer stay. If you're there at the right time of year you can help with the olive picking and the grape harvest. Every Friday morning you can help get the wood oven ready and participate in the bread-making.
Each Tuesday morning at Dalabelos there's a cookery lesson, which includes an hour spent in the gardens gathering vegetables and herbs. They also have their own ceramic workshop where there are regular pottery sessions. There are mountain bikes to hire, and sessions of traditional music too.
Dalabelos Dining
We were relaxing on the terrace next to the restaurant with a drink before dinner and amazing smells started to come from the kitchen, and from the plates being taken out to the tables. We could tell this was going to be Greek cooking at its best, using fresh ingredients, and plenty of freshly-picked herbs. You needn't worry about Food Miles at a place like Dalabelos, as it's more a case of Food Metres: from the garden to the plate.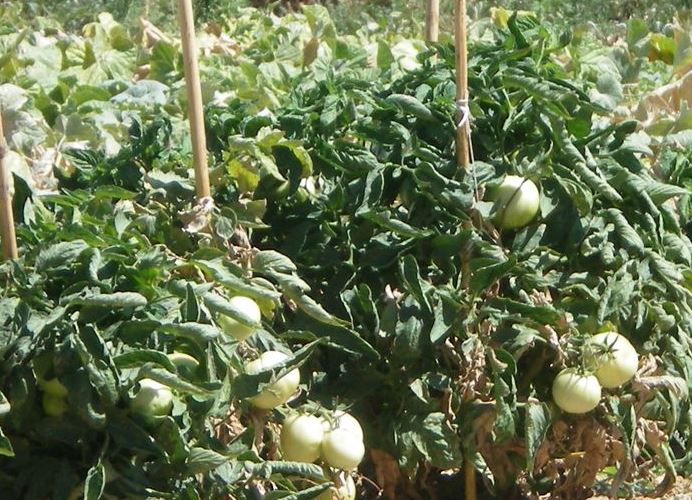 Vasilis was keen to show off his kitchen's skills and offered to serve us a kind of meal-long meze, with tasters of different dishes. We started with stuffed vine leaves with zucchini flowers. Dolmades can sometimes be a bit oily if you have them in a regular taverna, but these were fresh and light. Starter plates of fava and feta followed. The sign of a good kitchen is where they do the ordinary things well, and the feta was drizzled with their own olive oil and sprinkled with those fresh herbs, a tasty treat.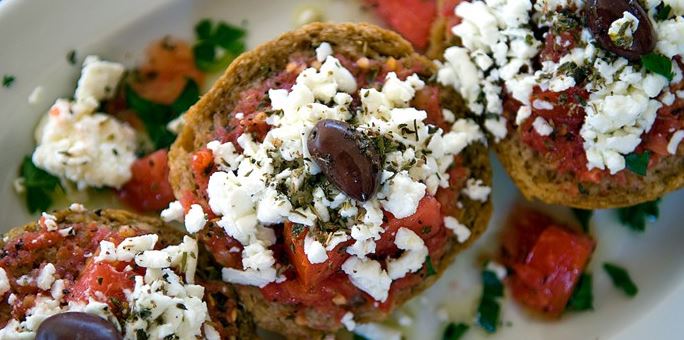 Then came the serious stuff. Lamb in tomato sauce, snail stew, eggplant imam, zucchini pie. It was hard to keep up as the tasting samples came thick and fast. How does rabbit with rosemary and wine sound? It smelled and tasted divine. Marinated anchovies came with a dish of livers fried with thyme and balsamic vinegar. Neither of us has ever been a big fan of liver but we could be converted when it's as tender and as succulent as this.
We thought we were full but then Vasilis brought out a dish we just had to find room for.
'This is sfougato,' he said. We admitted it was a dish we'd never had before. 'You'll love it,' he said. 'This is my grandmother's recipe. It's zucchini with potatoes and eggs and tomato sauce, all cooked together in the pot.'
It tasted like... well, as only a grandmother's recipe can taste. It was a kind of baked omelette, with thyme and oregano in there, and we wanted to eat every last little mouthful.
Cretan Music at Dalabelos
That may have been the end of the food but it wasn't the end of the evening. There are regular music nights at Dalabelos, and even when outside musicians aren't brought in, Vasilis himself might entertain guests later on. He sings and plays several Cretan musical instruments, which he introduces one by one, explaining what they are and how they fit into Cretan music.
We video'd the performance, even though the light wasn't great, and put it on our YouTube channel:
As we're both big music lovers, and love Crete, of course, we found it fascinating. It was a delightful surprise and a terrific ending to the evening... the first of several music surprises we had on our trip around Crete. Music, like good food, is in the very heart and soul of the people, which is why we never tire of visiting the island.
Check Room Rates at the Diabelos Estate
More Information
Since our visit the hotel has changed and you can find more information here. It looks just as good!
To arrange a personalised tour in Crete, for a few hours or a few days, see the website of Go Crete.