Margarites
Margarites is known on Crete for its pottery, with ceramics shops and workshops lining the streets of this charming small town not far from Rethymnon.
Where is Margarites?
Margarites is about 26 km (16 miles) east of Rethymnon, about a 35-minute drive. It's about 7 km (4 miles) from the Dalabelos Estate, where we stayed the night before visiting Margarites. It stands about 300 meters (984 ft) above sea level.

Visiting Margarites
We were encouraged to visit Margarites by Vasilis, owner of the Dalabelos Eco-Tourism Estate, where we'd spent the second night of our most recent visit to Crete. We already knew about Margarites, though, as we'd paid a quick visit on an earlier visit to Crete when we spent six weeks there researching a guidebook. We definitely wanted to go back for longer.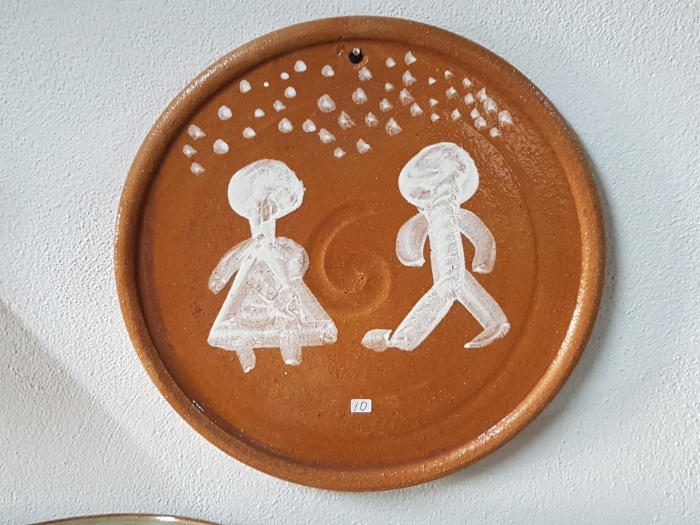 Our guide Isi from GoCrete.net drove us the few minutes from Dalabelos to Margarites, parking below the village. Margarites has one narrow main street and a few back streets, and as we walked up the main street we were reminded what a colourful place Margarites is. Every few meters there's a pottery workshop or a ceramics studio, with bright displays both inside and outside.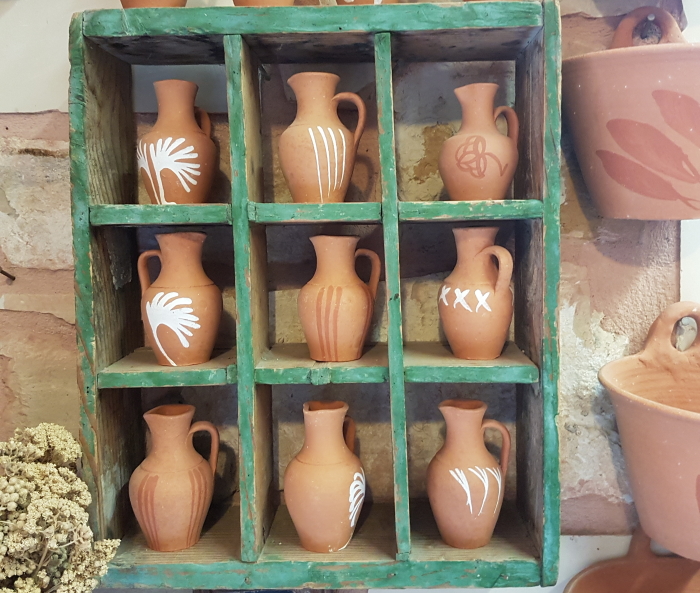 Local Guide
The advantage of having a local guide like Isi is that he knows everyone and directed us to what he thought was the best place in town. This was the Kerameion pottery shop where Isi introduced us to owner and potter, Jorgos Dalamvelas. Jorgos was happy to show us some of his skills and we won't need to repeat it all here as we captured most of it for our YouTube channel.

The Ceramic Capital
By going to see Jorgos first, we learned a lot about Margarites and its rich history of pottery-making, which goes back to Minoan times. Most potters use the local clay, which is perfect for ceramics and is one reason the pottery trade developed here.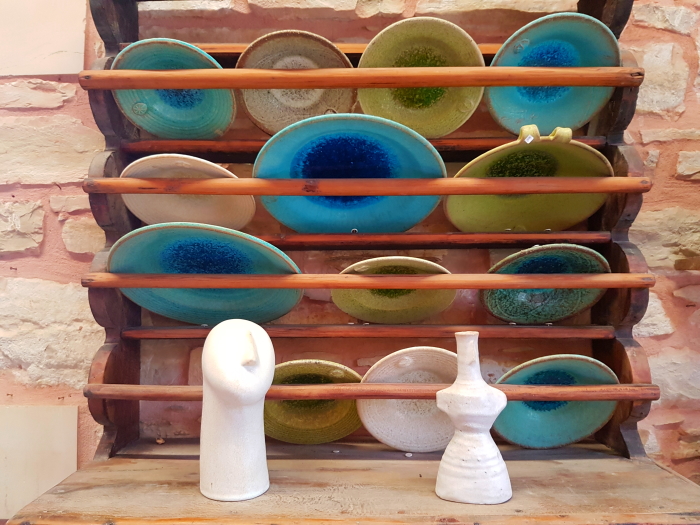 We went to visit several other places, where potters were at work and giving demonstrations, but Jorgos remained our favourite. He was so passionate about pottery, and its role in the history of Margarites. Some shops had no potter or potter's wheel, and it was clear they were buying in pottery, probably from China.
Yes, that 'Souvenir of Crete' that you find may well have been imported from China! But when you can see the potter making beautiful items before your eyes, you know you're buying the real thing and helping support the local economy.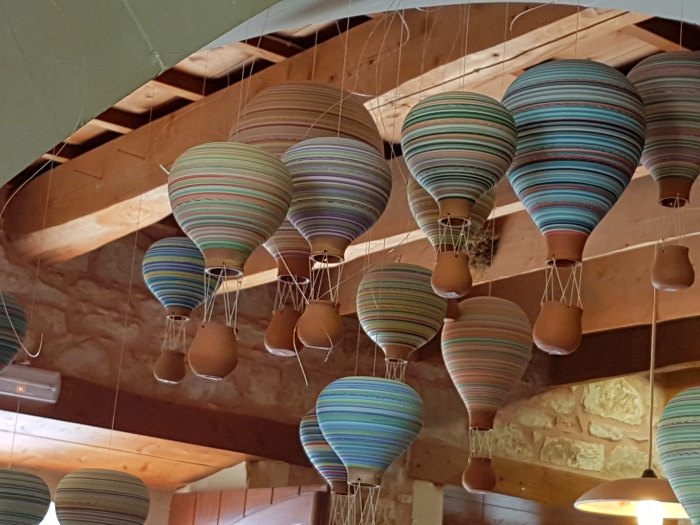 In fact Isi told us one time that some of the big resorts buy their 'Greek' moussaka in large frozen and pre-cooked consignments from China too!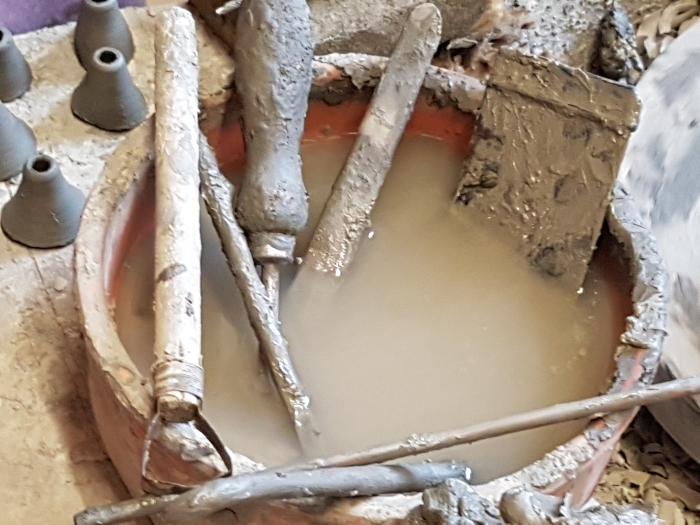 Novelty Ceramics
Jorgos showed us some novelty pottery, including jugs that played tricks and other fun things:

One thing he showed us was a salt cellar that he made, with several holes in the bottom, though no salt came out until you shook it side to side. I still don't know how it worked, as the salt should have simply poured through the holes, but it didn't until you shook it.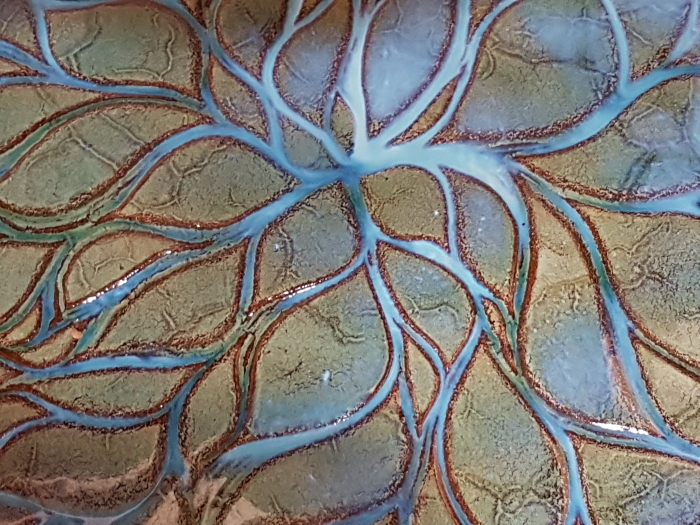 Donna was keen to buy one but we talked about it and decided against it, as this was only the second day of what would be a three-week trip, and we didn't want to load up with souvenirs - even if it was neat.
We wandered along the street, and before we knew it Isi presented Donna with a gift. He had somehow sneaked back to the shop and bought one of the salt cellars for her. It was a typical act of Greek generosity and kindness... and we were to experience many more on our travels round Crete with Isi.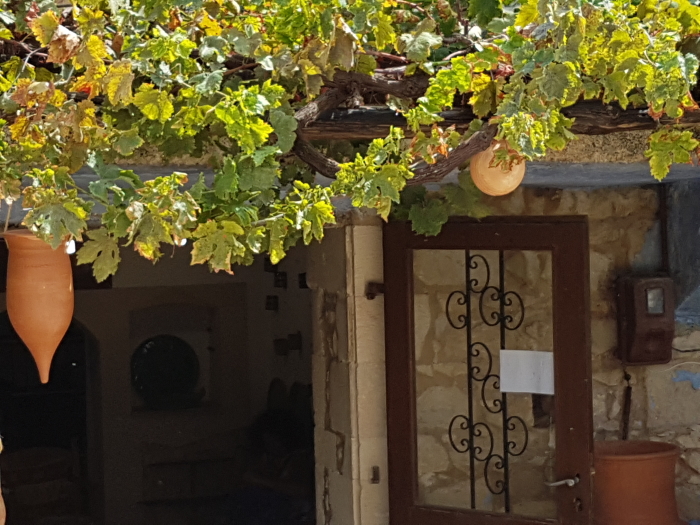 Crete Tours
Our tour with GoCrete.net was a food and drink themed tour, which we'd asked Isi to organise, and he did it superbly. But he organises tours on other themes, like history, or covering particular parts of the island, and from a few hours to as long as you like.