Hiking in Southwest Crete
It's hard to know where to look when you're in full hiking gear, following a path, and find yourself crossing a nudist beach. The path we were following was part of the E4 European long-distance footpath, where it goes along the coast of southern Crete. The landscape of this part of Crete is incredibly varied, but we'd gone from stony scrub to bare bums in just a few seconds.
It may have been October but the temperatures on Crete were still in the 80-90F (26-32C) range, making for hot hiking, even before our unexpected encounter. Averting our gaze, we plodded on along the E4, following the signs up and over another headland or two, where we found deserted beaches and private coves, the perfect place for a picnic lunch and cooling swim. For those who still had energy left it was only a little further to the beach at Elafonissi, one of the biggest and most stunning on Crete.
Elafonissi Beach in Southwest Crete
This southern coast of Crete is far more rugged than the north. In some places the mountains come so close to the Libyan Sea that there's no room for a road inbetween, and a few villages are only accessible by boat or footpath, or by one road in and out. From Elafonissi we could have returned on foot but there was also a convenient boat to take us back to our base at the Hotel Pal Beach, right on the seafront in Paleohora. Another day we hiked the Samaria Gorge, where a boat also took us back to Paleohora, providing an end-of-day bonus of great views of those coastal cliffs.
The Samaria Gorge on Crete
On the first day our guide, Samzie, who leads walking groups all over the world, was on virtually home territory as she broke us in gently with a walk from Paleohora to the village of Anidri, where her father has a house and which she's been visiting since she was a child. We walked through olive groves and past horse pastures, then along goat tracks that zig-zagged us up to a little white chapel, Agios Giorgios, overlooking Anidri on one side and the Libyan Sea on the other.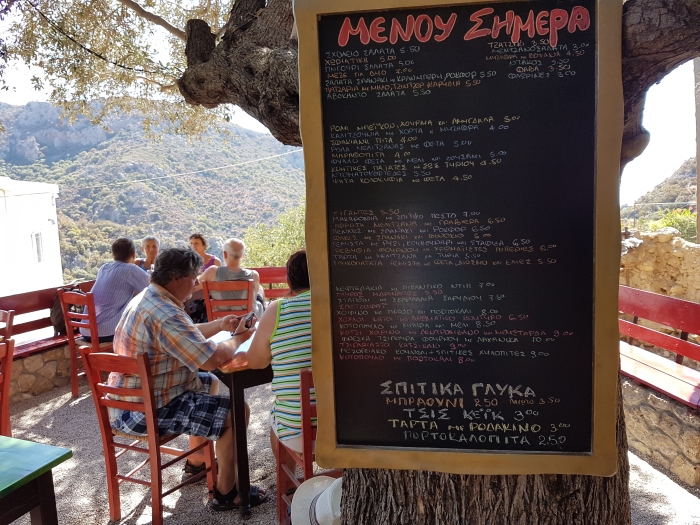 Lunch at Sto Scholeio Taverna in Anidri, Crete
There were views of the sea from the amazing Sto Scholeio taverna, where we had lunch. We were early and had to patiently wait for food, as every dish is prepared fresh each morning and they don't start till everything's ready. Inside the chefs were chopping, outside our stomachs were rumbling as we gazed longingly at the menu's treats: bacon, date and almond rolls, fennel pie, octopus with walnut and garlic dip, baked sea bream, pork with leek and orange... peach tart, cheesecake, orange pie and chocolate brownies. Thankfully it was downhill all the way after lunch, as we picked our path down through the Anidri Gorge to the local beach, then eventually back along the coast road to Paleohora.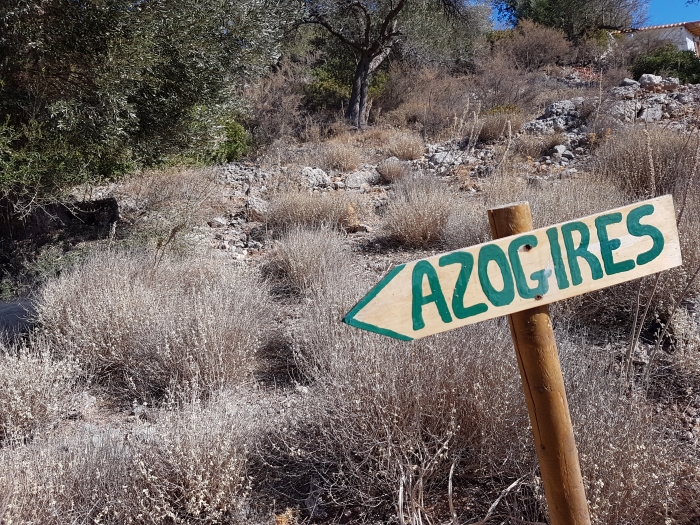 On our final day we got Lucky, literally, as Lucky's the owner of a taverna in the mountain village of Azogires. After serving us a tasty lunch of Greek salad, chips, souvlaki, tzatziki, dolmades, pork chops, assorted pies and more wine than it's safe for a walking group to drink before a walk, Lucky turned to another of his jobs and became a walking guide as he took us on a ramble round Azogires, with tales of its history that were alternately hilarious and moving, and always fascinating.
Lucky Brings the Food
As Lucky led us down to the gorge that would take us back to Anidri, he took us into a church that had been carved out of the rock face alongside the path. There, after regaling us with more stories, he blessed us all with holy water. It was one of those simple gestures you can only get away with by being absolutely sincere. We did indeed feel blessed to have met Lucky, and lucky to have spent a week walking in this part of Crete.
Meet Lucky on our YouTube Channel