Hiking the Samaria Gorge
As we drive higher and higher into the White Mountains of Crete, leaving behind our hotel in the busy resort of Paleohora, I start to realise the immensity of what we're about to do: walking the Samaria Gorge.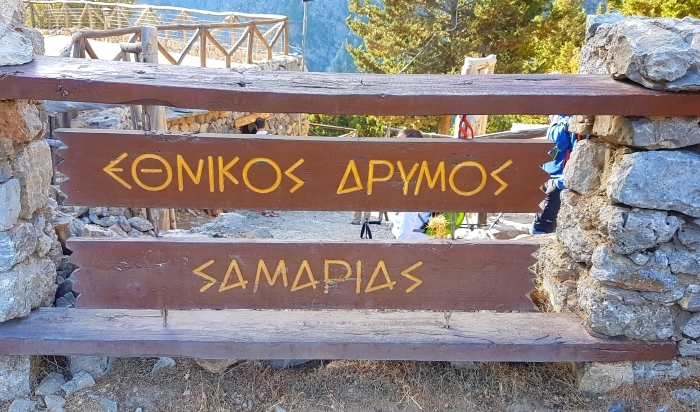 All Photos by Mike Gerrard, (c) www.Greece-Travel-Secrets.com
Samaria is often incorrectly called the longest gorge in Europe. It can't hold a candle to the Tara River Gorge in Montenegro, for example, which is 51 miles (82 km) long, but nevertheless at almost ten miles (16 km) it still offers a daunting challenge for a day's hike. Although it is early October, the temperature in southern Crete has been in the 80-90F (26-32C) range for several days now.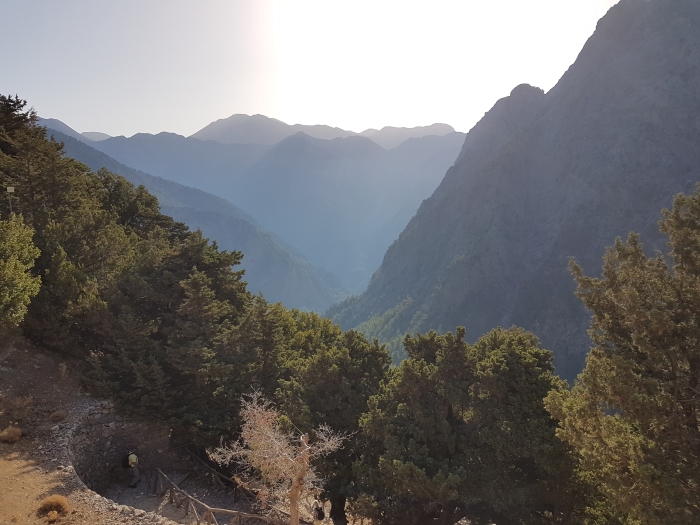 Sweat has poured and legs have ached as we scrambled over rocks and up steep paths in the glare of the sun. Today may start chilly, requiring extra sweaters for the early start that's needed, but it won't stay that way for long. But it will turn out to be the best day of the entire week of walking.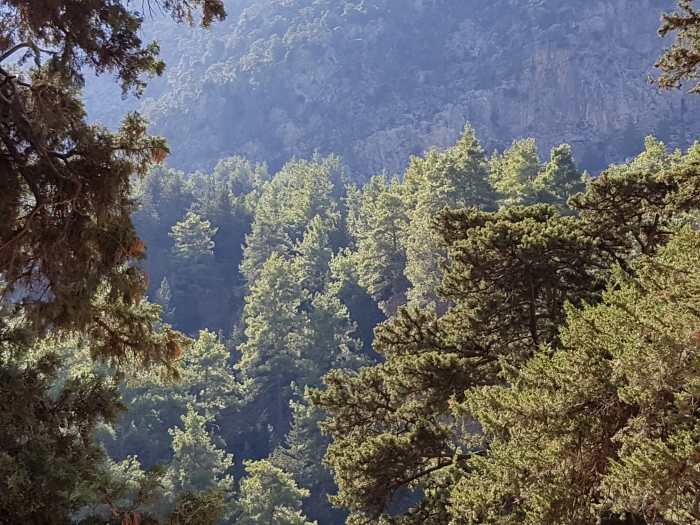 I've been to Crete many times and written guides to the island, but I'd never hiked the Samaria Gorge. As we get closer to the drop-off point at the entrance, which is about 4,100 feet (1,250 metres) high, I start to get a little nervous. Will it be too tough a challenge? Will it even be a disappointment?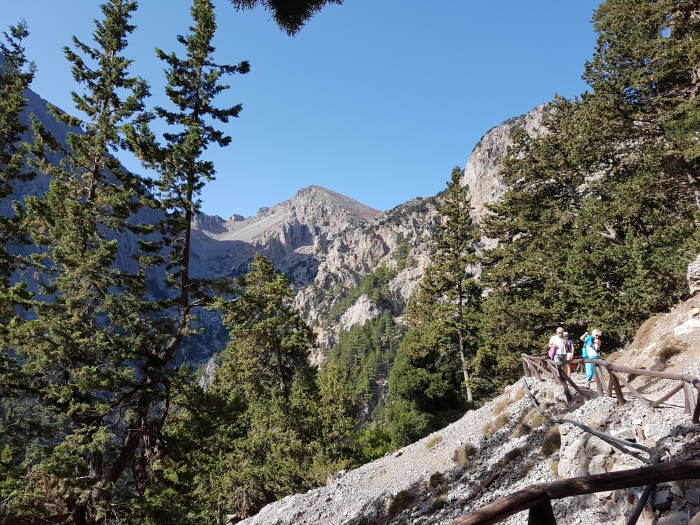 We buy our inexpensive tickets at the entrance, and are reminded to keep them as they're collected at the bottom of the gorge to make sure everyone gets out safely. Visitors have occasionally got lost and died, even though it is mostly a well-trodden path, and in May 2015 70 hikers had to be rescued from the gorge when sudden bad weather made it impossible for them to get out.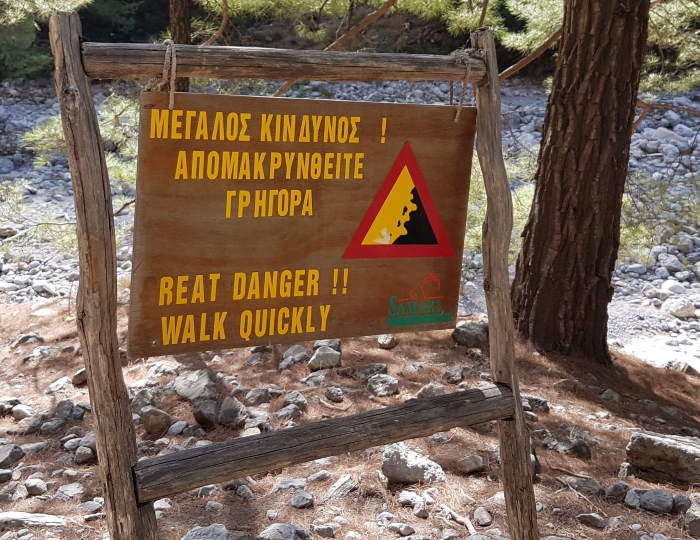 All such negative thoughts are banished, though, as soon as we get to the first overview and gaze in wonder at the majesty of the gorge falling away in front of us. Steps zig-zag down for an initial short, steep descent and mountain slopes filled with pine trees seem to loom over us in every direction.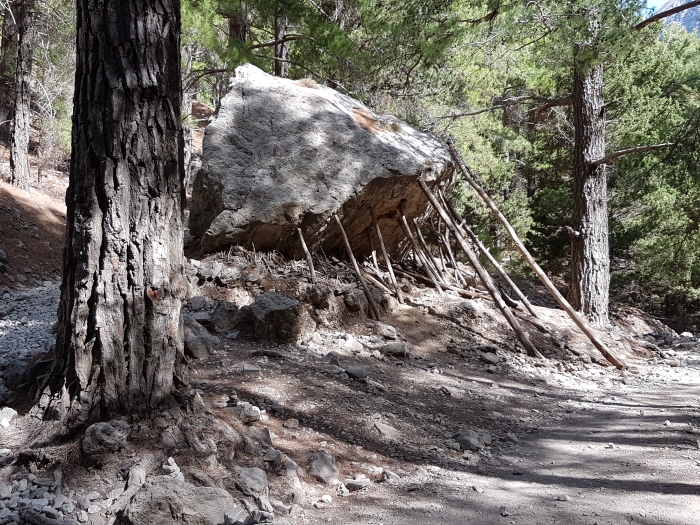 At first the path is filled with irritating chatter in numerous languages, somewhat spoiling the immensity and serenity of the mountains. In summer as many as 2,000 people will hike the gorge in one day, and even now in October it will still be several hundred. But the chatter slowly disperses as we deliberately walk slowly, and stop constantly to take photos, gaze around and simply enjoy being there.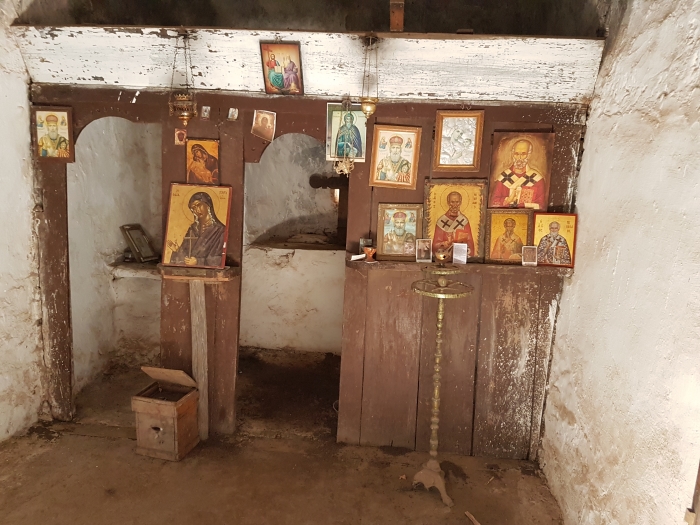 Ayios Nikolaos Church
For the first hour or so the path descends, sometimes steeply and sometimes gently, and the scenery evolves like a constantly changing movie. I'd expected one long hike, but there's plenty of variety – chapels, rest areas with WCs (some better than others), information boards, warning signs and, perfectly located about halfway along for a picnic lunch stop, the deserted village of Samaria.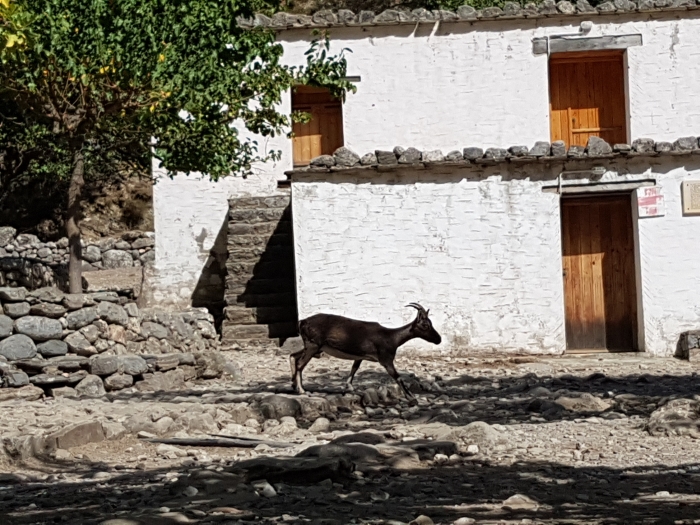 A Kri-kri in the Abandoned Samaria Village
Samaria was abandoned in 1962 when the whole area was turned into a National Park, and the mind boggles at the kind of existence people must have had here, facing a few hours hike in either direction to get anywhere at all. As we enjoy the cheese and spinach pies we'd bought fresh that morning at the bakery in Paleohora, we also enjoy the rare sight of the Cretan wild goat, the kri-kri. There are only about 2,000 left in the wild, all of them on Crete and its offshore islands. Here in Samaria they obviously thrive by hoovering up the hikers' left-overs.
Sadly for the goats our pies are far too delicious to leave even a crumb behind, and so fortified once more we hike on, cross dried-up streams, climb through woodland, climb down again, cross more stream beds, then pause to let two men leading horses pass by, looking like something out of a cowboy western.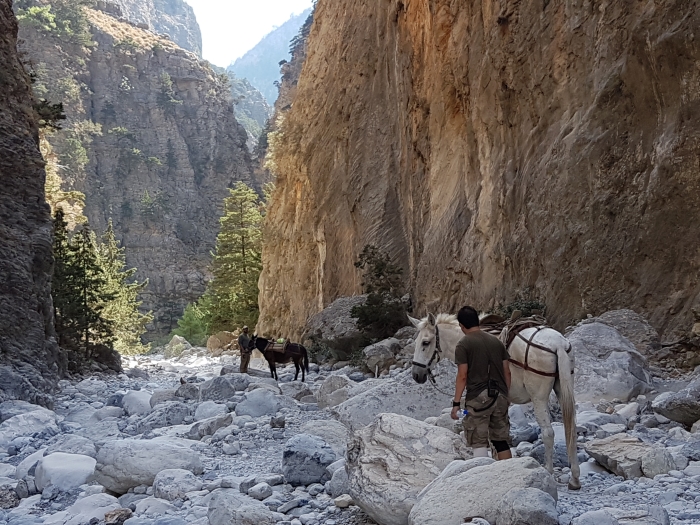 Nearing the end we reach one of the gorge's most dramatic features, known as the Iron Gates. The sides of the gorge squeeze in so that they're only about 13 feet (4 metres) apart, yet you strain your neck to look up while the sheer rocky faces rise to 980 feet (300 metres) above you.
If passing through the Iron Gates is one of those experiences when nature simply dwarfs you, hiking the Samaria Gorge turns out to be both a humbling and an exhilarating hike. The muscles may grow weary but the spirits soar at the thought that there are still wild places like this in the world, there for anyone to enjoy.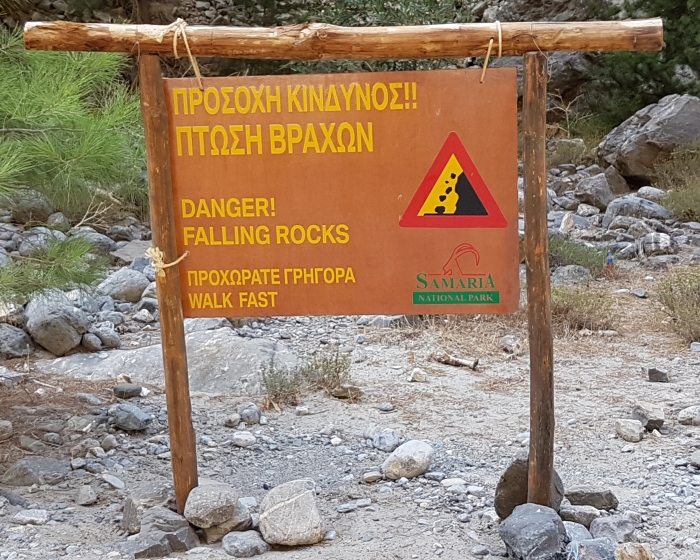 On the boat back to Paleohora from Ayia Roumeli, the little port near the end of the gorge, we make an unscheduled stop in a deserted spot by a rocky beach. A herd of goats comes running down, bells tinkling, to greet the boat. The car ramp goes down and an elderly shepherd gets off and walks among them. What's all that about?
'Oh, he is now 80-years-old,' one of the crew says. 'He can no longer row his own boat to tend to his goats, so we give him a lift and someone else will take him back. We think it's important to keep up the old ways.'
It reminds us of why we love Crete so much, this island of toughness, kindness and wild, wild places.
Don't miss our YouTube video of our hike along the Samaria Gorge
Where to Stay on Crete