Matala Beach
Awaken Your Inner Hippy in Matala, Crete
Guest Blog by We Love Crete
Can I hitch a ride baby? 
One of the most extraordinary beaches in Crete was discovered by the freedom-loving hippies in the sixties and today is the site of a music festival every year in June.
The Matala Beach Festival revives the spirit of liberty experienced by those drifter types long ago, and remembered with such fondness. The unique geography of Matala beach created a juxtaposition of rock and sand, allowing ancient people to carve caves into the soft rock. So, many years later, Amanda from Atlanta and Silvia from Sydney slept in those caves, danced under a full moon on the beach and felt the exquisite freedom from their parents, their culture and their mundane neighbourhood, even if only for a short time. 
Today it is still fabulous to discover Matala Beach. The sleepy fishing village has woken up, the beach is lined with fish tavernas, restaurants and cafes. The water is still clear and love is still in the air. 
Those on a budget can still camp at the beach under the tamarind trees for very reasonable rates; sorry the caves are off limits.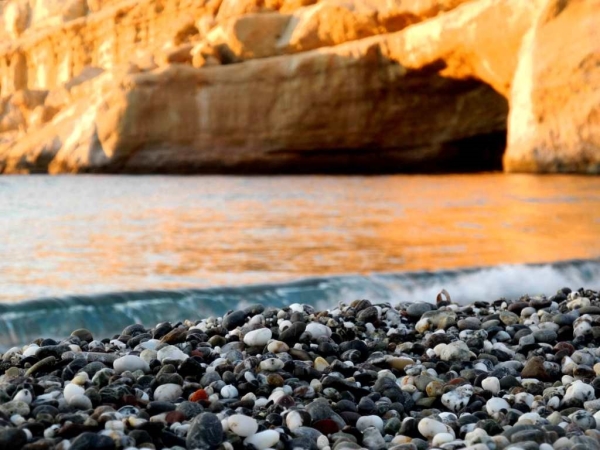 Photo by Mark Latter
For those wanting a little more comfort, wonderful accommodation options from pensions to hotels, guesthouses and villas are dotted all around. The string of beaches on the south coast are waiting to be explored; and some are still favoured by naturists.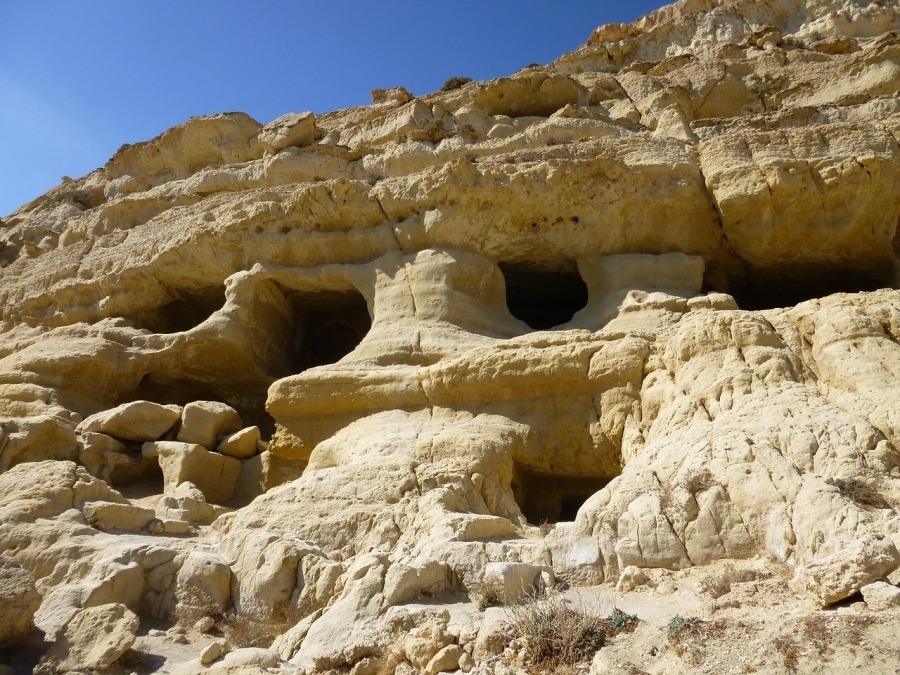 Matala's Caves
Explore the caves, visit Ancient Matala by walking due south from the village and be sure to watch the sun slide into the Libyan Sea next to the little islands knows as 'paximadia' or bread rolls.
Red Beach is directly to the south of Matala, easily reached by the walking track which starts at the south end of the beach. Walk for around 1.5km along wide open, sparse, treeless limestone country to the nudist beach, which has a striking orange-red coarse sand. This is another remote and undeveloped beach, with just a few chairs and umbrellas and a make-shift cafe in summer only. Boat trips are also available in summer.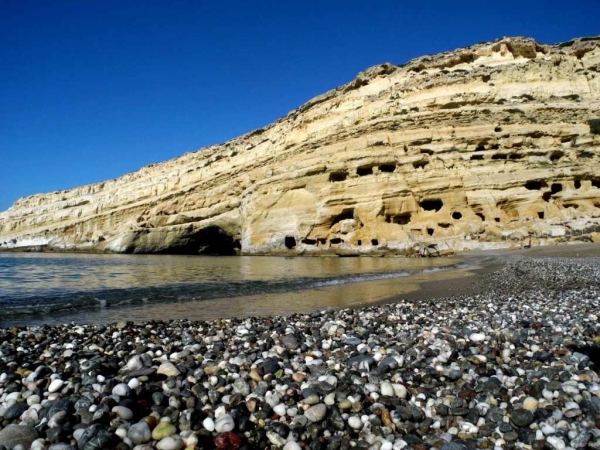 Photo by Mark Latter
Kommos-Kalamaki Beach is one long continuous beach 2km to the north of Matala, reached by road. At the southern end of the beach is the Kommos archaeological site, which was the port of Phaistos dating from around 200BC. The site is closed to visitors, so pick your way past it to visit the beach.
As the beach continues it becomes known as Kalamaki and here is a small settlement of seaside tavernas and holiday apartments. Enjoy the sand and pebble beach, wide open Bay of Messara and take care of turtle nesting sites. Giorgos Fish Taverna is right on the beach here, with fresh seafood.
An excursion to Vathi Beach, a remote and untouched beach about 5 km from Matala as the crow flies, means a boat or car trip. To drive here, go to Pitsidia, Sivas, Listaros and then to Agiofarrago along a dirt track, a total distance of 22km. Your reward is a striking narrow beach at the end of a small gorge, with clear waters, a few shady trees and great snorkelling.
We would suggest staying in the inland village of Kamilari. From here you will experience the best of both worlds, the authentic Greek working farm village and the magnificent crystal clear water and sandy beaches of Heraklion.


Matala Beach is 75 km south of Heraklion in Crete. Take a one hour flight from Athens to Heraklion Airport HER, hire a car or take the local bus to the southern coast, away from it all.

Where to Stay in Matala
Santorini or Thira in the Cyclades islands has cheap and luxury hotels, car rental, ferries from Athens, Crete and other islands, and flights from Athens.

Visiting Santorini wineries is a popular activity on this Greek island in the Cyclades, whose volcanic soil provides a distinctive terroir.

Santorini car rental companies include Budget, Hermes, VIP Rent a Car and Euro Dollar, with Santorini car hire at the airport, and around Santorini.