Elounda
And Spinalonga, Setting for The Island
Like Malia, Elounda is a mix of the ancient and the modern. It has a long and rich history, but today it is mainly known as a popular beach resort if not quite as loud and abrasive as Malia. There are several large luxury hotels as you approach the town, including some of the best resorts on Crete, and an attractive harbour with some good restaurants.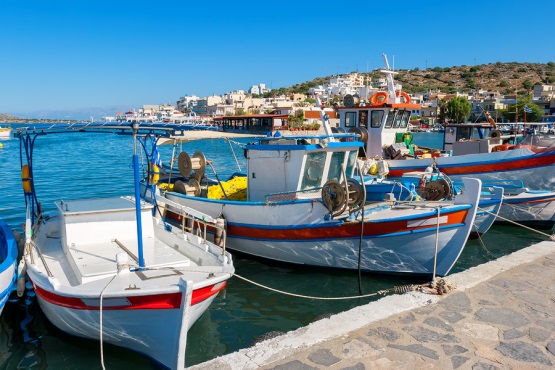 The Harbour at Elounda
Olous

Elounda is on the site of what was a city-state known as Olous, and the remains of this site are visible just beneath the surface of the waters between Elounda and the Spinalonga peninsula, joined by a causeway from where the remains can be seen.
Olous had one of the most important harbours in eastern Crete, and it is known that there are at least two temples beneath the waters. It is thought that the city was destroyed in about the 2nd century BC, when immense land movements caused several areas of eastern Crete to sink below the waves, while the opposite happened in parts of western Crete.
The Venetians

On either side of the causeway are also the remnants of Venetian salt pans, as it was the Venetians who developed Elounda as a port in 1579. Its advantages were – and still are – that the harbour is well sheltered by the protective peninsula. On the peninsula itself, which is a good place to escape most of the crowds, there is a church which was once part of Ancient Olous, which still has some of its original frescoes and from where, if the light is right, you can make out parts of the old harbour beneath the waves.

Spinalonga

Offshore from Elounda is Spinalonga Island, which also helps protect the bay and is where the Venetians built their protective fortress. It was such a stronghold that this was the last place on Crete to surrender to the Turks, in 1714, some forty years later than most of the rest of Crete. From 1903 to 1957 the island was renowned throughout Greece as a leper colony, and a thriving town built up, the ruins of which can still be seen. It is a haunting spot, filed with the ghosts of the people who lived out there lives here, in enforced isolation.
The Island

Spinalonga became better-known in recent years as the setting for Victoria Hislop's best-selling novel, The Island. You can take day trips to explore the island from the harbour at Elounda.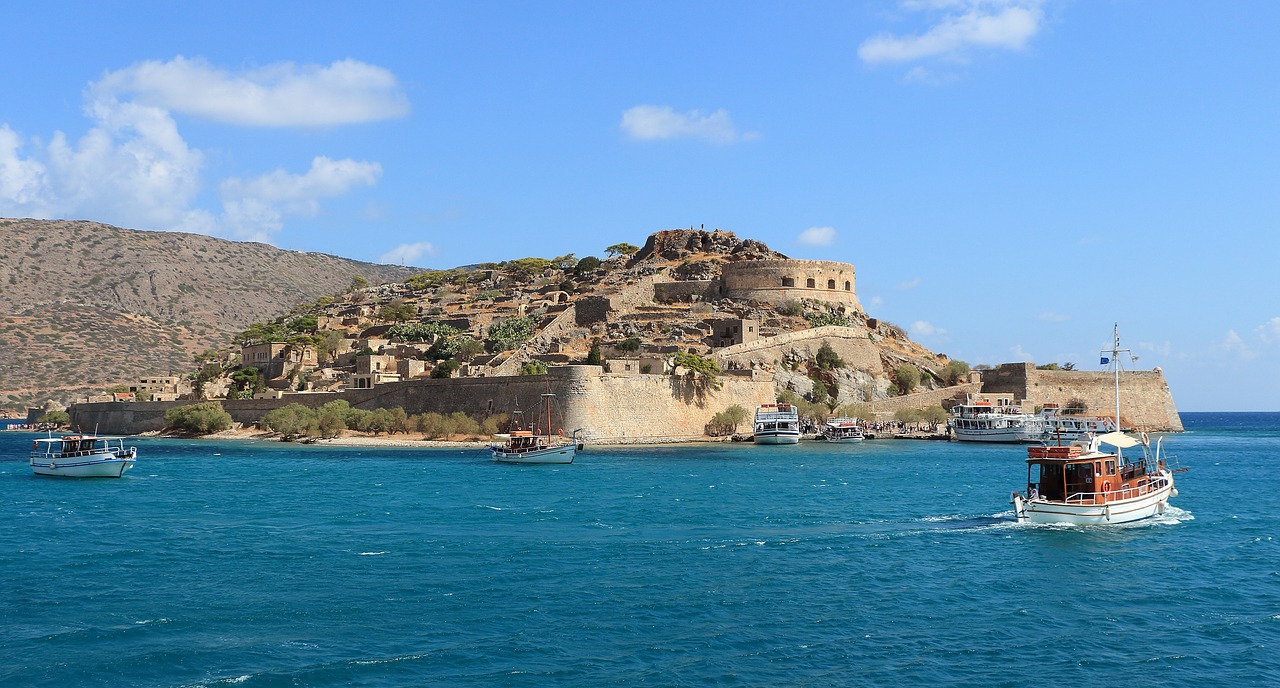 Boat Trip to Spinalonga