Gournia
Ancient Gournia is a Minoan archaeological site between Agios Nikolaos and Sitia in Eastern Crete where the visitor can see evidence of a maze of back streets.
A mere 13 miles (21km) from the clamour of modern Agios Nikolaos stands a site which reminds us what can happen to even the busiest of communities over long periods of time.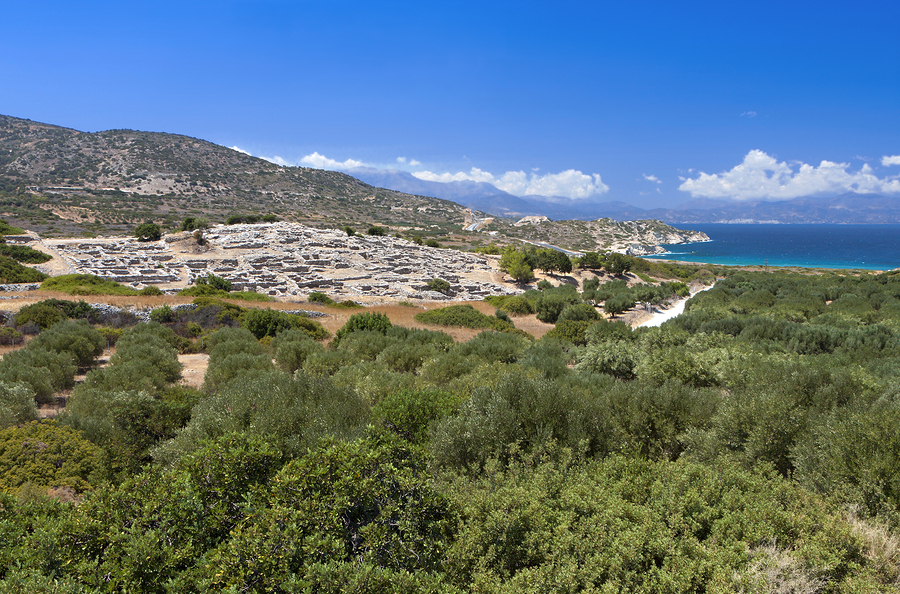 Ancient Gournia was a flourishing town during the period of the Minoans, and was first inhabited about 4000 years ago. It stands now deserted on a small hill overlooking the sea and the beautiful Bay of Mirabello, and few visitors take the trouble to make the slight diversion off the busy road between Agios Nikolaos and Sitia. It is a magical place that ought to be seen, however, as it is regarded as the best-preserved of all the Minoan towns on Crete.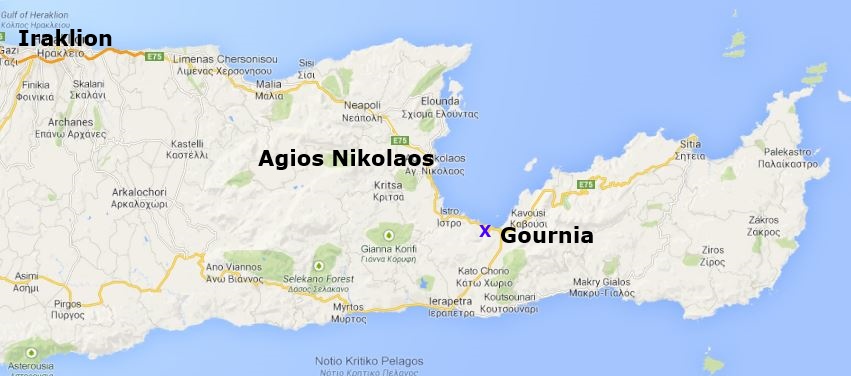 Maze of Back Streets

It centres around the remnants of a palace, but one that was significantly less important than Knossos, being only one-tenth of the size. Yet it is that very small scale, and the preservation of the ruins, that make the town come alive much more readily in the imagination.
Here is the maze of streets, lined with the foundations of simple one-roomed houses. It is very like the maze of back streets you will find in the older Cretan towns and villages today. The paving of the main street of Gournia still survives, and you are treading where the ancient Greeks trod at the height of the Minoan period, from about 1700-1450 BC.
Ancient Crafts in Ancient Gournia

Most of the remains you see today date from that era, and like other Minoan sites on Crete it was destroyed in a fire caused by that cataclysmic event in 1450 BC that wiped out the Minoans.
You can still see the steps that lead up to the palace entrance, and alongside them a massive stone slab, pierced by a single hole, which may have been used to tether animals prior to their being sacrificed. On the other hand, it may simply have been a butcher's block.
It is known that Gournia was certainly a busy commercial centre, with evidence of pottery, carpentry and metalworking taking place here alongside other crafts such as fishing and weaving. Again, the similarities with modern Cretan communities are evident.
More Information
For more information about Ancient Gournia visit the Gournia page on the Minoan Crete website.