Margarita's Olive Press
Margarita's Olive Press is a modern gem of a book of Greek travel writing, in which the author falls in love with and renovates a property on Zakynthos.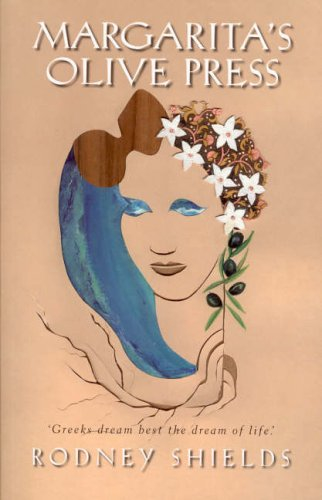 Margarita's Olive Press is the name of one of several properties, mostly owned by the same family, which cluster together as semi-ruins in the extreme north of the Ionian island of Zakynthos. Rodney Shields had been looking for a house to buy somewhere on Zakynthos, somewhere away from the tourist resorts of the south like Laganas, when someone shows him Margarita's Olive Press. The owner, Margarita, might be willing to sell him the property, if the price is right.
What follows is several years of, first, negotiating to buy the property, and then renovating it, and then delicately negotiating to buy the other handful of run-down properties around the Olive Press. This is tricky (if entertaining for the reader), as Greek properties and land are frequently owned by several siblings, who may or may not agree on what to do with them.

The properties may be derelict, and the owners a few hundred miles away in Athens with no intentions of ever living in them, but they can still act as if they're being asked to part with a sumptuous Mediterranean villa, complete with two swimming pools.
Margarita's Olive Press
One disadvantage of the Olive Press – or advantage, depending on your point of view – is that it is not easily accessible. It's on a hillside in the extreme north of Zakynthos, about an hour's drive from the capital and main source of supplies, Zakynthos Town, and only reachable by foot on overgrown footpaths that have scarcely been used in years.
The location doesn't bode well for hiring builders to do the necessary renovation work, to make the Olive Press inhabitable. You not only need a willing builder, but a builder with a donkey, to carry supplies from the nearest road to the house.
It's a situation which I would run a mile from, though you understand why someone wants to enjoy this remote and mostly idyllic location. It proves to be a marathon task for the author, who travels back and forth to Zakynthos year after year, sometimes without his wife, first to buy the property (Margarita likes to string out the negotiations) and then to carry out the building work. This being Greece, no-one is in a rush… except for the long-suffering author.

The Author
Rodney Shields served as a lieutenant with the British Royal Marines and after studying language courses at four different European universities, he graduated from Oxford. He became Managing Director of Britain's oldest management consultancy.
A Great Greek Read
The author strikes up many friendships with people who live around him, and with the lawyer who helps him negotiate his various contracts. It's a great cast of characters, many of whom prove to be overwhelmingly helpful and generous, like the Greeks we know from holidays there. But others… not so much.
It's a funny and touching read, one of the best books about Greece I've read in several years. The scenes towards the end where the Olive Press and the other lovingly renovated buildings are threatened by a huge fire which engulfs the northern part of Zakynthos are dramatic and almost unbearable to read.
If you want a true portrait of life on Zakynthos, or in the Greek islands generally, get yourself a copy of Margarita's Olive Press. You can find it on Amazon.