Greek Ouzo
Greek ouzo is an aniseed-based aperitif made all over the country but especially on Lesbos, tasting like a Greek pastis or arak and usually drunk with water.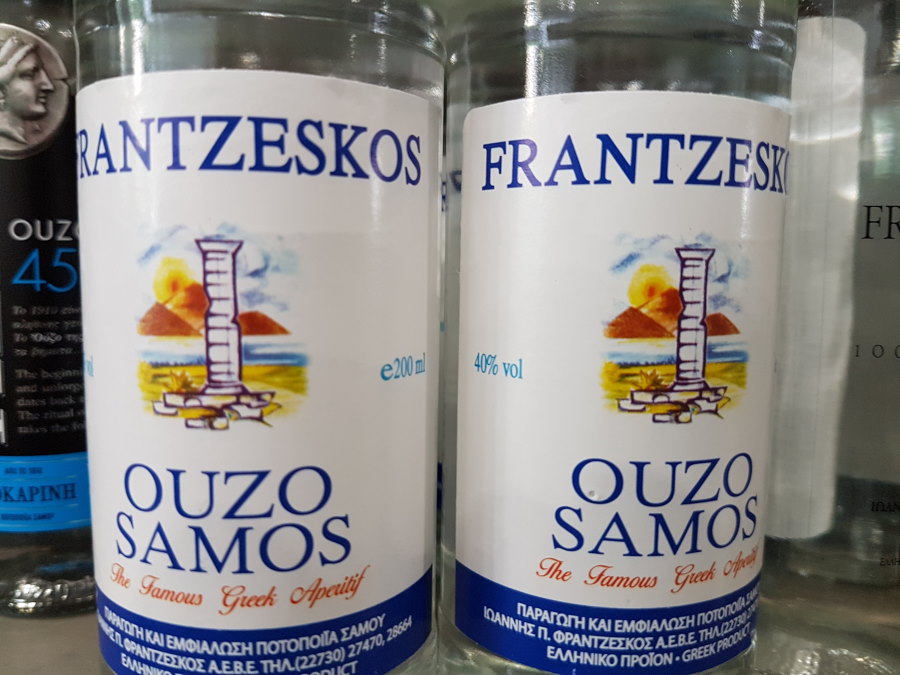 Ouzo is produced all over the country and in the islands. It is especially associated with the island of Lesbos, and the town of Plomari in particular. Here there is an ouzo museum, and there are several distilleries around the island. But there are ouzo distilleries everywhere, including in Athens, on Crete, on Santorini, on Samos, and on Corfu, but many other places too..

What Is Ouzo?
Greek ouzo, like some other Greek spirits, is made from what's left of the grapes when all the juice has been squeezed out of them. This is then distilled, with aniseed, to produce the ouzo, though other things can be used. In a way it's a little like gin but using aniseed instead of juniper. You can add many things that are also often added to gin, like star anise, cloves, fennel and cardamom, and some distillers add mastic resin from Chios.

If you prefer the visual approach, you can also see this page on YouTube
Ouzo must be at least 37.5% ABV and is typically anything from there up to 50%, though at least one distiller, Verino, produces an ouzo that is 59% ABV: Apostalagma Ouzo. They're based in Argos near Nafplion, and were founded in 1978 by Babis Spiliopoulos. He and his son now run the distillery and as well as this super-strong ouzo they also produce tsipouro and a barrel-aged tsipouro, amongst other interesting spirits.

History of Greek Ouzo
The first Greek ouzo is said to have been made by monks on Mount Athos way back in the 14th century. Monks and alcohol have long been linked, like the beer-making Trappist monks of Belgium, The monks on Mount Athos originally made another Greek spirit, tsipouro, and experimented one time by flavouring it with aniseed. They rather liked the results and eventually a distinct recipe for ouzo evolved.

However, it wasn't until 1856 that the first ouzo distillery proper opened. This was the Katsaros distillery near Larissa, about an hour's drive east of Meteora and a 50-minute drive north from Volos. It's still in business today and making, among other things, a triple-distilled ouzo. If you're ever in the area it's well worth visiting them and doing a distillery tour.
Where Does the Name Ouzo Come From?
No-one knows for certain, and there are several different theories (and some unlikely stories), but it's most likely that it comes from the Turkish word 'uzum', which means a grape.
How to Drink Ouzo in Greece
Greek ouzo is drunk as an aperitif. You can order it in a bar or cafe before going on to a restaurant, or order it in the restaurant to have before your meal or with plates of meze. It goes really well with lots of Greek starters, like seafood. Greeks will often order a bottle to share around the table, though for one or two people you'd just order it by the glass. Some people drink it throughout the meal as an alternative to wine or beer.

If you order ouzo in Greece it will always be served with a glass of water, or maybe a carafe if you've ordered a bottle. You can drink it neat, though most people find it a little too strong for that and dilute it with water. Pouring water into ouzo turns it milky, and the amount you add is entirely up to you, You'll soon discover how strong or weak you like to drink your ouzo, and can usually tell by the colour whether you've got the right balance or not. If you like it fairly strong then an easy option is to have it on the rocks, just dropping one or two ice cubes in. Always ask if there's a local ouzo you can try.
Greek Ouzo in Cocktails
Ouzo has traditionally never been a cocktail ingredient, though with the recent surge in cocktail culture, and with bartenders wanting to experiment, ouzo is being used increasingly in cocktails. It will mix with lemonade, soda water, even vodka or whisky.
Here's a very easy Lemon Ouzo Spritzer recipe:
Cooking with Greek Ouzo
Ouzo isn't a common cooking ingredient but you'll certainly find it on some menus. Shrimps in ouzo is one common dish, and it's usually delicious. We have a recipe for chicken in ouzo and garlic that we got off a chef in Kalami on Corfu, and that's pretty good too. You'll also see dishes like meatballs in ouzo, or ouzo and tomatoes, so it is quite versatile. 

Finally, here's how you make traditional Greek keftedes, or fried meatballs, but with ouzo added:

And that's the basics of ouzo explained!