Corfu
Visitors and settlers have been delighted by the green and pleasant island of Corfu for thousands of years. It was already a popular holiday destination in Roman times, and today it is one of the busiest spots in the Mediterranean. 

What's in a name?
The Greek name for Corfu is Kerkyra. According to one tradition this derives from a nymph named Kerkyra or Korkyra, brought to the island by the sea god Poseidon who was in love with her.
Another possible derivation is from the Greek kerkos, meaning 'handle', referring to the island's shape. Corfu has also been known as Drepanon or Drepani, meaning 'sickle'.
The English name Corfu probably comes from the Greek word korifai (peaks), as a twin-peaked citadel once stood on the site of Corfu Town. The name was corrupted into Corfu by European settlers, and this is now how most of the inhabitants refer to the island themselves. 
Corfu has a population of just over 100,000, packed into its 593 sq kms (229 sq miles), making it one of the most densely populated parts of Greece – and that's without the annual impact of almost one million visitors. Nevertheless, such figures are misleading, as about 40% of the population lives in the capital, Corfu Town.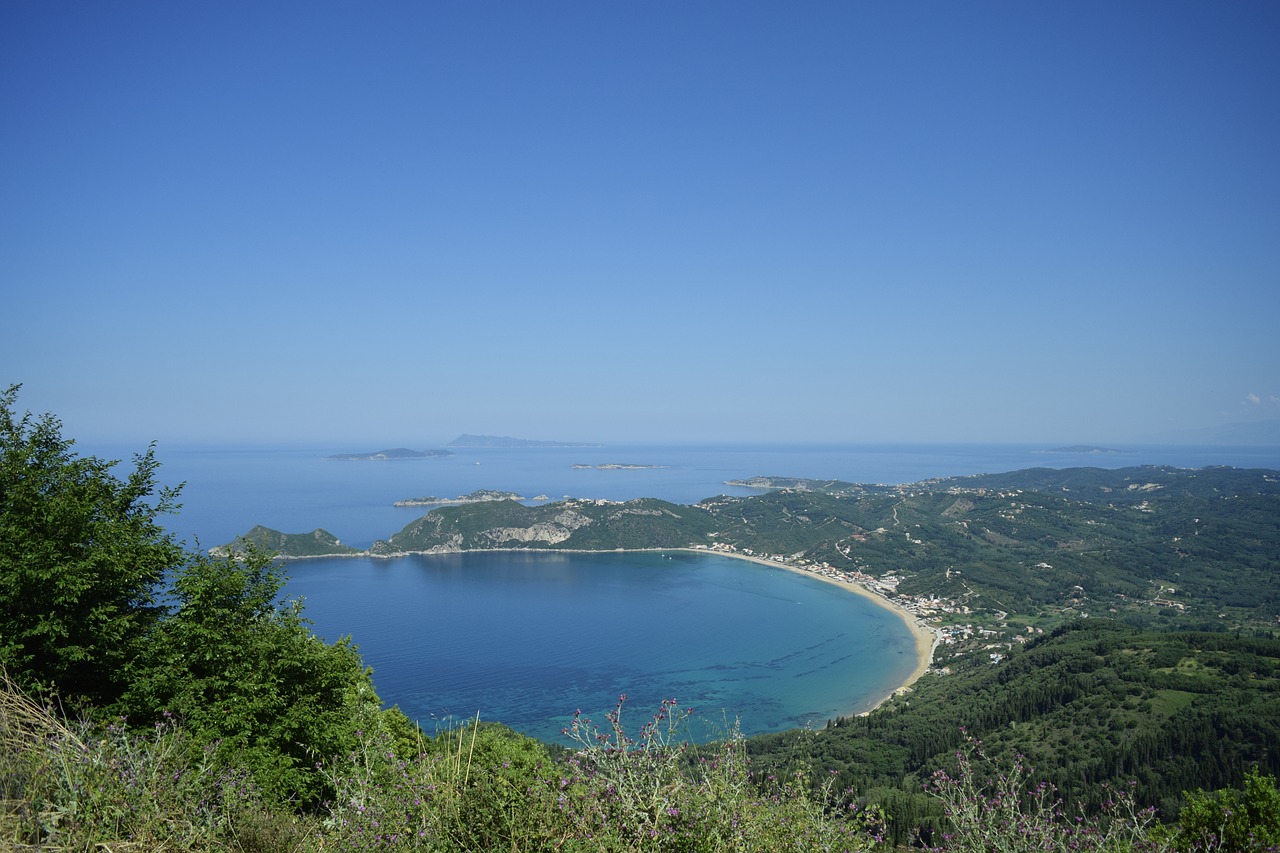 Corfu History
It has been established that Corfu Town was one of the first settlements on the island, with remains dated back to about 50,000 years ago. The island's fertility, size and natural beauty all contributed to its development, and by the time of the Persian Wars it was so powerful that only Athens contributed a greater naval fleet to the Greek forces massed against the Persians. It remained a strong Greek power, and little surprise that it was coveted by the Romans, and indeed by many other powers over the succeeding centuries.
It was the Venetians who have left the most impact culturally and architecturally, after their occupation here from 1386 to 1797, which also means that the Turkish influence, so strong elsewhere in Greece, is here quite negligible. Instead you will see in Corfu Town the tall houses, with wrought-iron balconies and shutters, and the narrow streets so typical of Italian towns, and reminiscent in places of Venice.
The British also ruled Corfu for a time and left behind a quirky legacy - a love of cricket on Corfu!
Don't miss seeing the 13th century hilltop fortress of Angelokastro.
Walking on Corfu
For some suggestions about walking on Corfu, see these pages:
The Corfu Trail
A Walk in the Old Town of Corfu
A Lawrence Durrell Walk
And this one about Corfu's neighbour:
Walking on Paxos
Some Cool Corfu Souvenirs
Driving on Corfu
For some suggestions of drives you can do on Corfu, see:
Drive to Palaiokastritsa
Mount Pantokrator Drive
Northern Corfu Drive
Northern Corfu in Three Days
Southern Corfu Drive
Getting to Know Corfu
You can get a broad view of the island by reading the following pages:
Northern Corfu Beaches and Villages
North-West Corfu Beaches and Villages
Southern Corfu Beaches and Villages
Corfu's Coastline
Corfu has some 217km (135 miles) of glorious coastline for visitors to enjoy, and the vast majority of these visitors shoehorn themselves into a handful of bustling seaside resorts, so escape from the crowds is still possible. Take a look at little Kalami, as one example. And though few coastal villages are totally untouched by tourism, some have not yet been taken over by it. 
Corfu's Wildlife
Be sure to read our pages on Corfu's Wildlife and Corfu's Marine Life.
Corfu's Food and Drink
Corfu's food and drink is definitely one reason to visit the island. Check out these pages:
Corfu's Food and Drink
Corfu's Olives
Corfu's Special Cuisine
Where to Eat in Corfu Town
Where to Eat in Northern Corfu
Where to Eat in North-West Corfu

Corfu's Popularity
What has made Corfu so popular? For one thing, it can boast some of the best beaches in Greece. Its climate is warm for most of the year and regular rainfall makes Corfu an unusually green Mediterranean island.
The scenery is outstanding, with the north dominated by the majestic slopes of Mount Pantokrator, and the people possess the traditional Greek friendliness (in Greek the word for 'stranger' and 'guest' is one and the same). To see the best of the scenery think about walking the Corfu Trail.
The island is divided into a mountainous north and a lower-lying south, with a flat and fertile plain in-between, so lush that it can provide the islands' only golf course. The bulk of the tourist development is in the northeast, spreading north from Corfu Town, and there are numerous excellent beaches all around the island, which is big enough to provide escape from the crowds into untouched mountain villages, as this drive indicates. And finally, Corfu Town is probably the most attractive capital to be found in any of the Greek islands. 
Where to Stay on Corfu