Walking on Paxos
Walking on Paxos is the best way to discover this tiny island south of Corfu in the Ionian Islands, with its wooded hills and terraces of olive trees.
Vasilis was in his boat on the edge of the harbour in Loggos, on Paxos, filleting a huge fish. It looked like a tuna, its body as big and as round as a dinner plate, and as we watched him slice it into juicy steaks we knew where we would be eating that night.
Scenes at Vasilis in Loggos on Paxos
In any case, a travel writer friend of mine who goes to Paxos regularly had already told me that Vasilis serves the best food on Paxos. It's been in business in the same family since 1957 so is clearly doing something right. Fresh fish in a waterfront taverna, after a good day's walking, is one of the reasons we keep going back to the Greek islands year after year.

Walking on Paxos
Paxos is a tiny island, reached from Corfu, and it's so small that you could walk from one end to the other in a few hours, if you wanted to. Or you can do what sensible walkers do – spend a week or two meandering the many paths through its olive groves, even walking along its handful of quiet main roads, discovering new beaches, getting lost, but usually ending up somewhere beautiful to have a swim and a meal before meandering back again.
Loggos
Loggos (also written as Longos in English) is one of the island's three small main towns, all down the more sheltered east coast. It's little more than a clutch of houses and shops, and villas to rent, around a harbour with a decent little beach about five minutes' walk away.
For our first short walk, to start to get our bearings around Loggos, we chose to go to the village of Dendiatika, which stands in the wooded hills above Loggos. A self-guided walk leaflet that we'd found guided us past an abandoned olive oil factory and up through the terraces of olive trees that are such an important part of the island's economy.

Paxos Olive Oil
Along with Corfu and Kalamata, Paxos is said to produce some of the best olive oil in Greece, and groves of trees cover the island. Terraces made from dry-stone walling are everywhere, and ancient tracks through the trees from village to village are a delightful way of getting about, frequently shaded from the fierce Greek sun.
Beneath the trees we see the black olive nets curled up like cats, while olive warblers and blackcaps flit from branch to branch. In winter, when the summer visitors have gone, the Paxiots will spread their nets on the ground to catch the olives. Unlike in the rest of Greece, where the branches will be hit with sticks when the olives are thought to be ready, here in the Ionian Islands they prefer to let nature take its course.
When we reach Dendiatika the few streets are quiet, the church is closed, and the white houses are mostly shut against the intense summer heat. Only Englishmen, but thankfully no mad dogs, seem to be out in the middle of the day in midsummer.
Walking on Paxos from Loggos to Lakka
We switch from the self-guided map and for our next walk turn to the Sunflower Guide to Paxos and Antipaxos, which has several walks around the island and for its even smaller neighbour, Antipaxos. Regrettably, even its hot-off-the-press updated insert hasn't kept pace with the ambitions of a Greek villa owner, who has fenced off his land, thwarting our attempts to follow the coastal route to the next town, Lakka.
Turning instead to a delightful hand-drawn walking map of Paxos, we find it's full of detailed landmarks like 'villa with red/brown shutters', which we hope hasn't recently been repainted. The same goes for the 'hut with blue door' and 'hut with green door'.

We get lost, as we often do, and scramble up along unmarked tracks through olive groves, thankful that the Greeks are very tolerant of walkers. According to the map, we should come out near the Villa Ina ('they play classical music a lot'), but with no sounds or signs to guide us we improvise, which proves to be an important part of walking on Paxos.

Although there are a surprising number of guides and maps for such a small island, indicating its popularity, none of them seem to agree with each other. It's the perfect way to approach walking in the Greek islands. You may set off with a particular destination in mind, but be prepared to change your plans and just enjoy whatever comes along.

Deprived of the pleasure of a coastal walk, we did a big loop inland, walked along the quiet main road that runs north-south down the spine of Paxos, and veered off again down a new bulldozed track to Monodendri Beach. The reward was a terrific little tavern right on the sand, with a wood-fired oven making the tastiest pizzas and a charcoal grill for the tuna steaks.

Paxos Walking: Loggos to Magazia
We had no trouble filling a week with our wanderings, walking up to hill villages like Magazia, then on across to the rugged west coast with its high cliffs and squawking seabirds. We walked back in the late afternoon, as the sky grew dark and were reminded that there is a reason why the Ionian Islands are so green and fertile: it rains!
Yes, even in the first few days of September the rain came bucketing down, soaking our t-shirts and shorts. Who would think to take a waterproof jacket with them when setting off for a walk in the 26-degree heat (79F) of the morning?
Never mind. Greece teaches you to be philosophical. It is, after all, the land where the bus may or may not come, today or tomorrow, and the country whose slogan ought to be 'No problem!'
There comes a point when you know you can't possibly get any wetter, so we splashed our way back to our cottage, showered, changed, and when the rain at last eased we made our way down to Loggos harbour for an early evening ouzo and a walk past Vasilis to try to see – or smell – what was cooking.
Heaven on Earth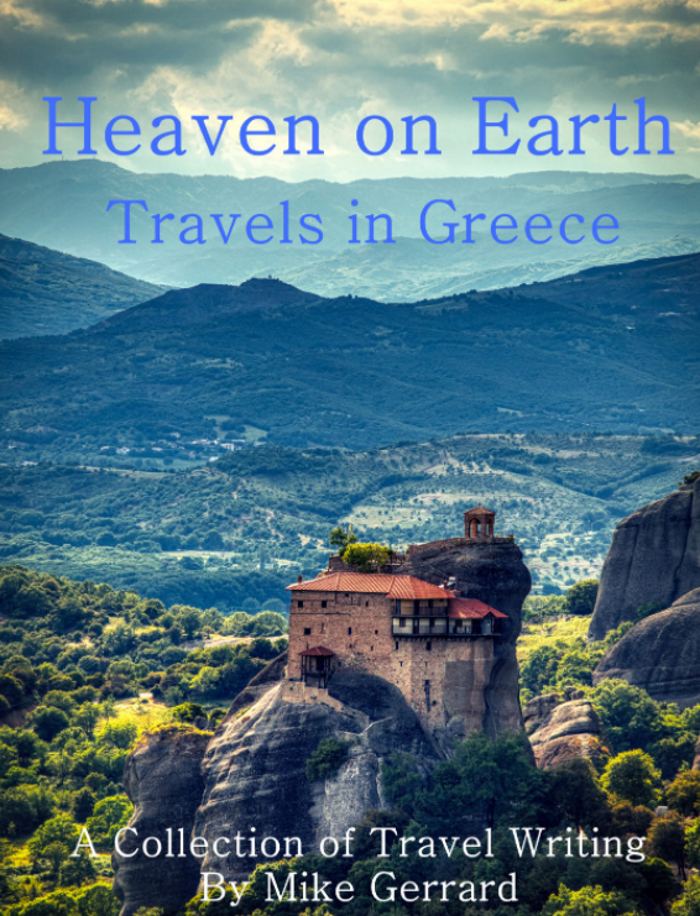 This story also appears in Heaven on Earth, a collection of travel writing about Greece by Mike Gerrard, co-publisher of Greece Travel Secrets. The book includes accounts published in newspapers and magazines of some of Mike's most memorable experiences of travelling in Greece. Click here or on the cover image to take a look.